Commentary
What's Beckham's net value to L.A.?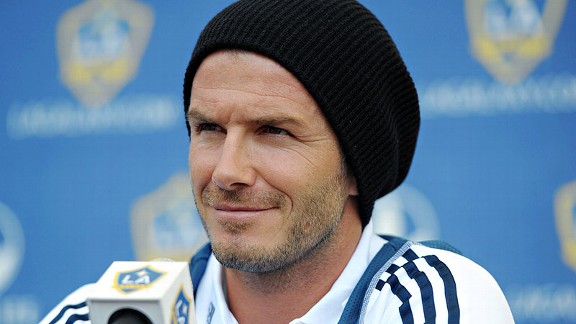 Kirby Lee/US PresswireDavid Beckham is set to stay with the Galaxy after turning down a chance to join Paris Saint-Germain, but should L.A. shell out the big bucks again?
After many months of speculation, English free agent midfielder David Beckham will turn down a move to Paris Saint-German and likely re-sign with Major League Soccer's Los Angeles Galaxy. "David Beckham is in Los Angeles and he's going to stay there," PSG president Nasser al-Khelaifi said to French radio station RMC. "He will not come, that is clear."
The club's director of football, Leonardo, told Brazilian media that "the welfare of [Beckham's] family is in Los Angeles; the wish not to change everything in his life weighed heavily."
Beckham, 36, joined the Galaxy from Real Madrid on a five-year, $32.5 million contract in 2007 and, after two wretched seasons, helped lead the club to two Supporters' Shields and two MLS Cup appearances, winning the 2011 edition. For weeks on end, Beckham -- a man with a gift for spinning himself into saga -- had been mum on whether he would re-sign or take up one of the many offers to return to Europe ahead of his nation's 2012 Summer Olympics, which he is keen to participate in for Great Britain.
After turning down the move to PSG, the only serious contenders for Beckham's signature appear to be the Galaxy, although no deal has yet been announced. The Galaxy had no comment for ESPN.com.
This non-move appears to make the most sense for Beckham, his wife and four children, whom he was apparently loath to move again. But does Beckham staying in L.A. make sense for the Galaxy, too?
"For MLS and [Galaxy owner] AEG, Beckham returning is a good thing," said former Galaxy general manager Alexi Lalas, who helped bring Beckham to the U.S. "It wouldn't have been a loss of face had he gone to PSG, but retaining him is a nice message to send internationally regarding the resources and aspirations of the Galaxy. This is how superclubs act."
But at what price?
At the Galaxy, Beckham made $6.5 million annually. PSG reportedly offered him $18.7 million for 18 months, almost double his yearly MLS salary. According to the BBC, the one-year rolling contract offered by the Galaxy impressed the Beckham camp. However, it's unclear exactly how much L.A. will have to shell out to retain Beckham, whose leverage is considerable thanks to his status as a league icon and the PSG offer.
"I'm assuming he took less, maybe not in salary but in overall compensation," Lalas said.
[+] Enlarge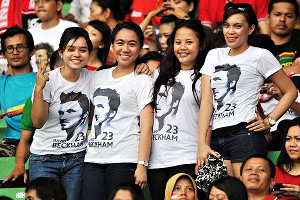 Bay Ismoyo/AFP/Getty ImagesIndonesian fans show their support at an exhibition in Jakarta in November, illustrating Brand Beckham's power across the globe.
Quantifying the real value of professional athletes is tricky. Ascertaining that of Beckham is even harder, given that his cultural transcendence multiplies his on-field worth. So what, then, is Beckham actually worth?
The immediate economic benefits of signing Beckham were obvious when he arrived in 2007. Galaxy jersey sales skyrocketed, attendance at home and on the road rose, and the club landed a rich $55 million local broadcast deal in November. But will more fresh revenue streams be there to offset Beckham's mammoth salary a second time around?
"It's a smart move for the Galaxy if they are able to get Beckham at a cut rate," Lalas said. "The revenue germination won't change -- they'll still be able to command huge appearance fees internationally -- but they'll reduce expenses [if he signs for less]. That's Business 101."
"I don't think any of us can make that calculation of 'Take Beckham out and how many jersey sales do you lose?'" said Stefan Szymanski, a sports economist at the University of Michigan and the co-author of "Soccernomics."
But then there's that ethereal cultural relevance again. "Having him as an icon playing, it has some value, people will watch, it does grab media attention," Szymanski said. "The hard-nosed economic way to think about it is: What's the alternative? My view is that there's no player that Major League Soccer could afford to buy who would have anything like the profile of David Beckham."
Ultimately, the success of a continued stay with the Galaxy will be adjudged primarily on the field. But on that front, there are question marks too. While he has shown no acute signs of physical deterioration since recovering from a 2010 Achilles injury, Beckham will turn 37 in May. His track record in MLS is spotty, with as many forgettable appearances as good ones and much time missed because of injuries, loans or royal weddings. This pattern will not be broken. Any contract Beckham would sign with the Galaxy would contain a clause mandating that he will be released for the summer Olympics, according to the BBC. The soccer tournament will span all 18 days of the July and August Games, meaning that Beckham will be gone for a lengthy spell of the MLS season.
ESPN FC on Twitter
Don't miss a moment of the latest soccer coverage from around the world. Follow us on Twitter and stay informed. Join »
This means, once again, that whether a new Beckham deal makes sense for the Galaxy will hinge on the exact figure on the checks. "Last year Beckham started out extremely slow, coming in not fit," said ESPN soccer analyst Taylor Twellman. "He obviously proved a lot of people wrong and easily had his most complete season in MLS that anybody had seen. If they're paying him the same money, that's not a bad signing. But if they're paying him $10 million, I'm not so sure."
You can't help wondering what the money the Galaxy will probably spend on Beckham could have bought them instead. His Brazilian midfield sidekick Juninho, for example, has returned to Sao Paulo in his native land, leaving an enormous hole. "Juninho arguably was their most influential player," said Twellman, adding that the Galaxy will be active in three competitions. "They need quantity and quality bodies."
Beckham's first monster contract in the U.S. was, on balance, an economic and sporting success, redeemed by the last-gasp championship. Whether a second mega-contract would live up to the first is questionable. When re-signing Beckham, the Galaxy will need to consider which price is right -- if any.
Leander Schaerlaeckens is a soccer writer for ESPN.com. He can be reached at leander.espn@gmail.com. Follow him on Twitter @LeanderESPN.
Contributing writer, ESPN.com
Leander Schaerlaeckens is a contributing writer for ESPN.com. He has previously written for The Guardian, The Washington Times and UPI.
Soccer on ESPN.com

Follow Soccer on ESPN: Twitter
Coverage on ESPN FC
Euro 2012 in Review