Commentary
Freddy Adu dreams of European football
Updated:
January 9, 2012, 12:05 PM ET
By
Arch Bell
| Special to ESPN.com
[+] Enlarge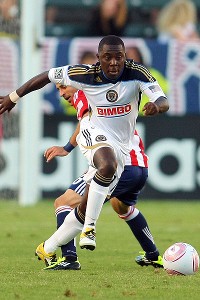 Victor Decolongon/Getty ImagesFreddy Adu completed a training stint with La Liga side Rayo Vallecano last week, and said the Spanish league would best suit his game.
There's still excitement in Freddy Adu's voice, even after years of bouncing from club to club. The 22-year-old American midfielder, who plays for the Philadelphia Union, was recently back in Europe. This time it was with Madrid-based club Rayo Vallecano, situated in the southern part of the Spanish capital. Though it was just a 10-day training stint, Adu felt right at home in Europe with a ball between his feet.
"I definitely miss playing in Europe," Adu said via phone from Madrid. "I always said that when I went back to MLS, I wanted stability, and that I wouldn't go back until I could play for a top-five league. But if I did get the chance, I'd have to pursue it."
So if somehow the numbers could get worked out between MLS and Rayo and the two parties could reach an agreement, would Adu start looking for apartments in the Vallecas neighborhood?
"Honestly, yes," said Adu, who was loaned to four clubs in Europe by his parent club, Benfica, from 2007-11. "It would be an amazing opportunity to be able to stay here at Rayo."
With that, the debate begins anew of whether Adu should go back to Europe and resume his career there, when just three months ago he was affirming his plan to establish himself in MLS.
It is hard to gauge what the brass at Rayo might be thinking about Adu. That decision will rest with club sporting director Felipe Minambres and coach Jose Ramon Sandoval. Heading into the trial, those on the periphery were anticipating that it was nothing more than preparation work for the upcoming 2012 MLS season.
"I think the consensus is that this is only a training stint and that he has little chance of leaving MLS," said Kerith Gabriel of the Philadelphia Daily News last week. "The hope is that he'll take what he can out of the two weeks and come back ready to go to stand out in what is now a very crowded pool of midfielders."
This is not the first flirtation between Adu and Rayo, though. The club expressed interest in bringing in the Maryland native last summer following his Gold Cup performance. Those talks fell through, but when U.S. national team coach Jurgen Klinsmann publicly urged MLS players to look for training time in Europe during the offseason, the two sides reconvened and agreed on the 10-day session, which ended on Jan. 6.
ESPN FC on Twitter
Don't miss a moment of the latest soccer coverage from around the world. Follow us on Twitter and stay informed. Join »
While Adu has been in Madrid, the club has conducted other midwinter business; two attacking players, former Houston Dynamo forward Koke and midfielder Nestor Susaeta, have departed Vallecas, leaving room for replacements. Sandoval even stated last week that he hopes Sevilla midfielder Emiliano Armenteros, who spent last season on loan at Rayo, will rejoin the team in the January transfer window.
"Sandoval has in his mind some reinforcements like Armenteros, who played at a high level last year," said Juan Carlos de Oro, a correspondent with Rayo news website RayoHerald.com. "Those options are ahead of Adu to replace the ones that left. But Sandoval is happy with him and Adu has won over all the players."
Even if Adu does not end up joining Rayo this winter, there are those on the Iberian Peninsula who believe he can succeed in La Liga, and especially at Rayo.
"The experience of playing in Rayo would suit Adu well," said Diego Acedo, a correspondent with Spain's most widely circulated newspaper, Marca. "Sandoval really knows how to get the best out of young players each season. Adu's style of play is offensive and direct to the goal, so he could adapt well to La Liga."
Adu has taken a shine to Sandoval and lauds the guidance he has received from last year's Spanish second division coach of the year. It was Sandoval who led Rayo to promotion to the Primera even while the club was mired in financial straits, with players going most of the season without payment.
Sandoval's work with young players is widely respected among his peers in Spain. Before taking the job in 2010 as the senior team manager, he coached Rayo B for two seasons. Like Jose Antonio Camacho, the man who originally plucked Adu out of MLS in 2007 and brought him to Europe to play at Benfica, perhaps it will be another Spanish coach who decides to take a chance on Adu.
"Players respond to Sandoval really well," Adu said. "He's such a friendly person and a great coach. I was surprised how much of a liking he took to me."
Even though Rayo is newly promoted and may not boast the talent of some of Spain's mid-to-upper tier clubs such as Sevilla and Athletic Bilbao, there are plenty of players with a wealth of skills. Adu was not necessarily starstruck training with them; rather, he has an appreciation for their creative qualities and hopes to one day play in La Liga.
"Being around these La Liga players is a privilege and an honor," Adu said. "It's more about your football brain here, and I really feel like La Liga suits me best in that respect. I mean, to be around guys like [former Espanyol star] Raul Tamudo, who has 140 goals in this league, is just amazing."
Another thing that has Adu convinced is the level of passion among the fan base at Rayo. He is staying in quarters right next to the club's training ground and seeing firsthand what it would be like to play for a true neighborhood club. "The fact that fans here at Rayo come to training and watch it every day is so special," Adu said. "That is what I'm talking about when I say that I miss playing in Europe. That's the kind of environment I want to play in."
If things break his way, maybe the fans at Rayo will be spending their days watching Adu train and ultimately play in a Rayo uniform.
Arch Bell is a freelance writer for ESPN.com. He can be reached on Twitter at @ArchBell.
Arch Bell
U.S. soccer writer
Soccer on ESPN.com

Follow Soccer on ESPN: Twitter
Coverage on ESPN FC
Euro 2012 in Review