Commentary
Montreal selects versatile Wenger
KANSAS CITY -- Putting together an expansion team in Major League Soccer, with its many allocations and limitations, is not at all unlike putting together a puzzle. An unwieldy puzzle of disparate pieces with jagged edges and awkward angles that you're expected to somehow coax into a cohesive collective.
With the first pick of the 2012 MLS SuperDraft on Thursday, the league's new franchise -- the Montreal Impact -- wisely selected a piece that can be kneaded into whatever shape it likes.
That piece, Duke junior defender-cum-midfielder-cum-forward Andrew Wenger, loafed up to the podium and into the blue hue of the harsh light confidently after becoming the first MLS draft pick to be called up in French. Stepping off the stage, he tucked his hands into his pockets with a demeanor probably no different from how he'd walk into his kitchen for a snack. The 21-year-old Wenger's comfort with it all seemed to confirm the widely held notion that he was the most sensible pick in a solid but unremarkable draft class.
He took off his jacket and pulled an Impact jersey over his 1960s "Mad Men"-ishly handsome face. "You look good in that jersey, Andrew," the Impact's coach Jesse Marsch told him.
[+] Enlarge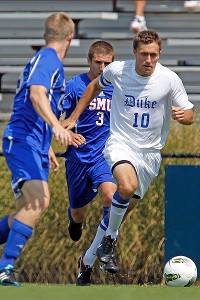 AP Photo/Duke Photography, Jon GardinerAndrew Wenger proved impactful at various positions during his playing career at Duke University.
With Wenger added to the fold, Marsch's entire team looks a little better. The first-year head coach was essentially handed a wild card for his puzzle, allowing him to shift other parts into better-fitting slots -- because Wenger possesses a versatility that is rare.
"He has the potential to be a great defender, a great midfielder and a great forward," said Marsch. In high school, Wenger played a different position in each of his four varsity seasons: left back, holding midfielder, attacking midfielder and forward. He was recruited to Duke University as a midfielder, with coach John Kerr planning to build his team around him there. But with the back line looking shoddy heading into Wenger's freshman year, he was moved back a line to central defender. As a freshman, he was the ACC Rookie of the Year. As a sophomore, he was the ACC Defender of the Year. Before his junior and final year in college came another move.
"We were weak up front and I tried him there during a spring game, and I knew within 10 minutes he was going to be our best striker," recalled Kerr. "I turned and said to my assistant coach: 'He's going to an All-American striker next year.'" Actually, he was the M.A.C. Hermann Trophy winner as the best player in all of college soccer on account of his 17 goals and 8 assists. Oh, and the ACC Offensive Player of the Year, too. He never did play in midfield for the Blue Devils.
The United States' U-23 national team coach Caleb Porter is equally smitten with Wenger, whom he is working out as a potential center back for the U.S. Olympic team for London 2012. "I think Andrew's a lock for whatever team takes him to do very well," said Porter. "I think he's a really complete player, extremely versatile. He's got great feet, technically he's clean, and tactically he's very smart. What people don't realize and I didn't realize until I worked with him for a week is that he's athletic, he's tall, he's strong, he's fast."
Wenger hasn't been his current 6 feet and 185 pounds for very long though. In fact, he attributes his versatility to always being among the smaller players in his childhood groups. The Olympic Development Program teams that Wenger played for go by birth year. Wenger was born Christmas Day 1990. "So I was one of the younger, smaller kids for a long time," he explained. "I gave my mother a hard time when I was younger, saying if I'd been born a few days later I could be [among the bigger players on the team]."
Being a small, late-bloomer meant Wenger was forever being plugged into holes in the team. "ODP teams and club teams each had different needs, and I was athletic enough that even if I wasn't the best player technically at that time, I could figure it out athletically," said Wenger. "So that's why maybe I'm more of an intellectual player, because I had to figure things out mentally to keep up with some of the bigger players."
[+] Enlarge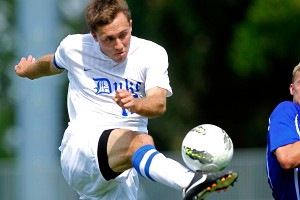 AP Photo/Duke Photography, Jon GardinerWenger is among the young U.S. players being considered for defensive positions on the 2012 Olympic team, according to U-23 coach Caleb Porter.
Although it made him an attractive draft choice, there's a downside to Wenger's versatility, too. "Some guys are specific in one position and fantastic at that position," he said. "I've played multiple positions and I haven't always been great at every position I've played in. I'm a jack of all trades, ace of none." Wenger is a little rusty at center back, for example, where he didn't play all last season but is projected on the U-23s and in the pros.
And although he was considered the most MLS-ready and least project-like player in the draft, Marsch warned of labeling him that. "To be honest, they're all projects," he said. "It's not like any guy you get out of the college draft any year can fully be a 90-minute pro from the start. We think Andrew is still going to be a project in where he plays and how he adjusts, but we think he's very mature and can handle the pressure of being the first pick."
The maturity the Impact like is reflected in Wenger's other pursuits. He's a history buff -- "I grew up on the History Channel," he said -- with a fascination for medieval and modern Great Britain and the slave trade era in the Caribbean. He's just four credits away from his degree in history. So rather than ship off to Montreal straight away, Wenger will split his time between Durham, N.C., and Montreal until he graduates in May. He'll take his remaining classes and train with Duke the first half of the week, and practice and play with the Impact the second half.
"It meant a lot to me; I've worked very hard for it," Wenger said of his degree. "And I can't play forever, and afterwards that'll be something I'll lean on for a living."
Wenger is a budding foodie, too. In preparation for the draft, he hungrily boned up on Montreal's culinary scene, watching celebrity television chef Anthony Bourdain's "No Reservations" TV episode shot there.
And whatever he ends up ordering off a menu or wherever he ends up playing on the field, "I've gotta learn French," it dawned on Wenger.
Leander Schaerlaeckens is a soccer writer for ESPN.com. He can be reached at leander.espn@gmail.com. Follow him on Twitter @LeanderESPN.
Contributing writer, ESPN.com
Leander Schaerlaeckens is a contributing writer for ESPN.com. He has previously written for The Guardian, The Washington Times and UPI.
Soccer on ESPN.com

Follow Soccer on ESPN: Twitter
Coverage on ESPN FC
Euro 2012 in Review