SAN DIEGO -- The unmistakable aroma of carne asada wafts over the grounds of SDCCU Stadium, an appropriate appeal to the senses at the beginning of spring on the U.S.-Mexico border.
The NFL's Chargers are long gone as tenants of the former Qualcomm Stadium, having moved 120 miles north up Interstate 5 to Los Angeles two seasons ago. The aging, 52-year-old home to Super Bowls, World Series and All-Star Games has seen better days. Yet nearly 50,000 fans will gather here on this Friday evening in March, drawn by a foreign sports brand that long ago established its staying power in this country.
Mexico's 105th friendly match in the United States since 2000, a 3-1 victory over Chile, was also watched that evening by more than 2.4 million viewers on U.S. Spanish-language networks. That's nothing new: Hefty attendance and ratings in friendlies this year spanning from California to Georgia are just the latest in a line of decades-old examples showing that El Tri long ago secured not only a major market of soccer hearts and minds in the home of its CONCACAF rival but with it, a sense of de facto American citizenship.
Including all international competitions and friendlies, Mexico has played 302 times in the U.S. since 1957 in venues ranging from Chicago's legendary Wrigley Field to the friendly confines of the Rose Bowl in the Los Angeles area -- site of its drubbing of Cuba in their Gold Cup opener. "The relationship with its fans all over the world will always be a priority to the Mexican national team, and without a doubt a very important part of that fan base is found in the U.S.," federation communications director Beatriz Ramos said through Soccer United Marketing, the team's representative in the U.S.
On the field this spring in San Diego, former Atlanta United coach and MLS Cup champion Gerardo "Tata" Martino earned his first win with Mexico. A roster of stars valued at more than $155 million led by Hirving "Chucky" Lozano and Javier "Chicharito" Hernandez, household names to many U.S. Hispanic fans, helped carry the day. Surrounding them was a scene that has become commonplace at U.S. stadiums: thousands of young, American-born and bicultural fans speaking English, decked out in Mexico's red, white and green gear, chanting songs and accompanied by Spanish-speaking relatives from home.
"Growing up in a Mexican household, you inherit a lot of your family's passions and become so involved with that culture that it becomes part of who you are as a person," said Jorge Torres, 29, who was in attendance in San Diego. "A big part of that is following and supporting the Mexican national team."
That passion, forged in Mexican heritage and American fandom, is also fueled through a meticulous marketing strategy.
El Tri has played six post-World Cup exhibitions as the home team in the U.S., with one more scheduled for September in San Antonio, compared to just two in Mexico last October that averaged 34,414 fans per game. Since partnering with SUM in 2002, Mexico has played more matches of any type in California than it has in Mexico City. According to the federation, a typical Mexico game on a U.S. tour sees about 400-700 media requests granted, yet in establishing a foothold on the American sports landscape, those who market Mexico are aware that it takes more than just a handful of matches per year.
"One of our main strategic priorities is linked to our fans in the U.S. and it's clear that to reach a good part of them, content in English is more and more relevant," Ramos said. "We are now working not only on the best strategy for the segment that prefers English, but to guarantee that the message gets through to different profiles."
El Tri has a website dedicated to fans who prefer English, and an English-language Twitter account, launched last year, boasting more than 49,000 followers and counting. At the news conference announcing the launch of social media channels in English, federation general secretary Guillermo Cantu cited the need to communicate in English to serve the team's 40 million fans in the U.S.
Going to the people
The Mexican presence in the U.S. keeps growing by the decade. The population tally of the most recent U.S. census in 2010 was more than 308 million. Of the Hispanics in the U.S. who chose to specify an origin, 31.8 million checked "Mexican" -- up 54.1 percent from 2000. The South and West regions house a combined 86.2 percent of that population, with California, Texas, Arizona, Illinois and Colorado, in that order, registering the largest groups of people who identified as Mexican. It would come as no surprise, then, that El Tri has been a top house guest of California (56 appearances) and Texas (37) more than anywhere else.
Four of Mexico's six friendlies on U.S. soil since Russia 2018 took place in those two states. The official attendance in San Diego for this year's first friendly was 49,617, and 50,317 came to watch a 4-2 win over Paraguay in Santa Clara's Levi's Stadium later that week. Another 59,222 attended a win this month over Ecuador in Dallas-Fort Worth. The other friendly in 2019, a 3-1 win over Venezuela on June 5, drew 51,832 to Atlanta's Mercedes-Benz Stadium, which boasted a Super Bowl crowd of 70,081 in February. That's an average of 52,747 fans per game so far for Mexico friendlies in 2019.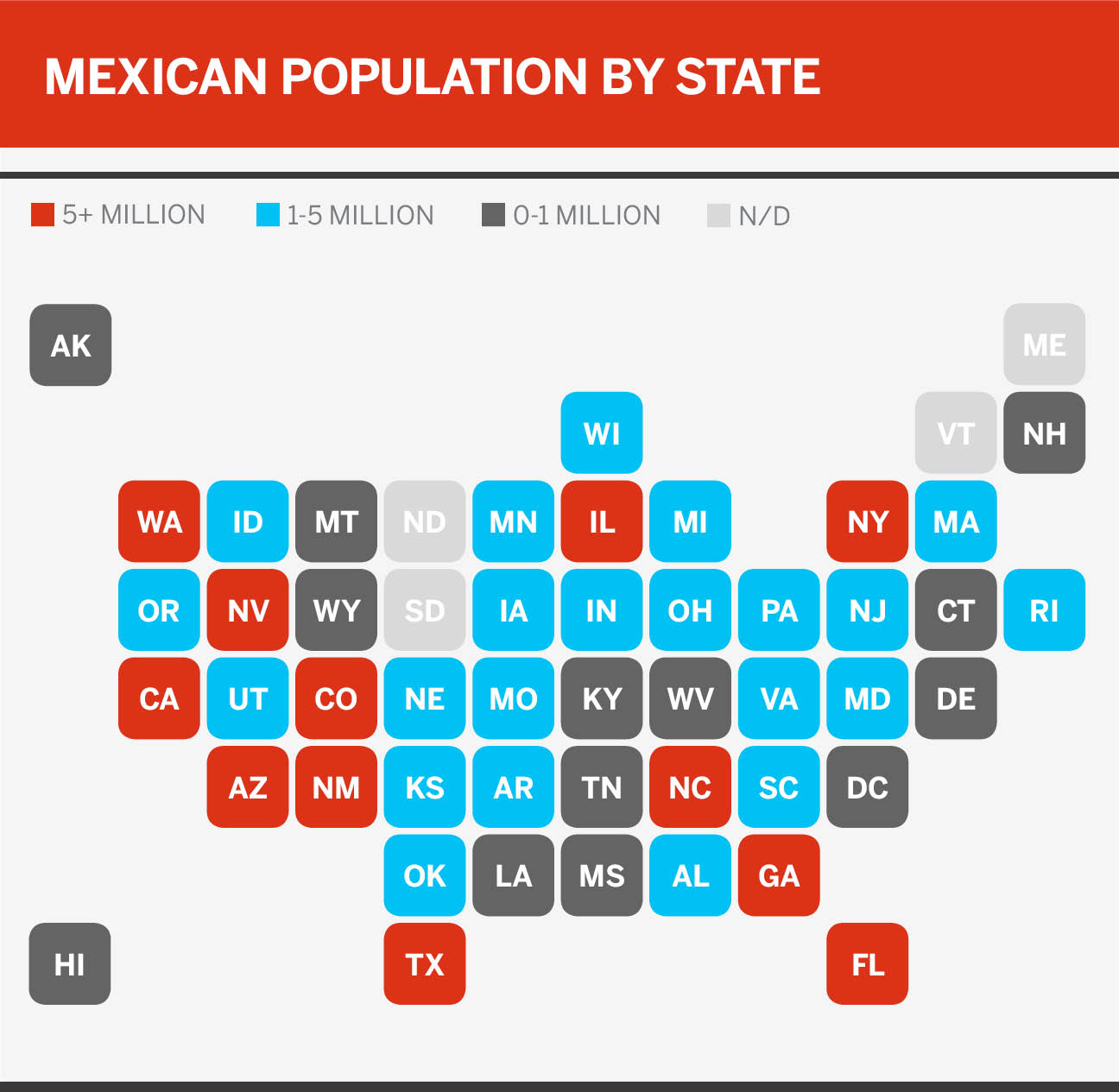 Despite the concentration in the Southwest region, Mexico hasn't shied away from staging friendlies in places such as Charlotte, North Carolina; Seattle; Denver; and Nashville, Tennessee, in recent years. In the Salt Lake City suburb of Sandy, Utah, 20,213 turned out for Mexico's 3-3 tie with Trinidad and Tobago in 2015. Utah ranks 22nd in the 2010 census in Hispanic population, at 397,000, and 75 percent of that population identified as Mexican.
East Rutherford, New Jersey, home to New York City's two NFL franchises, has hosted a Mexico match on 13 occasions, including seven friendlies.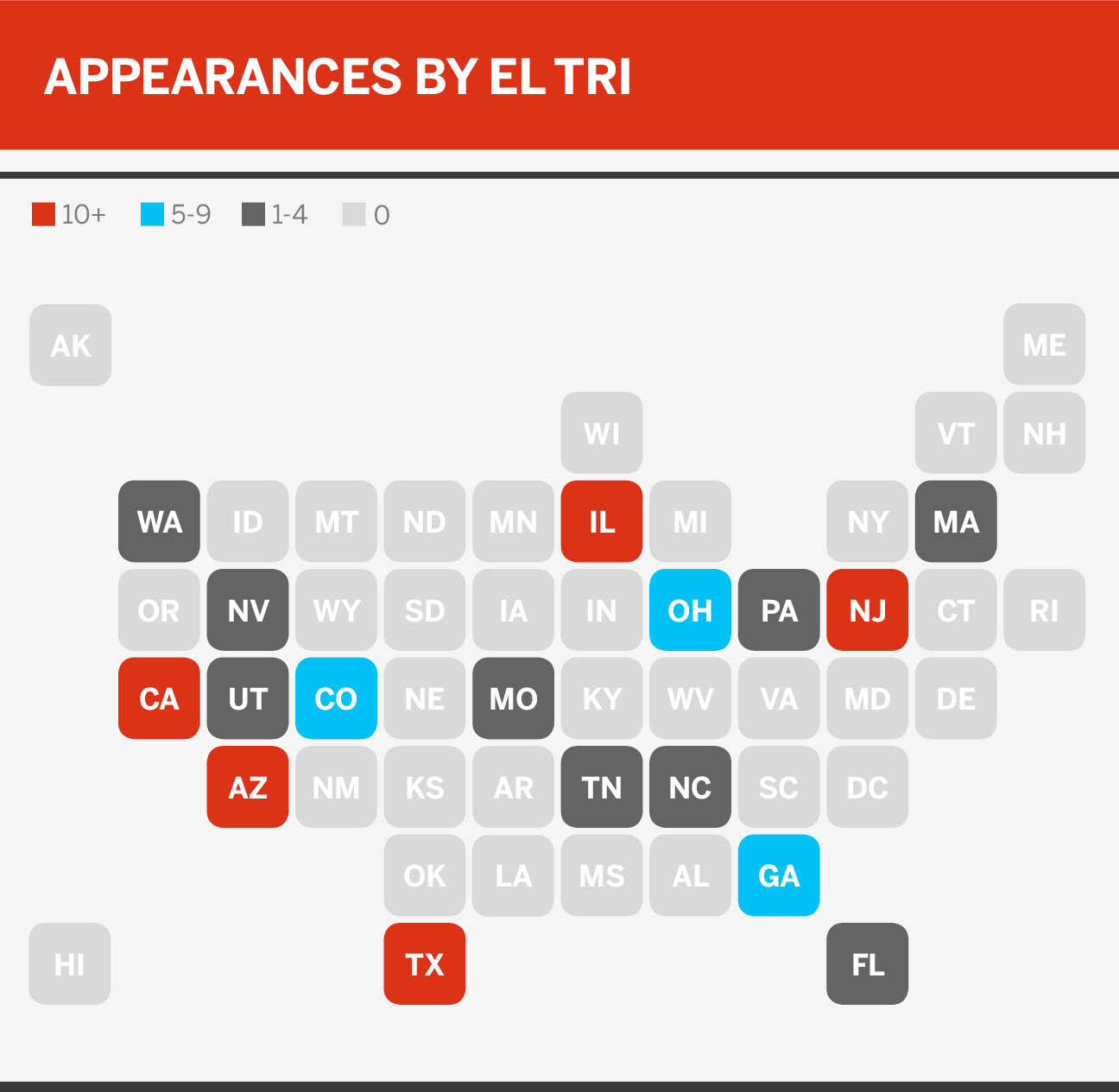 Mexico games averaged 59,678 fans over six friendlies played in the U.S. last year, compared to 43,586 over five friendlies and five Gold Cup matches in 2017. What was particularly historic about 2018's attendance figures was how that average attendance was 146 percent higher than the USMNT's. As World Soccer Talk notes, the Mexico-U.S. friendly last September in Nashville was El Tri's second-smallest crowd of the season -- 40,194 -- but the USMNT's best.
That match was also the most-watched U.S. men's game in 2018 on an English-language network, with 827,000 tuning in on ESPN. With an average of 16,638 fans in six home friendlies, the U.S. hasn't come close to equaling the Nashville attendance in 2019. In January, only 9,040 witnessed the U.S.'s 3-0 win over Panama in Gregg Berhalter's first game as U.S. manager at State Farm Stadium, an NFL venue outside Phoenix with a retractable roof that seats more than 60,000.
A missed World Cup and management upheaval have contributed, but 2018's average of 24,163 marked the third consecutive dip in attendance for the U.S. men. This trend has continued even at the Gold Cup, with Mexico commanding average attendances of 59,228 in the group stage compared to just 20,125 for the tournament hosts.
Some USMNT fans don't necessarily see heritage as the main issue regarding the team's struggles to gain interest in its home turf.
"It depends a lot on the person," said Ian Feldman, president of the Houston chapter of the American Outlaws supporters group, about the challenges in recruiting fans of Mexican descent. "Some people feel a strong connection to where their family is from, while others have a greater affinity for the United States. Many people, not just those of Mexican descent, will cheer for both the U.S. and other countries that they have a connection to.
"I feel that the bigger challenges to growing support for U.S. Soccer are lack of awareness and the pricing model U.S. Soccer uses for matches, which prevents many fans from attending matches in person."
Only in America
Mexico's four-game deal at AT&T Stadium, the Dallas Cowboys' home in Arlington, Texas, runs through 2022 and officially kicked off with a 3-2 Gold Cup warm-up victory June 9 over Ecuador. The Cowboys have hosted Mexico eight times, three during Gold Cup play, since AT&T Stadium opened in 2009. El Tri is 5-2-1 all-time in Arlington, with its first date there, a 4-0 Gold Cup quarterfinal win over Haiti just two months after the stadium opened, played in front of 82,252 as the headliner of a doubleheader. Two years later, as part of another Gold Cup double dip, 80,108 saw Chicharito score a hat-trick at the stadium in a 5-0 win over El Salvador.
As part of the deal at AT&T Stadium, the Mexican national team will not only play matches in Arlington but participate in community activities in North Texas along with the Cowboys and MLS club FC Dallas.
"It's the most easy no-brainer thing to want to do for us ever," said Chad Estis, the Cowboys' executive vice president for business operations, about the partnership with the Mexican national team. "I take it back to 2009, when we probably didn't know what the reaction would be as much. As part of the Gold Cup, the Mexican national team played in our stadium, and we saw the reaction. The ticket sales, the environment and atmosphere in the stadium, it's so unique. We really don't have another event that carries that kind of atmosphere in our stadium."
When it comes to El Tri's appeal to the Cowboys -- America's Team, if you will -- it's no contest.
"I'll be honest -- the Mexico national team sells better in our building than the U.S. men's national team," Estis said. "That's just a reality. Not to say we don't love hosting the USMNT. But we're also in the business of selling tickets and filling up our building. When the market knows Mexico is coming to our building, we immediately sell tickets. From a pure business perspective, it works well for us. We're also in the business of doing big things. This deal had all the elements, and for us it made too much sense. In our offices it just became, 'How do we get this done right away?'"
The audience is clearly there
Before the Gold Cup kicked off, Mexico's win over Ecuador on Univision delivered the second-highest-rated soccer match on any network this year at 1.8 million viewers, while winning the night among adults ages 18-34 regardless of language.
UniMas' coverage of Mexico-Venezuela earlier that week drew 1.2 million viewers and ranked among the top 10 most-watched programs on broadcast TV. Meanwhile, the March friendly against Paraguay in Santa Clara was watched by 1.7 million viewers in the United States on UniMas, with an additional 750,000 on Univision.
The USMNT's absence from last year's World Cup showed that the home team isn't an afterthought. The event suffered a 42 percent decline in ratings on U.S. English-language television. However, the dip was only 5 percent on American Spanish-language networks in a World Cup that saw Mexico fail to reach the quarterfinal round for the seventh consecutive time.
Jersey sales in the U.S. involving World Cup participants also clearly favored Mexico, according to Soccer.com. The online retailer found that with the USMNT not a factor in Russia, Mexico jerseys outsold other squads in 23 of 50 U.S. states.
Our top selling #WorldCup jerseys by 🇺🇸 state. Which country is #1 where you live? pic.twitter.com/woaBiydVJM

— SOCCER.COM (@soccerdotcom) June 14, 2018
"Something we carry in our blood"
Back in San Diego, Torres and three of his friends each arrived at SDCCU Stadium wearing different Mexico jersey styles. Growing up, Manuel Hernandez remembers the atmosphere created by Mexico's big matches -- especially against the archrival Americans.
"The Mexican team always had players that spoke more to me than any of the players from the USMNT, mostly because of the similar culture and style of play," said Hernandez, 27.
"I've traveled around California to see the Raiders, but I'd travel across the country to see my Mexico." Daniel Gomez, Mexico fan
The Mexican federation, with corporate sponsors that include Adidas, Coca-Cola, The Home Depot, AT&T, Wells Fargo and Allstate, leaves no stone unturned in its efforts to capitalize on opportunities in the U.S. Still, it's easy to capitalize when previous generations have built a foundation of dedication and passion. Throughout the Gold Cup group stage, fans of Mexican descent will flock to stadiums in Los Angeles, Denver and Charlotte, wearing merchandise that in today's American sports landscape almost certainly shares closet space with Lakers, Broncos and Panthers gear. The difference in loyalty to heritage and to team colors, as some Mexico supporters in San Diego made clear, lies in the degree of devotion.
"We'd definitely travel to see our teams play a game," said 30-year-old Daniel Gomez, a first-generation Mexican American who attended Mexico-Chile with his wife, Diega, and two children. "We are very big Raiders fan in the NFL, but there is no question that our passion for Mexico is something we carry in our blood. I've traveled around California to see the Raiders, but I'd travel across the country to see my Mexico."
ESPN writer Alfonso Duro in New York and ESPN Stats & Information contributed to this report.