MOTIVATED MOYA MOVES INTO THIRD ROUND
By Greg Garber, ESPN.com
NEW YORK -- Carlos Moya, banished to the hinterlands at the National Tennis Center -- Court 13 -- saw Igor Kunitsyn sprinting to net and feigned a passing shot. Taken in, the Russian set himself for a volley, but Moya chipped an exquisite lob to Kunitsyn's backhand side and it landed a few inches inside the baseline.

Moya
Like a dry wit, the 31-year-old Spanish champion succeeds with subtlety. If only he were better appreciated. Court 13 is hardly the proper venue for one of the icons of professional tennis.
Much to the pleasure of the intimate group of assembled patrons, Moya produced an extensive tutorial, besting Kunitsyn 6-4, 6-4, 7-5. The No. 17 seed is quietly into the third round where he'll play Philipp Kohlschreiber.
Moya, you may remember, won the 1998 French Open and for two weeks in the winter of 1999 was the world's No. 1-ranked player. After that career spike, Moya has persevered; his consistency has been remarkable. But following five top-10 finishes in the last eight years, Moya struggled through the last two. A balky shoulder and waning enthusiasm sent him down in the rankings. Unaccustomed to being an ordinary player, Moya did some soul-searching.
"Easy thing for me could be maybe to go home after two very bad years, and I didn't want to do that," Moya told reporters earlier this month in Cincinnati. "I wanted to prove to people that I still have the level to be competitive in these big tournaments.
PHOTO OF THE DAY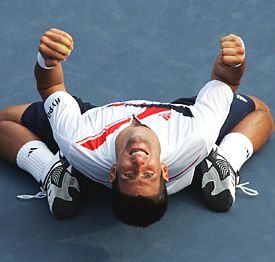 Jim McIsaac/Getty Images
Novak Djokovic had reason to celebrate following his five-set win over Radek Stepanek. Their second-round match fell 16 minutes shy of five hours.
DAY 5 RECAP
STAT OF THE DAY
356 -- Total points won in Friday's second-round match between Novak Djokovic (185) and Radek Stepanek (171). By comparison, total points won in the Blake-Santoro five-set match on Thursday was 294.
"I'm enjoying my tennis a lot more than I was doing before. I know that these are going to be my last years, so I want to enjoy every single moment that I have."
Last August, he hired Luis Lobo to be his coach last August and the results are, once again, impressive.
Lobo, Moya said, helped recharge his batteries.
"I didn't forget how to play tennis," Moya said on Friday. "Mentally, I wasn't there. He helped motivate me and get back to my game plan."
That game plan is serving hard, hitting forehand winners and winning the matches against lesser players he's supposed to.
Moya reached the quarterfinals at Roland Garros, losing to his Mallorcan protégé, Rafael Nadal, won a modest clay-court tournament in Croatia in July, then rendered a signature result in Cincinnati. Moya knocked off David Nalbandian, then took out world No. 3 Novak Djokovic in the second round. Djokovic was weary after defeating Roger Federer, Nadal and Andy Roddick on successive days, but Moya's vast experience helped him close the deal.
For Moya, the critical thought mode is denial. He is slower than he used to be, but he still speaks energetically of improving his slice and finding a few more miles an hour on his serve.
"For the last four or five months I've been playing at a really high level," Moya said in Cincinnati. "I've been working hard for that. Being almost 31, I think there's still room to improve. That's what I truly believe."
Moya's goal at the beginning of the season was to return to the top 20; currently at No. 17, he's got a good chance.
For 11 consecutive years, he has finished among the ATP's top 50 players -- Tim Henman is the only other active player who can make that claim. But the 32-year-old British star is retiring this year and Moya will do it again for a 12th straight season.
"It's a great honor for me to say that," Moya said. "Maybe I can make it 20."
RAFA'S DAILY ROUTINE
Just as he has done a couple of times a day, every day, during the U.S. Open, Rafael Nadal showed up Friday morning at a midtown Manhattan hotel room to meet with the man with the laser.
Panicked by the pain in his left knee, Nadal turned to Pier Francesco Parra, an Italian surgeon who has used his laser treatments to cure what ails dozens of tennis starts, soccer players and Olympic skiing champion Alberto Tomba.
"It's like doing arthroscopic surgery, but without cutting the skin," Parra said. Then, with a smile, he noted: "And it takes 23 seconds."
Seeded No. 2 at the Open, Nadal first sought out Parra on Monday after injuring his knee in a practice session Sunday. Nadal kept going back for more, including several hours before he was to play his second-round match Friday night.
With a white baseball cap on his head and black glasses at the end of his nose, Parra looks like he might be simply a spectator. The official tournament credential around his neck is thanks to his status as a doctor for the Italian tennis federation.
Parra travels the world with his portable laser machine -- about the size of a small TV -- and players line up wherever he's staying for a chance to see him.
Lasers have long been used in surgery, but Parra uses his to help heal or prevent muscle, ligament or tendon problems. He points a more diffused beam at the skin in the area of the injury.
He pegged his success rate at 95 percent to 97 percent.
"It's happened that sometimes it doesn't work, of course," Parra said.
He's been doing these types of procedures since 1988, back when Tomba was at the top of the skiing world. Parra worked for three years with the Juventus soccer club -- the New York Yankees of Italy -- but these days only takes tennis clients.
Parra has helped out an illustrious list of players, including two-time Grand Slam singles champion Amelie Mauresmo, major finalists Ana Ivanovic and Elena Dementieva, and other top players such as Novak Djokovic, Ivan Ljubicic and Jonas Bjorkman.
And does it really work?
Nadal said he feared he would have to withdraw from the U.S. Open before he began to feel better after Monday's first dose.
And then he thanked Parra by name after winning in the first round.
TOUGH TICKET TO COME BY
The United States Tennis Center is a hot spot during the three-day Labor Day weekend. However, fans coming out looking to pick up a ducat for any of the weekend sessions will be out of luck.
For the first time since the U.S. Open moved to Flushing Meadows in 1978, there will be no tickets or grounds passes for sale over the next three days.
A limited number of tickets will be available beginning Tuesday, Sept. 4.
The Associated Press contributed to this report.