FERRER REACHES FIRST GRAND SLAM SEMIFINAL
NEW YORK -- How can you not like David Ferrer? He's a one-man alternative energy source, a halogen lamp with flying feet and hair who lights up the baseline. He also apparently has the ability to convert garbage into fuel.

Ferrer
After upsetting his compatriot and world No. 2 Rafael Nadal in the fourth round in a match that ended at 1:50 a.m., Ferrer chowed down on a Big Mac at 4:15 a.m. "Only thing is open 24 hours," he explained. "I'm very hungry." A few months ago at the Davis Cup tie against the U.S. team in Winston-Salem, N.C., Ferrer, who did not play because of a foot injury, was spotted smoking on the loading deck of the arena.
PHOTO OF THE DAY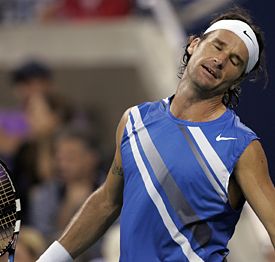 Julie Jacobson/AP Photo
Carlos Moya, at 31 years old, had a nice run at the U.S. Open before finally bowing out to Novak Djokovic in the quarterfinals.
STAT OF THE DAY

Williams

9 -- The longest current win streak Venus Williams has against one player ranked in the top 100. (She's 9-0 vs. Daniela Hantuchova, Patty Schnyder and Elena Likhovtseva). Venus takes a seven-match win streak against Justine Henin into Friday's semifinals.
Perhaps other top players should try a regimen of junk food and nicotine. Ferrer, a clay-court specialist, has shown flashes of brilliance on hard court, but he's never put together a string like this. The 15th-ranked Spaniard reached his first Grand Slam semifinal Thursday by smacking down Juan Ignacio Chela 6-2, 6-3, 7-5. He previously took down Nadal and saved a match point on the way to outlasting Argentina's David Nalbandian in a five-setter in the third round.
"Maybe the last three matches is my best tennis, no?" said the 25-year-old Ferrer. "If you told me before, semifinal in hard court, I don't believe you. I believe in clay, maybe but in hard court? But this tournament was a dream, no?"
Three of Ferrer's four career ATP titles have come on clay, his preferred surface. He admitted Thursday that he doesn't alter his style for hard court, but his results don't appear totally random -- he's beaten Andy Roddick twice on the surface, for example.
Ferrer has one of the best returns of serve in the game, a distinction recently confirmed by none other than Roger Federer. "Thanks for Roger, but [he has] the best return," Ferrer said modestly.
-- Bonnie D. Ford
VENUS KEEPS STREAK ALIVE
When Venus Williams won a dramatic tiebreaker on Wednesday night, American tennis dodged a silent bullet.
After Andy Roddick lost the late match to Roger Federer, Williams was the lone American remaining in the men's and women's singles draws.
Although Jelena Jankovic was a point or two away from winning the match, Williams reached the semifinals and prevented a dubious piece of history. Since the U.S. Championships began in 1881 -- in the 127 times the event has been staged -- Americans have never, ever been completely shut out of the semifinals at the U.S. Open. There has always been at least one man or woman present.
And yet, it almost happened. Should followers of American tennis be alarmed?
On Thursday, Arlen Kantarian, chief executive of professional tennis for the USTA, did not appear overly concerned.
"Only two things happened the last couple of days," he said. "Andy Roddick lost two tiebreakers to Roger Federer and James Blake lost (to Tommy Haas). The world's not going to come to an end based on those two losses. And that's why we are where we are."
Kantarian referenced 18-year-old Donald Young and 22-year-old John Isner, who both reached the third round here and said that Venus and Serena Williams are one of the best comeback stories in all of sport.
Still, America's best four players -- Roddick, James Blake and Venus and Serena Williams -- are growing old by tennis standards. Venus is 27 and Serena is nearly 26, while Blake is 27 and Roddick is 25.
"We've certainly been spoiled by the success of the American run at the U.S. Open and the Grand Slams in the past three decades," Kantarian said. "We also know that in this decade the world has gotten a heck of a lot smaller.
"There are many more countries competing in every sport. This is not just happening in tennis. You have over 70 foreign-born players in the NBA, more than 200 foreign-born players in Major League Baseball. The light shines more on an individual sport, but it's happening in every sport.
"That being said, do we have a challenge to develop more American champions? Absolutely."
-- Greg Garber
SUNDAY START COMING SOON?
A year ago, the conservative French Open introduced a daring innovation: Officials of the French Tennis Federation elected to open the tournament on a Sunday.
Now, it appears, the U.S. Open is poised to follow. Arlen Kantarian, the USTA's chief executive of professional tennis, could be leaning that way.
Kantarian said he would make the decision by January. The idea would be to create a Sunday night session with just two matches. A night session would be subtracted later in the tournament to keep the number of sessions constant.
Television, naturally, would be the reason.
"There are 10 times more people watching TV on Sunday than Monday," Kantarian told reporters on Thursday.
-- Greg Garber