FISH FALLS ILL IN THIRD ROUND
By Whit Sheppard, Special to ESPN.com
WIMBLEDON, England -- Mardy Fish had a great Wimbledon going, posting his best Grand Slam result since being sidelined with a left wrist injury midway through 2005. But Saturday, Fish succumbed to a different opponent of sorts, a gastrointestinal bug that's been bothering him over the first week of play.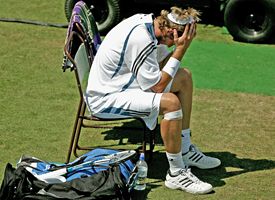 Phil Cole/Getty ImagesMardy Fish matched his best finish at the All England Club before a stomach virus forced him to retire from Saturday's match.
Fish dropped his serve to fall down 2-5 in the opening set of his third-round match against Georgian qualifier Irakli Labadze. He immediately slammed his blue-and-white Slazenger against the turf on Court 18, bending it into a grotesque shape and receiving a warning for racket abuse.
He shuffled slowly to his courtside chair and buried his face in a towel for a full minute and a half before stepping back on court. Labadze held serve to take the set, 6-2. Fish then walked to the net, shook Labadze's hand and informed the chair umpire he was abandoning their match.
His coach, Todd Martin, said, "He's been sick for the past few days. He was fortunate to be able to play well two days ago but just couldn't recover quickly enough.
Asked how Fish is faring in his comeback, Martin sounded pleased about his charge's progress but perhaps non-committal about how long the pair might continue working together.
"Mardy's doing well," Martin said. "If he continues to plug away and dedicates himself to his profession and if he keeps doing that with my help, or whoever's help, he'll continue to make great progress as long as his desire persists."
p>