NA LI REACHES FIRST GRAND SLAM QUARTERFINAL
By Keith Hawkins, ESPN.com Tennis Editor
WIMBLEDON, England -- Shenay Perry admitted she felt nervous about being the last American left -- man or woman -- in the draw and it showed Monday: She dropped the last 10 games in a 6-2, 6-0 loss to Elena Dementieva.
Imagine then what Na Li must be feeling now.
Li became the first Chinese woman, ever, to reach the quarterfinals of a Grand Slam event with a 4-6, 6-1, 6-3 win over No. 10 Nicole Vaidisova, a semifinalist at last month's French Open. Vaidisova was the second straight top-10 seed to be knocked off by Li. (She upset No. 5 Svetlana Kuznetsova in the third round.)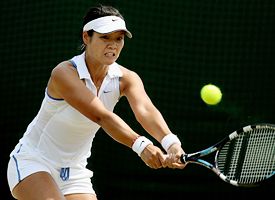 Clive Brunskill/Getty ImagesNa Li will face her third straight top-10 opponent in the quarterfinals in No. 2 Kim Clijsters.
"I'm proud of myself and I'm very proud for my country, as well," Li said through an interpreter. "Especially for this is the first time I'm in this match and go that further. I'm very proud for that.
"Although, the first set I lost … I'm proud of what I've got."
"… She played very well today," Vaidisova said. "On some points, key points, break points, stuff like that, she definitely managed to play very well. I definitely know I could have played better. … It's due to also the way she played today."
Li, whose only career win on the WTA Tour came in 2004, may be the first Chinese woman to reach the quarters of a major, but according to a fellow competitor, she won't be the last.
"I think so, especially Chinese girl[s]," said Japan's Ai Sugiyama, when asked if she thought players from Taipei and China would continue the trend of success by Asian women in tennis. "There are so many Chinese. They're practicing hard and they're really disciplined. So I think in the future as well there are some more coming up."
Next up for Li in the quarterfinals will be her third straight top-10 opponent and toughest to date, No. 2 Kim Clijsters. The Belgian has reached the semifinals in each of the year's first two Grand Slam events, and beat Li earlier this season in Sydney.
Although she won't have much time to savor the win -- the women's quarters begin Tueasday -- Li knows what this historic victory means back home.
"It represents the women's tennis in China will getting better and better," she said.
p>
WOMEN'S QUARTERFINALS PREVIEW
WIMBLEDON, England -- China's Na Li isn't the only player making her first appearance in the quarterfinals of a Grand Slam event.
France's Severine Bremond beat No. 18 Ai Sugiyama Monday for her fourth win in this tournament. Before last week, Bremond was a combined 3-9 in her previous Grand Slam appearances -- including first-round losses at the Australian and French Opens this year. However, she will face Justine Henin-Hardenne, who has not lost a set in her past 11 Grand Slam matches. The winner will face Li-Kim Clijsters winner.

Three of the four players in the top of the women's draw are Russian. Top-seeded Amelie Mauresmo will face No. 9 Anastasia Myskina for the second straight year in the quarters (Mauresmo beat the Russian last year in straight sets). The Frenchwoman is a three-time semifinalist here, but has never made it to the final Saturday. Compatriots meet in the other quarterfinal, No. 4 Maria Sharapova vs. No. 7 Elena Dementieva. Sharapova lost in the semifinals last year to eventual champion Venus Williams, while Dementieva is making her first quarterfinal appearance at the All England Club.
p>
BAGH-MAN BOUNCES THE BRIT
By Greg Garber, ESPN.com senior writer
WIMBLEDON, England -- Clearly, Marcos Baghdatis is a man made for the grand stage.
He came out of nowhere -- actually, it was Limassol, Cyprus -- to reach the final of the Australian Open back in January. He beat three players ranked among the top 10 (Andy Roddick, Ivan Ljubicic and David Nalbandian) before falling to Roger Federer in the final. And now, it seems to be happening again.
He's in the quarterfinals of Wimbledon and will face Lleyton Hewitt on Wednesday.
Baghdatis knocked Scotsman Andy Murray out of Wimbledon on Monday 6-3, 6-4, 7-6 (2). It was Murray who sent Roddick home on Saturday, enthralling the pro-British crowd here at the All England Club. This was not the 19-year-old's best effort.
"That wasn't good," Murray said. "That was really not good. I never missed so many second-serve returns, especially off my backhand."
Baghdatis, who is only 20 himself, said that, oddly enough, the Australian Open result has worked on his mind in a negative way.
"After Melbourne, I had a lot of doubts in my head," Baghdatis said. "Was I there because I deserved it or because it was just one time? A lot of things went through my mind.
"The doubts start to come. Some injuries, some health problem. I got sick. So I started losing confidence."
It seems to be back. Is he looking ahead to another Federer-Baghdatis final?
"I'm not thinking about that really," Baghdatis said. "I'm just thinking about Lleyton for now.
"If I go through Sunday, then we'll see."
p>