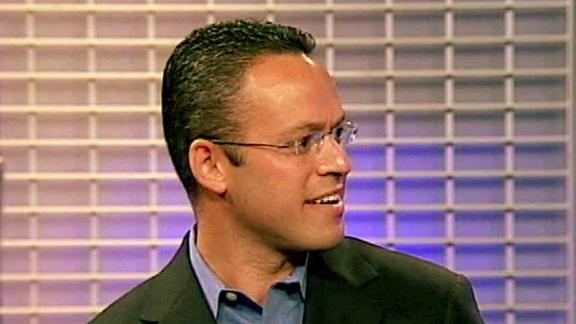 ESPNBoston.com
Mike Reiss remembers Larry Bird's toughness and work ethic Watch

Editor's note: Bill Simmons Sr. -- the "Sports Dad" -- has had Boston Celtics season tickets for 38 years and enjoyed a first-row seat through the amazing career of Larry Bird, one of the inaugural inductees in the ESPNBoston.com Hall of Fame. Alongside his son, Sports Guy Bill Simmons, Bill Sr. has witnessed the rise, fall and resurgence of the Celtics through the years, and maintains that Bird was the greatest thing that ever happened to the franchise. Here are his reflections on Bird:
In our first season as season-ticket holders, the Celtics won the championship. Two years later, in 1976, they won another championship, and my young son, Billy, and I were prepared for an exciting run of basketball history.
It didn't quite happen that way.
With contract disagreements, poor trades, questionable free-agent signings and retirements, we suddenly found ourselves rooting for losing Celtics teams. These teams of the late '70s, featuring players such as Curtis Rowe and Sydney Wicks, provided few wins, little excitement and questionable effort, and led to waning fan support. In fact, many who formed the fan base of the previous two decades gave up their season tickets, deciding that a return to basketball glory was not in Boston's future.
We decided to keep our seats. We would wait for a special player to change our basketball fortunes. We just never expected that Boston would be fortunate enough in 1978 to draft "the Basketball Jesus."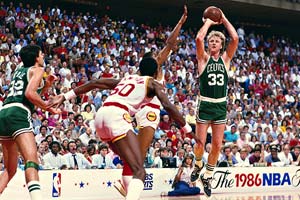 Associated PressLarry Bird shoots a vintage jumper over a Houston Rockets defender during the 1986 NBA Finals.
Most fans are familiar with Red Auerbach's shrewd drafting of Larry Bird, and the great anticipation of his arrival in a Celtics uniform a year later. Boston suddenly went from one of the worst teams in the league to one of its most competitive and entertaining franchises.
In Larry's second season, 1980-81, he and his new teammates provided my favorite playoff memory as a Celtics season-ticket holder: the come-from-behind (down three games to one) series victory against the hated Philadelphia 76ers. If I close my eyes, I can still visualize Larry willing that team to four unbelievably close victories in that series, with the season culminating in a win in the Finals and another NBA championship.
My second favorite memory of Larry: his level of play during the 1985-86 championship season. He was at the peak of his career -- still relatively healthy, with a great group of teammates (McHale, Parish, DJ, Ainge, Walton) and enjoying a fun-filled regular season. The playoffs exemplified the talent level of that team, the fun they had playing together, the leadership that Larry provided, and the hope and expectation that many more championships were on the horizon.
Unfortunately, that was not to be the case.
Billy and I often talk about those Larry Bird moments, almost all of which we had the honor of witnessing in person: his dramatic playoff steal against Isiah Thomas and the Detroit Pistons in 1987; his running return through the tunnel, next to our seats, after falling and hitting his chin against the Indiana Pacers in the 1991 playoffs; the scoring duel against Dominique Wilkins, in which it seemed that even the Atlanta Hawks' bench was in awe of Larry's performance; the 3-point shooting contest at All-Star Weekend, when Larry guaranteed victory; the 1984 playoffs, including Larry's assault on Bernard King, and his later annihilation of Kareem and the Lakers in a heat-filled Boston Garden; the sudden appearance of a dove (could have been a pigeon) during a 1991 playoff game against the Pistons that galvanized a struggling Bird to lead the Celtics to victory as the crowd adoringly chanted his name in support; and, the night before a game when Larry told the Pacers' Chuck Person that he had a Christmas present for him -- then, after making a 3-point shot in front of the Pacers' bench, slowly turning to Person to say "Merry f----ing Christmas."
As a longtime season-ticket holder, I obviously enjoy many, many wonderful memories of players and games, as well as the changing emotions of elation and despair. However, no period of Celtics history is more important to me than the 1979-1992 years when Larry Bird was a Boston Celtic. It was a time when Bill and I saw hundreds of games in which our all-time favorite player, Larry Bird, took us through parts of three decades. It was a time when my son and I bonded, sharing a love for a sport and an admiration for a player who definitely influenced Bill's later decision to spend his career as a sportswriter.
My son and I talk frequently about that time, and about the impact Larry Bird had on Boston, on the NBA, and on two season-ticket holders who had the privilege of witnessing greatness. I guess you could say Red Auerbach's signing of Bird in 1978 changed our lives.
Thanks, Red. And Larry, thanks for everything.