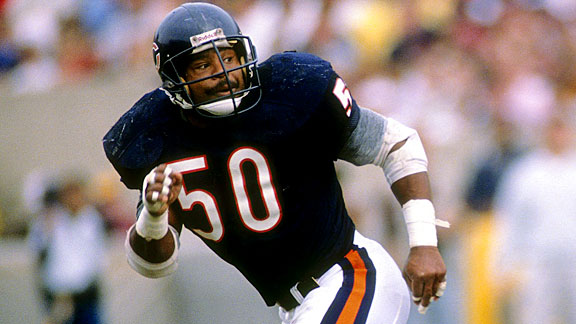 Getty Images
Who is the best middle linebacker in Bears history, Butkus, Singletary or Urlacher? Watch

As a young pro, Mike Singletary thought he knew all about Dick Butkus. You could not be a Chicago Bears linebacker over the past four decades, after all, and not hear about the legendary defender from fans and former players, avoid photos of the snarling No. 51 down every hallway, or feel him lurking over your shoulder.
"I thought, 'OK, big guy, nasty, dirty,'" Singletary said. "Then one day [in my rookie season] I said, 'You know what? I really need to watch him. Everything I had heard about him from running backs and offensive linemen, he must have been something special.' So I took some video footage, went home, sat down and watched.
"I had no idea. Wow. I just had no idea he played the way he played. Talk about intimidation. And then I got it. I don't think I did up until that time, but to actually see him play, that was special."
Video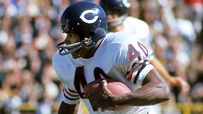 Who was the Bears best running back, Walter Payton or Gale Sayers? Watch

Photo gallery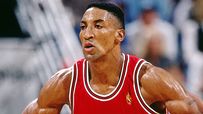 Check out the 20 candidates for the
ESPN Chicago Hall of Fame: Gallery

Brian Urlacher felt the same way about Butkus and Singletary.
"As a kid, I watched highlights of them a little bit but then when you get here and realize who they are, that's when you start watching highlights, and he was mean," Urlacher said of Butkus. "He just knocked the crap out of people. And everybody knows about Singletary's eyes, but he was a good player. He hit people just as hard as Butkus did, and he was always in the right spots. People say, 'Well, he had a great D-line,' but he always put them in the right spots to make plays as well."
Urlacher still practically recoils whenever he is compared to Butkus or asked how it feels to be in the fraternity of great Bears middle linebackers like Butkus and Singletary, despite the fact that after 11 NFL seasons, few would argue he will one day join the two in Canton.
"I don't feel like I'm in that fraternity," Urlacher said recently. "They're in the Hall of Fame, you know? That's where I want to be when I get done, but I still don't feel like I'm in that category yet. They're great players and recognized as great players by their peers and all the smart people who vote on the Hall of Fame. So they're in there for a reason. And I don't feel like I'm in that category yet."
As different in size and style and temperament as three players could be, Butkus, Singletary and (despite his objections) Urlacher comprise the greatest trio of middle linebackers on one team in the modern era of pro football.
But to overlook Bears Hall of Famers Bill George, George Connor or Clyde "Bulldog" Turner, as well as players such as Joe Fortunato and Doug Buffone, would be offending generations of Bears fans. To ignore Wilber Marshall, Otis Wilson or Lance Briggs would be doing the same.
"Outside 'backers don't get talked about a lot here because of the tradition of middle linebackers," Urlacher said, "but you look at Lance, Wilber Marshall, Otis Wilson, we've had some great ones."
There is no debate, however, where the linebacker discussion begins.
"It was a certain honor coming to the Bears to play [linebacker]," Wilson said. "And Dick was the one who set the example, who set the benchmark for all of us."
Hall of Fame defensive lineman Dan Hampton, who, like Wilson, played on the great Bears defenses of the 80s with Singletary, agreed.
"There will never be another Butkus," he said. "Was [Vince] Lombardi the all-time greatest coach? I don't know, but forever he'll be recognized as the greatest and so will Butkus. He defined the position, changed the public's perception of the NFL. There's Ray Lewis, but Butkus will always be Butkus."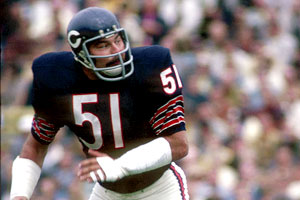 Getty Images
Dick Butkus defined the position of middle linebacker with the Bears in the 1960s.
Butkus, the third overall pick in the 1965 NFL draft out of Illinois, made an immediate impression with the Bears, beating out the great George for a starting spot and making it clear to the rest of the league that they might be able to beat the Bears, but they were not going to run roughshod on their defense as long as he was around.
"The guy was the ultimate football player," said Buffone, who played alongside Butkus for eight seasons. "The game was violent and he was violent. His wife put it best when she said he was born mean. I used to go early with him to Wrigley Field and he and I would be the only ones in the locker room and he would go through the whole mental thing in that game, makes things up about the center.
"I was afraid of him, and I played with him. I'd line up outside, look in the middle and think, 'Thank God he's on my my side.' It was the same thing in practice. He took no prisoners -- none. It's just the way he was, a vicious hitter but also a student of the game. I thought he'd go into coaching."
For all of his ferocity, Butkus was both smarter and a better athlete than some give him credit for. Teammate Ed O'Bradovich once said that it took Butkus "three days to run a 100-yard dash," but for 20 yards in any direction, "nobody was quicker than he was."
That quickness, when he had healthy knees, helped the grunting and growling middle linebacker to 21 interceptions in nine seasons.
"I remember when we used to run the 40-yard dash," said Buffone, who led all Bears linebackers with 24 picks in 15 seasons. "Dick and I would try to hide because we didn't want to do it. But there are different speeds. There's 40-speed and there's the speed when you get on the field, recognition of what's going on and getting there before the other guy and that's what Dick had."
Butkus liked to say his on-field personality was nothing like it was off the field.
"One day after practice I thought he was studying the game plan, but he was reading Shakespeare. He wanted to be an actor," Buffone said. "He's funny, he really is. I thought he'd be a great comedian, that's what he wanted to be. But it was a dry humor. He'd be kidding around and people didn't know that and get intimidated. The guy had a lot of talent but when he got to Hollywood, all they wanted him to do was the rough stuff, beating people up."
Butkus retired in 1973 at age 31, after multiple knee injuries. He becomes animated talking about today's game and today's players.
"They practically work out all year long, have the proper training, the proper nutrition, so I would say they better be faster and bigger and stronger with all the advances laying out there for you," Butkus said. "We didn't have any of that."
With medical advances, he said, "I could've played for 20 years. Christ, they've got a [limit under the new collective bargaining agreement] for how long you can practice. It's a pretty nice deal."
What Butkus has trouble accepting is what he perceives as the changing attitude of today's players.
"These players have the physical ability and everything else, but the overall view of the game has changed," he said. "It's a little bit more me, me, me, I, I, I. That's what's sad about it. I'm watching a game and I'm thinking 'What am I watching here?' Teams are getting blown out 30-0, a guy makes a tackle, and he jumps up and pounds his chest. Don't they understand how stupid they look? You know what, a------? Look at the scoreboard.'"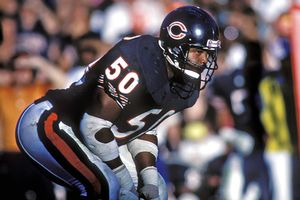 Getty Images
What Mike Singletary lacked in size he made up for in preparation and intensity.
"I saw him annihilate guys," Buffone said of his former teammate, "but never once did I see him showboat. After a big hit or whatever, it was back to the huddle for the next play. He didn't take time to dance."
Humility was but one of the qualities Butkus said he admired in Singletary.
"Singletary and that whole defense was great," Butkus said. "I'm sure everybody had their doubts with his size, but that doesn't matter all that much if you can't measure a guy's heart. He played with heart and that's what made him a Hall of Famer."
Samurai Mike, as his teammates called Singletary, was, at 6 feet and 230 pounds, immediately labeled a cerebral player, his darting eyes attracting the lens of NFL Films and becoming part of his legend.
He was also perceived as a product of a great defense and a great defensive scheme, Buddy Ryan's vaunted 46.
"A lot of times, it's where you land," Buffone said. "If I had Dan Hampton [in front of me], I'd be pretty good too because that defensive line was a linebacker's dream."
"He was the kind of guy," Hampton said of Singletary, "who was in the right place at the right time. You can go all around the world of sports and maybe Bob Griese would be great on his own but if he was in Seattle, would you ever know who he was? Singletary was a great player, the defensive player of the year in the Southwest Conference. Could he ever be a Dick Butkus? No. But for what he was asked to do in our defense, he was terrific and he was a Hall of Famer."
Singletary, who said he called every member of his defense to thank them, beginning with Hampton, when he learned of his Hall of Fame induction, isn't bothered by the somewhat backhanded compliments.
"The fact that I was a believer, a Christian, everybody immediately thought this guy's a minister, he's so nice and, oh by the way, he can play a little bit," Singletary said. "The other thing for me is being undersized. What a great story, what an overachiever, kind of like Rudy.
"I just felt very fortunate. I guess the more mature you become, don't get all tied up in that stuff. I'm just happy that I had the chance to be part of something great and a tremendous legacy of linebackers in Chicago."
Urlacher said he feels fortunate as well, finding his way to middle linebacker in Chicago.
"I was a rover [at New Mexico], so I saw things from the inside out, which is what I do now as a middle linebacker," he said. "But coming in was hard. I didn't have to deal with blockers before I got here. I had never done that in college, so it was a lot different."
The ninth player selected overall in the 2000 NFL draft, Urlacher remembers getting "benched" as the SAM linebacker in his first weeks as a Bear. The Bears already had a good linebacking corps with Barry Minter in the middle, Rosevelt Colvin on the strong side and Warrick Holdman at weak.
"I played SAM my first couple games, and I stunk," Urlacher recalled. "I was the nickel MIKE backer, which was OK, but I stunk at SAM. The coaches knew that, I knew that. But Barry [Minter] ended up getting hurt there in the second game, and he threw me in at MIKE and I had no choice. I had to learn it and I did and it worked out pretty good."
Urlacher had 13 tackles in his first start at middle linebacker and the first of a five-game sack streak, the third-longest rookie streak in NFL history and ended up the NFL Defensive Rookie of the Year and a unanimous selection to the All-Rookie Team with team highs in tackles (165), sacks (eight) and tackles for loss (seven) while starting the final 14 games.
When Lovie Smith ushered in the Tampa 2 defense in 2004, Urlacher wasn't initially thrilled, preferring big tackles like Keith Traylor and Ted Washington fending off blockers and allowing him to run as opposed to the one-gap scheme. But Urlacher proved to be a natural in a scheme that relies on team speed, gang tackling and the middle linebacker dropping back into deep coverage.
"He's a guy who has really changed the position in his era," Singletary said. "For anybody who wants to play the Tampa 2 defense, you look at a guy like Urlacher and say, 'Wow, how is he going to fit?' Then he takes that middle linebacker position in that scheme to a whole other level.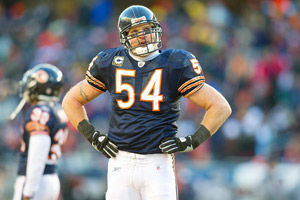 Getty Images
A seven-time Pro Bowler, Brian Urlacher is just the second Bears player (after Mike Singletary) to win Defensive Player of the Year.
"So I look at him and applaud him for being able to come in and adjust and kind of figure out exactly what linebacker spot he was going to play and work through some of the early doubters and just come alive. I remember that and it was so wonderful to watch. People was calling me and saying, 'Hey Mike, you should talk to him.' But each guy has to work through it and figure it out and he definitely did."
As for comparisons to Butkus (6-foot-3, 245 pounds), the 6-4, 258-pound Urlacher isn't much bigger, and he stalks ball carriers. "But it's a different deal," Hampton said. "Butkus was greater the closer you get to line of scrimmage. Urlacher is better the further you get. Butkus was physical at the point of attack. Urlacher is much more impressive because of his greatness 18-22 yards away on a deep curl. Does he do what Butkus did? No, nobody but Butkus could do what he did. But he redefined the position."
Ask Urlacher about redefining his position and he will agree to a point.
"There are good middle linebackers right now," he said. "Obviously Ray [Lewis], he's changed the position a lot. I feel like I did a little bit when I got in, just because our system is different. Middle linebackers aren't really known in the Cover 2 scheme because we don't make many plays. And I think I've made more plays now just because we've changed our scheme a lot compared to what we did in the past for Cover 2 teams."
He makes enough plays that he has been one of the premier middle linebackers in football for the bulk of his career, being selected to seven Pro Bowls, becoming just the second Bears player along with Singletary to be named Defensive Player of the Year and setting himself up as a lock for the Hall of Fame.
"I would think so considering all the different categories [in which he excels]," Butkus said. "He has the longevity, he really hasn't had a real bad year and compared to other players, I'd assume he's in."
"Urlacher has redefined the position with his speed and range," Hampton said. "Is he going to be a Hall of Famer? No question. The kid has had a hell of a career. He hasn't done everything he wants to do yet, but 10 years as an All-Pro gets you into the Hall of Fame."
At the very least, the "kid" is in the fraternity.
"In college, I never really wanted to be a part of a fraternity," Singletary said. "Then I come to Chicago, and I end up being part of a really special fraternity of linebackers and the legacy that each and every one left for me. I just tried to leave it open for whoever was behind me."
Melissa Isaacson is a columnist for ESPNChicago.com.