In the middle of a Hall of Fame debate, Hollywood pin-up Jane Russell gets a shout-out: Watch

In offering deserving nominees for the first ESPN Los Angeles Hall of Fame, I wanted to mention someone from football who played his high school and college ball in Los Angeles; went on to win two NFL championships; played four positions for L.A.'s first NFL team and subsequently coached that team; was a league MVP; is a member of the Pro Football Hall of Fame; and married one of the reigning sex symbols of his day.
Who could ignore such a candidate?
Among the possibilities for the Hall of Fame included in the project, why is it I'm the only one who even considered Bob Waterfield? Why shouldn't he be among the contenders for the Hall's inaugural class?
If he played today, he would be. Waterfield's problem is that he played 60 years ago.
But an athlete's era shouldn't matter. A Hall of Famer is a Hall of Famer. Babe Ruth will always be remembered as one of baseball's all-time greats, no matter what Barry Bonds did. Same with Bill Russell, despite the feats of Michael Jordan.
Consider the specifics of Waterfield's selling points:
Video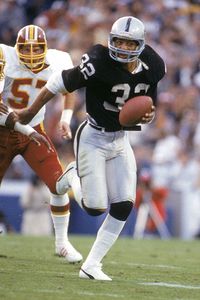 Marcus Allen won a Heisman Trophy and a Super Bowl in Los Angeles. Watch

Photo gallery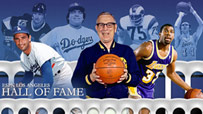 Check out the 20 candidates for the
ESPN Los Angeles of Fame: Gallery

• His roots: Like Jackie Robinson, Waterfield's playing days began in L.A., where he played for Van Nuys High and UCLA.
• His team: Somebody from the Rams just has to be in this initial class. This team was too important to L.A. to be ignored. The Rams were the first pro team to make it in Los Angeles. If they hadn't packed the Coliseum after their arrival in 1946, attracting several crowds of more than 100,000, L.A. might not have caught the attention of the Dodgers. Or the Lakers. The Rams were here for nearly a half-century, including their years in Anaheim. They need to be recognized.
• His collegiate accomplishments: In 1942, Waterfield was named team MVP after leading UCLA to the conference title, the No. 13 spot in the Associated Press rankings and the Bruins' first appearance in the Rose Bowl.
• His professional debut: In 1945, his first season with the Rams while they were still in Cleveland, Waterfield was the key to a 9-1 record and the team's first divisional title. He then threw two touchdown passes in the Rams' 15-14 victory over the Redskins in the NFL championship game, which was the equivalent of today's Super Bowl. But Waterfield wasn't just the quarterback. He also took care of the punting and the place-kicking, and he played safety, as well. Oh, yeah, and this rookie not only was named league MVP but was the NFL's first unanimous choice for the award.
• His versatility: In his eight-year NFL career, Waterfield threw 97 touchdown passes and accounted for 573 points on 13 TDs, 60 field goals and 315 PATs. He also had a 42.4-yard punting average and intercepted 20 passes while playing in the defensive backfield for the first half of his career.
• His L.A. success: In Waterfield's peak years in Los Angeles, the Rams reached the NFL title game in three consecutive seasons (1949-51), finally winning their only title in L.A. in 1951, beating the Browns 24-17. Waterfield was named NFL Player of the Year by the Washington D.C. Touchdown Club in 1950 and led the league in passing in 1951.
• His place in history: In 1985, the Los Angeles Times asked its readers to select the Rams' 40th anniversary all-time team. Waterfield was selected as the quarterback, the kicker and the punter. (Norm Van Brocklin was second and Roman Gabriel third in the QB category.)
• His private life: Hollywood and sports have a link to this day that began with the arrival of the Rams, back when Bob Hope and Bing Crosby were investors in L.A.'s first pro team. Waterfield married Jane Russell, a major sex symbol of her day; he certainly deserves points for that.
"Bob Waterfield was one of the main reasons the Rams were able to move to L.A.," said John Hall, an L.A. sportswriter for 60 years and former Los Angeles Times and Orange County Register columnist. "He was a leader, a beautiful passer, great in the clutch and his kicking ability gave him another dimension. And added to all that, he was also a great tackler on defense.
"You just don't have players like that anymore. He is the perfect choice to represent the Rams in this Hall of Fame.
"If he was around today, with ESPN's 'SportsCenter,' he would be one of the great monsters of all time."
And if Waterfield was not considered for the ESPN Los Angeles Hall of Fame -- now or in the near future, it would be a monstrous mistake.