The NBA playoffs are upon us and to get the full perspective of everything happening on and off the hardwood, SportsNation has invited NBA players, analysts, writers, and anyone in between who can help you fulfill your NBA playoff desire with 65 chats in 65 days.
Any playoff series can be unpredictable. The team that looks good on paper may not look as great on the court where it all counts. Our NBA special guests are here to break down all the ins and outs of teams that made the postseason and the ones who left for an early vacation.
Vote: NBA on PollCenter
Click here for ESPN.com's complete NBA Finals coverage.
FINALS WRAP ...
Congratulations to the Lakers on winning their 15th NBA title.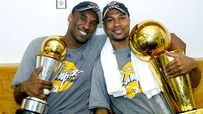 Vote on Kobe Gets Ring No. 4.
PREVIOUS PLAYOFF CHATS ...

Jalen Rose - 6/15
Klajdi (New York, N.Y.): Where do you see the lakers next year assuming they all come back?
Jalen Rose: If the nucleus of the team comes back, I predict them to be the favorite to come out of the West and be in position to defend their title. Kobe and Fisher are the only two players over 30. For the most part, their starting lineup should be in tact.
---

Chris Broussard - 6/14
Andrew (Ohio): If Shaq to Cleveland gets done, when do you think it will happen?
Chris Sheridan: What Dwight is concentrating on now is going up quickly with the ball when he gets it deep in the low post. When he puts the ball on the floor, bad things tend to happen. and when he brings the ball down and then goes up for a power dunk, it gives the defender the extra half-second he needs to commit a foul and sent Dwight to the line.
---

Chris Sheridan - 6/13
Max (Minneapolis, Minn.): Will Dwight Howard ever develop top tier post moves to dominate like Shaq?
Chris Broussard: No, it's far from done, but there's a good chance of it happening, so stay tuned. It makes great sense for both teams - financially for Phx, and basketball-wise as well as financially for Cavs.
---

Tim Legler - 6/12
Kevin (Toronto): With his clutch shooting in Game 4, has Derek Fisher earned a spot beside Robert Horry?
Tim Legler: (Laughing) He's in the same conversation but Robert Horry is special because he made huge shots for three different organizations in the Finals.
---

Steve Smith - 6/11
Mike (Lexington, Ky.): Would you agree that Shaq was much better than Howard at this stage of Dwight's career?
Steve Smith: I would agree. I wouldn't say Shaq was much better but he was better than Howard is at this stage of his career.
---
More NBA playoff chats
6/15 - Jalen Rose
6/14 - Chris Broussard
6/13 - Chris Sheridan
6/12 - Tim Legler
6/11 - Steve Smith
6/10 - Rick Fox
6/9 - M.L. Carr
6/8 -Devin Harris
6/6 - Lawrence Frank
6/4 - Randy Foye
6/3 - Vince Carter
6/3 - Donny Marshall
6/3 - Rashard Lewis
6/2 - Chad Ford
6/1 - Marc Stein
5/31 - Bryon Russell
5/30 - Ryan Hollins
5/29 - Tim Kempton
5/28 - Carl Landry
5/27 - Shannon Brown
5/27 - Leo Rautins
5/26 - Tim Legler
5/24 - Chris Broussard
5/23 - John Hollinger
5/22 - J.A. Adande
5/21 - Kevin Durant
5/20 - Charlie Villanueva
5/19 - Craig Ehlo
5/18 - Chad Ford
5/17 - Jalen Rose
5/16 - Scott Hastings
5/15 - Eddie Johnson
5/14 - Arron Afflalo
5/13 - Allan Houston
5/12 - Shaun Livingston
5/11 - Kareem Abdul-Jabbar
5/10 - J.A. Adande
5/9 - Jamal Mashburn
5/8 - Charlie Bell
5/7 - Brendan Haywood
5/6 - Ryan Gomes
5/5 - Tim Legler
5/4 - Marc Stein
5/3 - Luke Walton
5/2 - Gail Goodrich
5/1 - Ernie DiGregorio
4/30 - Spencer Haywood
4/29 - Dee Brown
4/28 - George Gervin
4/27 - Ron Harper
4/26 - Buck Williams
4/25 - Thaddeus Young
4/24 - JJ Barea
4/23 - Kevin Love
4/22 - Craig Smith
4/21 - Mike Conley
4/20 - James Singleton
4/19 - Damon Jones
4/18 - Devin Harris
4/17 - Jamal Crawford
4/16 - John Hollinger