MLB Story lines
Miracle Mets?
Power Outage?
Big-Time Tigers?
AL East?
Torre-Girardi?
Mitchell Report?
Barry Bonds?
Ready Rays?
Fluky Rockies?
Contracts?
Fresh off their World Series appearance in 2006, the Detroit Tigers looked to be competitive once again in 2007. Although their 88-74 record was respectable, it failed to lead them to another playoff appearance. The 2007 Tigers were good, but not quite great.
Clearly, Tigers GM Dave Dombrowski thought changes needed to be made; he completed a blockbuster trade in which the Tigers acquired Miguel Cabrera and Dontrelle Willis from the Florida Marlins in exchange for some of Detroit's top prospects.
At the very least, the trade gives the Tigers one of, if not the best offense in the league. The Tigers' lineup -- including such stars as Curtis Granderson, Gary Sheffield, Magglio Ordonez, Placido Polanco and Ivan Rodriguez -- already scored the second-most runs in the league in 2007. The addition of Cabrera, one of the game's top young sluggers, could push the offense to historic levels. Jacque Jones and Edgar Renteria, both less-heralded acquisitions, are also solid offensive contributors.
Willis is a bigger question mark. His ERA has increased each of the past two years -- he posted an abysmal 10-15, 5.17 ERA 2007 season. His walks and home runs allowed have gone up dramatically from his near Cy Young-worthy 2005 season. Can he handle moving to a more difficult league and a more competitive division? Willis is still young and talented, so he may rise to the occasion.
Are the Tigers the favorite to win the World Series? Cast your vote now!
What They're Saying
We've collected a sample of what writers, bloggers and players themselves have said this offseason about the Tigers' revamped lineup. For this issue, we've chosen Curtis Granderson, ESPN's Buster Olney and BaseballMusings.com blogger David Pinto:
Curtis Granderson: "Our lineup this year is getting a lot of hype and press, even though we have only played three games. We have some great bats returning to the lineup plus the additions of Miguel Cabrera, Jacque Jones, and Edgar Renteria.
"The most interesting thing about our lineup is that it can get mixed and matched up almost every day if [manager Jim] Leyland really wants to. Even if it's mixed up, the guys who might bat in the No. 7, 8, or 9 slots have had great hitting careers and are coming off good hitting seasons.
"If I remain at the top of the lineup, it is almost some added pressure with the additions I mentioned earlier. Speaking to Lou Whitaker today, he mentioned that if the No. 1 and 2 guys in the lineup don't get on, then there aren't 100 RBIs to be had by our No. 3, 4 and 5 hitters. So my job, which is very similar to last year, is to get on base any way possible. "
March 1, 2007
Quality bats in lineup
---
Buster Olney: "Justin Verlander might win 20 games with the staggering run support he is likely to receive, because there are days when he may allow six runs in five innings and still win by a touchdown; the Tigers may be the latest team to take a run at scoring 1,000 runs. But Detroit will likely be without Joel Zumaya the whole season, and the Tigers desperately need Dontrelle Willis -- whose diminished stuff was noted by NL advance scouts last year -- to be a solid middle-of-the-rotation starter. "
Jan. 8, 2008
Top stories to follow in 2008
---
David Pinto, BaseballMusings.com: "The Tigers did a nice job of improving their offense this year. The worst lineup they could put on the field would finish third in the majors in 2007. However, this also shows how difficult it is to increase scoring. The lineup the team is likely to use is predicted to score 0.1 more runs per game, or about 16 runs more than last season. Part of that is Ordonez coming back to his averages after a career year and Gary Sheffield continuing to age. Dombrowski not only compensated for that loss, he actually improved the offense. With a team that good, it would have been easy to do nothing. The Tigers instead acquired a cornerstone in Cabrera that improves the team now, and likely makes Detroit an offensive power house in the future."
Jan. 22, 2008
Team Offenses, Detroit Tigers
The Rundown: Tigers Burning Bright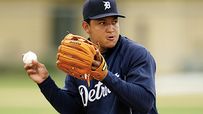 Miguel Cabrera's top comparable hitter on Baseball Reference is Hank Aaron
The Tigers added four big names to their team after the 2007 season. Here is a quick snapshot of each player's raw numbers.
Miguel Cabrera, 3B/LF, 24
2007 Stats: .320 BA, .401 OBP, .565 SLG, 150 OPS+, 34 HR, 119 RBIs, 91 R
Dontrelle Willis, SP, 26
2007 Stats: 10-15 W-L, 5.17 ERA, 83 ERA+, 146 K, 87 BB
Edgar Renteria, SS, 32
2007 Stats: .332 BA, .390 OBP, .470 SLG, 125 OPS+, 12 HR, 87 R, 11 SB
Jacque Jones, 3B/LF, 24
2006 Stats: .285 BA, .335 OBP, .400 SLG, 87 OPS+, 5 HR, 66 RBIs