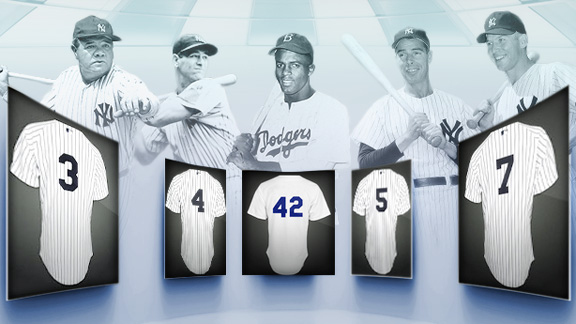 ESPN.com Illustration
Babe Ruth may be third on the all-time home run list, but he is the No. 1 New York sports icon -- by a large margin.
The Bambino was the top vote-getter on the inaugural ESPN New York Hall of Fame ballot and was one of five transcendent baseball players that fans elected to the Class of 2011.
Joe DiMaggio, Lou Gehrig, Mickey Mantle and Jackie Robinson will join Ruth in the New York Hall of Fame.
Ruth's name appeared on 75.6 percent of the 55,834 fan ballots cast from Aug. 8-18. DiMaggio garnered 46 percent of the vote to finish second, Gehrig was third at 43.4 percent and Mantle fourth with 42.8 percent.
Robinson, the only non-Yankee inductee, got 41.2 percent of the vote to easily outdistance Lawrence Taylor, Willie Mays and Joe Namath for the fifth and final spot.
The Class of 2011 was selected from a list of 20 finalists, who were chosen by ESPN New York writers Ian O'Connor, Johnette Howard, Rob Parker, Wallace Matthews and Andrew Marchand. Active players and coaches were not eligible for consideration.
Video
What are George Steinbrenner's
Hall of Fame credentials? Watch

Photo gallery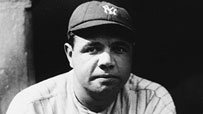 Check out the 20 finalists for the
ESPN New York Hall of Fame: Gallery

Based on this year's voting, Taylor (34.1 percent), Mays (30.3) and Namath (26.9) should be among the favorites to be elected to the Hall in 2012.
The 15 finalists who weren't inducted in 2011 will be on next year's ballot, with five vacancies to be filled. Patrick Ewing, Whitey Ford and Duke Snider will be among those contending to be finalists.
Ruth, who played for the Yankees from 1920-34, changed the game with his prolific power hitting. He clubbed 659 of his 714 career homers as a member of the Yankees, including a career-high 60 for the legendary 1927 team. Ruth won four World Series titles with the Bombers and his "called shot" in the 1932 World Series remains one of baseball's greatest tales.
DiMaggio played his entire 13-year career in pinstripes, winning nine World Series titles and three AL MVPs. DiMaggio is known best for his 56-game hitting streak in 1941, a record many believe is the safest in all of professional sports. DiMaggio missed three seasons in the prime of his career to serve in World War II. He still amassed 361 career homers and 2,214 hits to go with his .325 average.
Gehrig, nicknamed "The Iron Horse," was with the Yankees for 17 seasons (1923-39) and still holds the major league record for grand slams (23). He played in 2,130 consecutive games from 1925-39, a record that stood until 1995. Gehrig, a six-time World Series champion and two-time MVP, retired with 493 career home runs, 1,995 RBIs, 2,721 hits and a .340 average. His career was cut short by amyotrophic lateral sclerosis, a degenerative disease of the nervous system that took Gehrig's life in 1941, when he was just 37.
Mantle, like Gehrig and DiMaggio, played his entire career in pinstripes, appearing in 12 World Series during his 18-year career and winning seven of them. A three-time AL MVP, Mantle still holds World Series records for home runs (18) and RBIs (40). He won the Triple Crown in 1956, batting .353 with 52 homers and 130 RBIs. Mantle, a switch-hitter, hit 536 homers and was famous for his tape-measure blasts.
Robinson, who played his entire 10-year career with the Brooklyn Dodgers, broke baseball's color barrier on April 15, 1947, becoming the first black player to appear in the major leagues since the late 1800s. Robinson, who was already 28 years old when he debuted, played in six World Series, winning the title in 1955. The NL MVP in 1949, he was a career .311 hitter and stole home 19 times.
Robinson, who endured abuse to pave the way for others, is the only player to have his uniform number retired by every major league team.