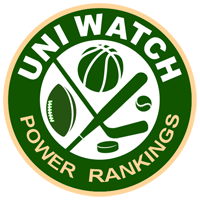 Welcome to Day Three of the Uni Watch Power Rankings, as we continue our assessments of all 122 uniform sets from the major pro sports leagues. Today, we turn our attention to the NFL, in which so many folks expected Nike to have turned the entire league into a video game by this point. Hasn't quite worked out that way, right? In fact, one of the Swooshkateers' most visible branding elements from last season's uniforms, the neck roll collar, will have a much lower on-field profile this season, as six teams have stopped wearing it.
Still, Nike's influence can be seen in the new uni sets being worn this season by the Jaguars, Vikings and Dolphins. How did those uniforms do in our rankings? Take a look -- you can click on each team's name to see photos of its current uniform set. And then be sure to come back tomorrow for our NHL rankings.
UNI WATCH POWER RANKINGS: NFL
(Click team names to view uniform sets)
Paul Lukas will be stunned if the Jags stick with that helmet for the entire season. If you liked this column, you'll probably like his daily Uni Watch web site, plus you can follow him on Twitter and Facebook. Want to learn about his Uni Watch Membership Program, be added to his mailing list so you'll always know when a new column has been posted or just ask him a question? Contact him here.