This piece is a response to Paul Lukas' Uni Watch Power Rankings: MLB.
I can see picking the St. Louis Cardinals' uniform as baseball's best. I loved those jerseys so much that, as a kid, I tried painting my own replica T-shirt. I was 6 at the time, so my effort more closely replicated spilled tomato soup.
But I cannot understand ranking the Los Angeles Dodgers' uniforms fifth below the Cubs, Phillies and Athletics. The Dodgers' uniform is the most beautiful in baseball, even better than the Cardinals'. And I say that as someone who grew up rooting for the Giants and hating the Dodgers.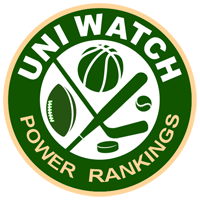 You can sit on any beach in the world on the most gorgeous of summer days and you will not see a sky as vibrantly blue as that of the Dodgers' cap. Likewise, the white of the uniform is as clean and pristine as a wedding dress. And both colors are made all the more striking by the dazzling red number below the script Dodgers. That uniform is simply as crisp, clear and pleasing as Vin Scully's voice.
I also strongly disagree with Detroit and the Yankees being ranked so low. They are two of the game's most traditional uniforms, and neither cracks the top five? Detroit's old English D and New York's interlocked NY are such classy emblems that they make even Prince Fielder and CC Sabathia look good. (Although I think the Yankees could improve on the pinstripes by adding ties and pocket squares as Mark Ulricksen did on his 2004 New Yorker cover.)
Meanwhile, the Orioles are ranked too high. I really like their uniforms -- orange and black is a great color combination -- except for one thing. Those awful '70s-style caps with the white front. Not even Cal Ripken Jr. in his prime could make that look presentable.
And the Marlins are ranked way too low. Yes, I'm serious. I can see not liking that design but it does fit into the distinctive Miami style. In fact, I would say it's one of the few good things the Marlins have done under owner Jeffrey Loria. Which means he'll probably get rid of them.
Here would be my top 10:
1, Dodgers; 2, Cardinals; 3, Tigers; 4, Yankees; 5, Royals; 6, Blue Jays; 7, Giants, 8, White Sox; 9, Astros; 10, Pirates.
As you can see, the Cubs, Phillies or Athletics don't even make my top 10, let alone the final four. I have nothing against those uniforms (and I love Oakland's elephant shoulder patch) but I don't consider them particularly outstanding. In fact, the Cubs would fall somewhere into the bottom half of my rankings.
Then again, perhaps my opinion on the Cubs' uniform is weighed down by the players who have worn it over the past many decades.
• Now it's your turn to make your picks: Rank MLB's uniforms 1-30!