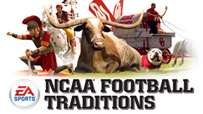 SportsNation is partnering with EA Sports to give you, the fans, the chance to determine which school has the best tradition in college football!
Here's how it works. We've taken 16 of the best traditions from the college gridiron and put them in a bracket-style tournament to the death, in which your vote determines which tradition advances. Every Tuesday (at noon ET), we'll open a new round of voting until one school is declared the winner. The winning school will receive hundreds of copies of EA's "NCAA Football 12" on the day of game's release (July 12), courtesy of SportsNation and EA Sports!
EDITOR'S NOTE: Due to technical issues we are moving the final round of voting to SportsNation's Facebook page.
NCAA Football Traditions Vote