If the world's best halfpipe riders could borrow liberally from their peers to construct the end-all, be-all of Superpipe runs based on every trick currently on the books, which riders would they tap and what tricks would they select? We asked 10 of them and came up with a decent approximation of a run that would crush any ever thrown.
The Dream Run Gallery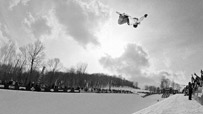 WIDTH="203" HEIGHT="114" BORDER="0" ALT="">
Take a closer look at the greatest run never thrown. Gallery

The Panel
Gretchen Bleiler, 29: defending Winter X Games SuperPipe champ, two-time Olympian
Elena Hight, 21: two-time Winter Olympian
Greg Bretz, 20: 2010 Winter Olympic halfpipe team
Ellery Hollingsworth, 19: 2010 U.S. Open bronze medalist
Louie Vito, 22: 2010 Winter Olympic halfpipe team
Luke Mitrani, 20: 2010 U.S. Open and Grand Prix bronze medalist
Scotty Lago, 23: 2010 Olympic bronze medalist
Mason Aguirre, 23: two-time Winter X medalist, 2006 Olympic team
Jack Mitrani, 23: 2010 Dew Tour bronze medalist
Danny Davis, 22: 2010 Grand Prix gold medalist
Hit 1: Luke Mitrani's Double Michalchuk
A fantasy run, like a real-life, gold-medal clincher, should start big and grab the attention of the judges and the crowd that influences them. Since namesake Michael Michalchuk, no one has mastered this trick like Mitrani, who is the only current rider who throws the double backflip 540 in competition. "It's a ridiculous trick," Aguirre says. "He goes so big and has so much style. It's an insane way to start a run."
Hit 2: Danny Davis' Frontside Double Cork 1080
With a clean landing on a big, opening trick, a rider sets himself up with the speed to throw a second, even loftier trick. And since the current craze is double corks, our panel agreed Davis is the guy to keep the momentum flowing. "Danny has the cleanest double corks of anyone," says Luke Mitrani. "It's hard to spin with style when you're spinning so fast, but Danny's frontside double cork 10s are so stylie."
Hit 3: Louie Vito's Cab Double Cork 1080
OK, that's a lot of flipping. But this is a six-hit run, so we're not finished. Coming out of Davis' frontside double cork 10, our rider is riding switch (with his opposite foot forward) so now is the time for Vito's flashy cab double cork 10, which starts out switch but ends with him facing forward again. "I love doing these because it's a nice in-between of what other guys are doing," Vito says. "It's not too flippy and not too spinny and I think it's the best-looking thing I do in the halfpipe."
Hit 4: Scotty Lago's Frontside 900 Nose Grab
Now it's time for some spinning and style, and a break from all the flipping. The middle of a run is usually reserved for stylish, recharging tricks like straight airs, which give the rider a chance to show some individuality and personality and setup for the final hits. Known for having some of the best 9s in the sport, Lago's frontisde nine came up as often as any trick mentioned by our panel. "He grabs nose on his frontside 9, which is amazing," Bretz says.
Hit 5: Kazuhiro Kokubo's McTwist
A fifth trick would end most halfpipe runs, but a fantasy run, of course, has six. For the penultimate trick, our panel wanted style, flash and mega air. Enter Kazu, who's known for having the trifecta. "I'd throw a big McTwist into any fantasy run," Vito says. "And Kazu has one of the best in the game." Adds Davis: "When you do this trick huge, there isn't much that's more impressive. I envy guys who can do a great McTwist."
Hit 6: Shaun White's Backside Alley-Oop Rodeo
What? You were expecting the double McTwist 1260, the trick White ended his final Olympic run with in Vancouver? Sure, the Mickey 12 scored with the fans last February, and when he lands it, it's a sure bet with the judges. But this trick scores with his toughest audience -- his peers. "It's technical, difficult, smooth and he makes it look good," Lago says. "I like everything about it." Ending a pipe run with a trick this big and complex is maybe a little far-fetched, but this is a dream run and so it has to end with a banger. If White can use the backside alley-oop rodeo to punctuate his run at Winter X 15, he might have a dream result. Then again, the riders with the five tricks before him on this list might have something to say about that …