Last January, an El Niño warm front blasted through Vancouver, British Columbia, subjecting the city to the most uncharacteristically warm January on record, a fact that did not bode well for the Olympic Halfpipe venue at Cypress Mountain 20 miles north. The condition of the pipe was so dire, in fact, that thousands of spectators' tickets were canceled and organizers resorted to trucking in snow from three hours east to ensure the structure didn't simply melt away.
Being Torah Bright Gallery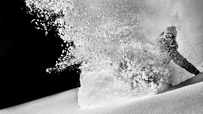 WIDTH="203" HEIGHT="114" BORDER="0" ALT="">
Bright's been ripping since long before her Olympic victory. Gallery

"The first day [of practice] I was laughing so hard, then the second day it was even worse," Torah Bright explained. "I kept eating it in the flat bottom and couldn't get to the wall. I didn't know if I should get worried."
Though they were the strongest pipe riders in snowboarding history, come competition day anxiety did indeed bear down on Bright and the rest of women's field.
Bright breezed through the qualification round, advancing in first to the finals later that night. But then, on her first of two finals runs, she crashed early and fell into last place. At the pinnacle of a season punctuated by three concussions in less than a month and following the 2006 Olympics where she finished just below the podium, Bright had one run to make it count. And then she dropped in.
Born and raised in Cooma, Australia, at the base of the Snowy Mountains (some mountains are named for their size or color, others, quite literally, by what falls on them), Bright grew up competing -- ski racing -- from a young age. Her family -- mom Marion, dad Peter, sisters Abi and Rowena, brothers Benny and Robin -- all skied, and at age 2, so did she.
By the time she started snowboarding, Torah said, she was a racer who didn't know much about snowboarders and called them names. "I tried it and that was it," she said. "The freestyle aspect of snowboarding excited me, as I was just turning on skis."
Coming from a competitive family (Rowena went to the Olympics in 2002 for Alpine skiing), she started snowboarding at 11 years old and soon entered every local contest she could. Three years later, she was traveling overseas to compete in the 2000 ISF Junior World Championships alongside her older brother, Benny, who, then a pro snowboarder himself, became her sole coach and manager. She finished third.
src="https://a.espncdn.com/i/story/design07/dropQuote.gif" />
"Hands down, she's technically better than anyone else, as far as the level of tricks she does. She runs kind of a high-risk scene. It's inspiring."
src="https://a.espncdn.com/i/story/design07/dropQuoteEnd.gif" />
--Kelly Clark
There would be plenty of moments in the future that would make big bro gush, but for Benny, their first competition oversees together was his proudest. "She was 14, I was 16; it was our first overseas trip," he said. "It was a turning point."
In a country in which the fastest-growing religious sect is "none," Peter and Marion became Mormon -- a religion that one-half of 1 percent of Australians follow -- when they started having kids. "We were almost Buddhists or atheists," Torah said. "And between the food [the family were also 'health freaks'], my family being pretty much the only members of the Church [of Jesus Christ of Latter-day Saints] in our small town and my mom's crazy healing crystals -- all sorts of weird and wonderful wacky things -- we were the talk of the town."
By the end of the next season -- her first living in the States -- her results (second in Big Air at the ISF World Championships, sixth in Slopestyle at the US Open) caught the attention of Roxy, and in 2001, she was signed to their international team. To this day, Torah's Bright Collection is the only signature line that Roxy has.
"She had this vibe about her that was really unique," said Danielle Beck, vice president of marketing for Roxy. "Such a beautiful aura, an Olympic spirit -- well-spoken, always positive. You could see it from the time she was young. Our Australian team manager told us to send her product because she was going to be the next big thing."
At the same time, a new shift was clocking in at women's pipe contests. In 2002 Kelly Clark, then 19, topped the Winter X podium and the Winter Olympic podium for the first time, ending a dominant streak for a 29-year-old Shannon Dunn, who was absent from the podium at both events.
Barrett Christy, who still holds the record for most Winter X medals held by a female (10), remembers that time. "I think back to riding when [Clark and Gretchen Bleiler] were getting started," she said. "They were pretty young and they seemed to grow into their confidence. Women started mixing up their runs a lot more. It was no longer about the frontside and backside 5s; there were more varieties of spins and inverted tricks. That combination of speed, amplitude and style is when the game changed in women's pipe."
Soon, each of the top women had runs that commanded respect. Clark's winning Olympic run in 2002 included a McTwist and a frontside 720 -- new for ladies in the pipe. The same year, 15-year-old Hannah Teter became the first female to land a frontside 900 in competition -- a trick that would win Olympic gold for her in 2006 -- and Bleiler perfected her Crippler 540 -- a trick she includes in her contest runs to this day. Women's pipe riding was, for the first time, poised for man-caliber potential.
As an upstart in the States, Torah's presence on the international circuit was two-fold: It meant there would likely not be an all-American women's podium at a high-profile pipe contest for the duration, and with tricks like her switch backside 7 -- a trick only a handful of men have in the pipe -- the three women who had been dominating pipe comps finally had some real competition.
Collectively, these four women have half the Olympic Halfpipe medals in existence. Half of those are gold. The same four women have won 21 medals in SuperPipe at Winter X, and no one outside the circle has been on a Winter X podium for the past three years.
Torah, who just turned 24, has four WX medals: two gold, two silver. She also claims the highest scoring run in women's Winter X SuperPipe history. She has a handful of Slopestyle podiums, a 2010 ESPY Award, a TTR overall title, a U.S. Open win and her face on a postage stamp in Australia.
She also has the designation of being pipe riding's most technical and unpredictable female, something that contest judges are rewarding her for with greater frequency. Yet Torah, one of pipe riding's most respected stars, contends, "I don't really care for contests or competition. I need to become a better snowboarder."
The men's Olympic Halfpipe finals went down the night before the women's at Cypress. The Shaun White hype machine was elevated to code red and the men's trick du jour -- the double cork -- had only a month ago sent Olympic hopeful Kevin Pearce to the intensive care unit with a traumatic brain injury.
On a pipe that had had inches rained off it every day leading up to the finals, Torah dropped in first out of 11 women for her second and final run, and she crushed it -- backside 3, switch backside 7, backside 5, air to fakie, cab 720. She watched the other scores come in, but no one came close. She was the Olympic champ.
"I don't have the words for how it feels," Torah said following the event. "I'm so happy and proud. It's amazing."
Her brother found the words for the way he felt that day.
"I was relieved it was over," Benny said. "Everybody was hoping and expecting that she was ready to win, and it's nice to be able to do what you need to do on that day, not the day before, not the day after. I look back on it now and it's incredible."
Women's snowboarding is in an exciting place right now. And not in a girl power, pigtails, LOL kind of way. Women are landing 10s in the pipe and sharing screen time with men in the backcountry, and they're looking good doing it, too. And not just in their signature outerwear lines. These women have good snowboarding style.
src="https://a.espncdn.com/i/story/design07/dropQuote.gif" />
I don't really care for contests or competition. I need to become a better snowboarder.
src="https://a.espncdn.com/i/story/design07/dropQuoteEnd.gif" />
--Torah Bright
"Snowboarding's something Torah's always done for fun," Benny said. "We don't go out there and train, in a sense. It's not the be-all, end-all if she bails out on one contest. She's coming into a stage where she is more calculated, more motivated and more determined, but I think that's just maturity and developing a greater perception of snowboarding. The goals for me in training are to develop her talent and in turn, progress women's snowboarding."
Dedication is paying dividends for women in the pipe. A number of ladies, including Spain's Queralt Castellet and Idaho's Kaitlyn Farrington, have backside 900s. Bleiler has added a half-rotation to her Crippler. Elena Hight has back-to-back 900s, and Ellery Hollingsworth and Clark have 1080s.
In addition to her already-dizzying trick arsenal, Torah may have added a double cork to her repertoire by the time you read this. And that's no joke.
"Benny always tells us we're better than we think we are," Torah said. "He believes in us and he's really good at the technical aspect of snowboarding but also at motivating us. [The double cork] is difficult. And it's dangerous. But the more years we spend on the snow and put ourselves outside of our comfort zone, the better we're getting. Ten years ago we never thought we'd be doing what we are now."
Torah's competitors have good things to say about her style.
"Hands down, she's technically better than anyone else, as far as the level of tricks she does," Clark said of Torah. "She runs kind of a high-risk scene. It's inspiring."
Forum pro Jake Welch agrees, though as Torah's husband he has to agree.
"There's a big gap between her normal bag of tricks and a lot of the other girls," Welch said. "And she'd rather do a different run every contest [unlike] the same run, every run that a lot of the girls do."
Torah still wants to learn more tricks -- on jumps and in the backcountry -- and spin every direction and try new combos in the pipe. But she said this season is shaping up to be just the way she wanted it. "I want to hit jumps. I want to learn how to drive a sled. I want to ride powder. I want to snowboard," she said. "It's those days that get me through a whole season of competing."
In late August, the Patagonian resort of Catedral Alta, just outside of Bariloche, Argentina, received nearly nine feet of snow in one week at the end of a South American winter that for the most part saw very little precipitation in the Andes. The Santa Rosa storm, historically the last big hurrah of the South American winter, plowed through in late August 2010, closing the resort and killing the power in the town below.
The professional shred world descended en masse to the Southern Hemisphere to take part in some of the best pow turns of the year. And somewhere, ripping through the trees under the gondola on the first bluebird day following the storm, was Torah, having "one of those days" that get her through a competition season.
"I said to our guide, 'I think I feel high,'" Torah said afterward. "I was so ecstatic."
The trip must have clarified things for Torah in a way maybe even she didn't expect. In a move that few saw coming, she announced just two days before Winter X Games 15 that she'll be taking a run no one has seen her take since 2007: a Slopestyle run. The reigning Olympic champion has decided not to compete in SuperPipe.
It serves to prove what the snowboarding community has known all along: The best pipe riders in the world can't be contained by a halfpipe.