U.S. Olympic BMX team member Kyle Bennett of Conroe, Texas was killed in a single vehicle auto accident on Sunday morning, near his home in Conroe. Bennett was 33 years old. According to the Montgomery County police report, Bennett's 2006 Toyota Tundra pickup truck left the roadway while traveling at a high rate of speed and impacted a wrought iron gate, a culvert pipe and several trees before coming to a stop upside down in a residential subdivision.
Kyle Bennett 1979 -- 2012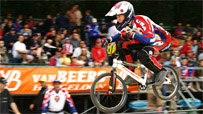 WIDTH="203" HEIGHT="114" BORDER="0" ALT="">
A look back at some of Kyle Bennett's BMX career highlights. Check the photos. Gallery

Bennett was alone in the vehicle, and no other vehicles were involved. Police at the scene reported that Bennett was not wearing his seatbelt when the accident occurred.
Bennett was reportedly responding to a break in of his fiancée's car when the accident happened. Bennett was a three-time UCI World champion, three-time NBL champion, 2009 ABA champion, 2008 member of the U.S. Olympic BMX team and one of the most talented people to ever touch a BMX bike. He was also inducted into the BMX Hall of fame this past June as part of the 2008 U.S. Olympic BMX Team. Beyond his achievements in the world of BMX, Bennett is the father of a young daughter.
The news of his passing has quickly made its rounds throughout the BMX community with much sadness. Below are what some of Bennett's friends had to say about the news.
Denzel Stein: "The big man up stairs called this man home. I'm sure he knew that he was taking a legend and a idol from most of us. The game will never be the same. It's hard to even realize Kyle is gone. Forever miss and never forgotten Homie! Have some trails ready for us BMXers when we get there. RIP #KB88."
Derek Betcher: "Rest in peace to father, friend, Olympian, multi-World Champion, hall of famer, legend, and all around awesome person with such effortless style and flow, Kyle Bennett. I was always so inspired by watching you ride, and equally inspired by your humble personality. I'll remember all the good times, my friend. You'll be forever missed."
Aaron Ross: "RIP Kyle Bennet. The world has lost literally one of the greatest people and one of the all time greatest BMX racers to ride a bike. RIP K Butter. I will always look up to you. You will be missed."
Free Agent BMX: "It is with a very heavy heart that the FA Team sends thoughts and prayers to the family of Kyle Bennett, who passed in an accident last night. We were very fortunate to have him a part of our team for so many years. Rest peacefully, Kyle."
Tory Nyhaug: "RIP Kyle Bennett, loved watching you when I was a kid and was honored to have been able to race you in the elite class. One of the best of all time."