For USA BMX, 2012 has been a long, unusual year. The schedule has been all over the place -- weaving around the World Cups and making room to make room for the World Championships as well as the Olympics. With the Olympics behind them, riders shifted their focus dramatically to the American Circuit. A few riders who haven't been around much were suddenly at every race, while Olympic gold medialist Maris Strombergs decided to hang his bike up for a couple of months and take a little break. The sprint to the USA BMX Grand Nationals is now over, and aside from a few main finishes at the Grands itself, the weekend largely reminded us of the 2010 season, where Sam Willoughby managed to snag his first title and Dominique Daniels managed to fend off a different pack of Elite Women for her third title. Now Sam's count is at two and Dominique currently holds the record for most Elite Pro titles with five.
2012 USA BMX Grand Nationals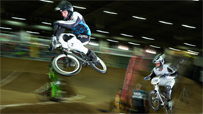 WIDTH="203" HEIGHT="114" BORDER="0" ALT="">
Dominique Daniels and Sam Willoughby claim year-end titles. Check the photos. Gallery

Elite Men
All day long, Sam Willoughby and Marc Willers were doing work, winning laps and getting it done. When main event time came, it was obvious that it was down to the wire, each with an incredibly large chance of winning with the best average of three mains taking the title. In round one Sam Willoughby dominated from the start. Willers couldn't find his way to the front, finishing the lap in fifth. In round two, Willers made some progress, finishing in second, but that was still not enough, as Willoughby again took the win. From there, Willers would need a miracle to win the title. Round three came and Connor Fields played into the race, taking the win with Willoughby in second. Willers would finish fourth in the final round of mains and handed his #1 plate over to 2012 National Champion Sam Willoughby minutes later.
Elite Women
Dominique Daniels remains unstoppable -- five years in a row walking away with a #1 title, five years of fighting off competitors down to the last second. But this year, Alise Post stole the show. Post has been out since the Olympics, and this weekend was her first time back at a race since. And for the first time in a while, she wasn't in contention for a title. Post took the win at Friday night's Race of Champions and then, during the Grand Nationals main events, proved herself to be in control. Post took home the overall win for the day. She won the battle this year, and next year, we have to imagine that she will be aiming to win the war.