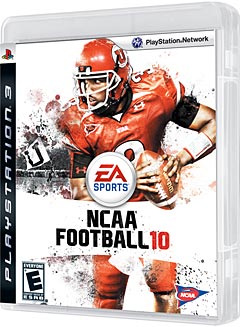 EA Sports is set to announce five cover athletes in the next five days, starting with NCAA Football 10 for the PlayStation 3 on Monday and finishing with Madden NFL 10 on Friday April 24 (if only they'd reveal who was on the cover of Tiger Woods 10 one of these days).
And for the first reveal, EA announced via ESPN's College Football Live that Brian Johnson of Utah will appear on the cover of NCAA Football 10 for the PS3.
ESPN hit up Kendall Boyd, the senior marketing director for the game, to get his thoughts on why Johnson makes the perfect cover athlete:
"Each year we really try to focus on the leadership side of college football and reward certain teams," explains Boyd. "Leading off with Brian and Utah is a perfect example of this as our PlayStation3 cover boy. This is a team that ran the table and won every time the experts said they didn't have a chance. We really wanted to reward Brian and Utah for an excellent season that many in the media felt deserved a piece of the National Championship. For us at EA Sports, this plays into our overall direction for NCAA Football 10 and that every game counts. In college football, each week when a school plays, it is the most important game of the season and Utah proved week in and week out they made it count when it mattered."
Look for EA Sports to reveal the cover of NCAA Football 10 for the PSP on Tuesday's edition of College Football Live.