Why is Kobe Bryant wearing a Knicks jersey?
"It's a contract year," Spike Lee says, grinning toward the camera.
I'm behind the scenes of the top secret "NBA 2K10" commercial shoot in Hollywood, where Lee is debating the merits of Duke players in the NBA off camera. On camera, the debate is about featuring any non-Knick on the cover of the world's most popular basketball video game.
Lee, decked out head to kicks in New York orange and blue, holds up pictures of Al Harrington and Chris Duhon. "He'll cross you over," Lee says of Duhon while pulling off his own brand of air-crossover, which looks more like a seizure.
YOU PICK THE COVER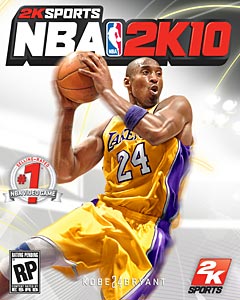 2K Sports is letting the fans choose the final Kobe cover of "NBA 2K10" with online voting starting Friday. Click here to see the four choices, including Spike Lee's favorite: Kobe as a Knick.
The room erupts with laughter once the camera stops shooting as all of Lee's crew members start to mimic the director's convulsion crossover.
Lee, who helped usher in the Michael Jordan era with the line, "Is it the shoes?" now is working on helping Brand Kobe take the next step in marketing, first with his documentary "Kobe Doin' Work" and now by helping publicize Bryant's new video game from 2K Sports.
As Lee holds up various mock covers of Knicks he thinks are better suited for the cover than Bryant, he even cycles through a picture of a Knicks cheerleader that he quickly covers up.
"That's not supposed to be here," Lee says as he chucks the mock cover toward the camera.
Finally, Lee gets to the last piece of box art. "If Kobe is going to be on the cover, at least put him in the orange and blue," he says, pointing to the altered image of Bryant on the Knicks. "He looks good like that."
Two weeks later, when I catch up with Bryant at the Staples Center after practice, all he can do is laugh at Lee's New York dream.
"That's just Spike doing work," Bryant says.
Funny thing is, the cover art with Bryant as a Knick will be one of four box covers fans of "NBA 2K10" will be able to choose from online starting Friday. The cover with the most votes will be the official box art for the game.
Just don't think your vote for New York Kobe will do much good.
Let's just say a vote for Bryant as a Knick will get you a response along the lines of "Keep dreaming, Spike."
But the cover vote isn't the only special thing about this year's game. "NBA 2K10" marks the 10th anniversary for the franchise that's a favorite among NBA players and fans alike.
The title also brings Bryant back to the video game spotlight he has sought since first coming into the league. He has been featured in everything from his own Nintendo 64 game ("Kobe Bryant in NBA Courtside") to his own cell phone game ("Kobe Bryant Pro Basketball").
"Video games were a big part of my childhood, especially basketball video games, so it's cool to be the face of a game, especially the 2K game, which is the best out there," Bryant tells me as we talk video games in one of the secluded hallways just off the court inside the Staples Center.
"

If Kobe is going to be on the cover, at least put him in the orange and blue. He looks good like that.

"

-- Spike Lee
Back in the day, Bryant was a video game nemesis of mine, as one of our games of "NBA Courtside" ended in controversy when he slapped the controller out of my hand, then hit the winning shot.
Bryant laughs at the play, accepting my challenge to run the game back, only this time on "NBA 2K10."
"When we were growing up, we played video games with the environment of a hostile crowd," he says. "So you couldn't just play video games ... it didn't happen; you didn't have that luxury. You got hit at and fouled [while you played] to make it as realistic as possible."
Bryant has been keeping up to date on his NBA 2K gaming with his Xbox 360, which he says is the console of choice at his house with his kids. But his favorite hoops game of all time goes way back. "'Double Dribble' was the game," he says. "It's a trip; you think about the progression video games and the realism of the graphics and the crowd, it's almost like an actual in-game experience now. Video games have become so real, you can actually sit there and watch two people play as a form of entertainment."
And to think, "Double Dribble" used to blow my mind when it showed those up-close, in-your-face dunks. "And now think about it," Bryant says, laughing. "In 'Double Dribble,' I still remember shooting from the upper right corner. Never miss."
These days, it's not about the spot on the floor; in "NBA 2K10," it's about capturing each character's signature style. "One dribble, pull up," Kobe says, explaining his go-to move in real life and in polygons.
But that's not all Bryant has in his arsenal. The way he hangs in the air -- one clutch, two clutch, continue to hang while the defender falls, shoot -- it's almost like he's a human video game out there on the floor. Only thing is, an opponent can't knock the controller out of his hand to stop him.
"You get in a zone, and sometimes it feels that way," Bryant says of feeling like a human video game. "It's very rare, but once you get in that zone, everything just feels really easy, effortless."
What won't be effortless is Bryant's struggle to beat me in our rematch.
"Watch out: I'm the best trash talker in the game," Bryant says. "I'm going to do my homework on you first, then I'm going to come right at you."
Only difference is, this time, I'm hanging on to my controller.
To vote for your favorite "NBA 2K10" cover, head to 2ksports.com on Friday. Tell them Spike sent you.