Chase Utley slaps a chopper over the mound that's just over the outstretched glove of the pitcher. J.J. Hardy charges the play, and with his momentum carrying him in front of second, flips the ball behind his back to Nick Punto who grabs it out of midair, steps on the base, then rifles the ball to first while somersaulting over the runner barreling toward him to complete the double play.
Within minutes of sitting down to check out an advanced copy of "MLB 10: The Show" inside Sony's San Diego studio, this sequence played out on the flatscreen in front of me and completely blew me away.
"Hold on for a second," interrupted senior producer Chris Gill. "I need to save that replay." Gill hit a couple of buttons and handed me back the controller. "I can't wait to show this to the team."
'MLB 10: The Show'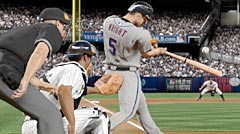 Get an exclusive look at the first screenshots from Sony's upcoming "MLB 10: The Show." First look gallery »
But that's not the only jaw-dropper fans can expect to see in the game scheduled to hit stores in early March.
We're talking all new home run-robbing animations, a new pickoff ability that will finally limit potential base thieves from taking off too early, and even a cyber-recreation of the famous Mississippi Braves manager meltdown, complete with military crawl and rosin bag grenades.
"We watched the video on YouTube and got the whole animation in there exactly how he did it in real life," Gill says with a laugh. "We wanted to make sure we captured everything about that moment … right down to the grenades."
To director of production Chris Cutliff, though, the most explosive aspect of the "MLB" series, the thing that has made it such a dominating force in the world of sports video games over the past couple of years, isn't the addition of a few animations or hanging their hats on one new back-of-the-box feature. "Every area of the game is getting a lot of attention," Cutliff says. "Our strategy is to add so much detail that some of these great moments won't even happen until you're deep into your season.
"We're attempting to make a game with as much replayability as possible. That's what it's all about for us, adding in those little details, those plays that make you want to rewind right away and show everyone. Those are the types of things that really make a game feel special, and that's what we're trying to capture. Everything we do is about trying to make the most realistic experience possible."
And from the looks of the early code I got my hands on, that's exactly what fans can expect from "MLB 10: The Show." A franchise that simply captures the sport of baseball better than any other, past or present.
As for the specific upgrades to the 2010 product, here are six things every gamer should know about "The Show" before it drops in March.
1. The online priority
"MLB 09" was one of the best offline sports games of the year. But take the game online and it's virtually unplayable because of the constant lag that throws off the timing of every move, making even little things like check swings seem impossible. "We're fully aware of the complaints," Cutliff admits, "but we've made online playability a priority area for us this year to make sure the timing of everything from the release points to the swings and check swings finally look and feel right. The online game will be going through much more extensive testing than we've ever put it through before."
And as producer Jason Villa explains, once they get the timing down, fans are going to find a whole lot to love about some of the new online features. "We're offering full online season leagues this year," Villa says. "We're trying to bring everything about the offline game and offer that in an online situation. Some of the key components that were missing in years past are related to tracking stats … not only your stats as a user online, but your player stats and energy. So now, setting your lineup actually means something. Now you have to go in and actually set up your pitching rotation properly. You can't just start your ace over and over without consequences, as energy is a huge factor. Injuries will also come into play, and you will need to manage your 40-man roster. Basically bringing all of those offline components online. We're still allowing you to have a full live draft between six and 30 players, as well as all the stats to see who's hot, who's leading the All-Star voting and MVP race and all of that information.
"We know one of the problems we had last year were leagues becoming stagnant, so we added some things to help move the season along. We added this feature called 'Auto Resolve' so if the commissioner happens to not be available or turns into a deadbeat commissioner, and a series has expired, 24 hours later the game will get resolved one way or another so the season can progress.
"We also added a new ratings system. In years past, this was always a user-voting system, where too many people might rate you poorly just because you beat them. Now it's all based on sportsmanship. Did he pull the cable? Did he pause the game? Did he do a series of things that made playing the game a poor experience? Now the system is going to generate that and assign you a rating based on your performance. So now it actually means something when you see someone with a 90 rating rather than a 50 rating, and it really helps you choose who you want to invite into your online league."