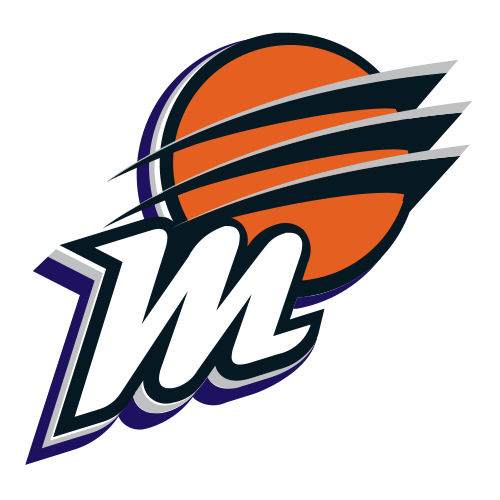 | | 1 | 2 | 3 | 4 | T |
| --- | --- | --- | --- | --- | --- |
| PHX | 23 | 15 | 16 | 27 | 81 |
| SA | 16 | 15 | 20 | 31 | 82 |

Danielle Adams, Becky Hammon fuel Silver Stars' rally over Mercury
SAN ANTONIO -- Danielle Adams scored 24 points and Becky Hammon added 22 as the San Antonio Silver Stars rallied for an 82-81 victory over the Phoenix Mercury on Tuesday night.
Sophia Young had 12 points and 14 rebounds to help San Antonio (8-5) win its fourth straight overall and sixth straight at home.
DeWanna Bonner had a career-high 38 points and eight rebounds, and Charde Houston added 19 points for Phoenix (4-11).
Hammon scored 17 points in the second half as the Silver Stars rallied after trailing by 13.
"That's why she's the player that she is," San Antonio coach Dan Hughes said. "Some players you kind of look at where they are during a game, but you never do that with Becky. She'll give us the best she has got. She is a heck of a player."
Hammon scored seven points in the final 1:05, including a tiebreaking three-point play that put the Silver Stars ahead for good after Bonner's two free throws tied the score at 75-all. Hammon made two free throws with 38.5 to go, extending the lead to five.
Alexis Hornbuckle hit a 3-pointer less than 8 seconds later, and Hammon made two more free throws with 2.4 seconds remaining to seal the victory. Bonner's 3 at the buzzer provided the final margin.
"We played so hard," Houston said. "I think our effort and energy is never questioned, but tonight, despite everything that happened, it came down to the last play. No matter how we fought, we came up short."
Adams sparked San Antonio's rally, scoring 20 points and grabbing four rebounds in the second half. She shot 8-for-13 over the final 20 minutes, including 5-for-7 in the fourth quarter.
"We let Adams get going in the second half," Bonner said. "She played a great game. She shot lights out in the second half. I don't know if she even missed a shot."
Adams scored nine points in a 17-5 run that cut the Silver Stars' deficit to 52-51 with 2 minutes left in the third. Hammon's first 3-pointer since late in the first half tied the score at 61-all with 7 minutes left, and Adams' driving layup 19 seconds later gave them a 63-61 lead.
San Antonio extended its lead to 66-61 when Hammon pretended to run upcourt, stole the ensuing inbounds pass and converted a three-point play.
After failing to shoot better than 33 percent in the first three quarters, the Silver Stars closed by making two of three shots and nine of 10 free throws. They closed the game shooting 35 percent from the field, including 5-for-30 on 3-pointers.
"We just told each other to keep pushing," Adams said. "Keep going, keep playing defense. We play off of our defense."
The Mercury dominated the first 23 minutes of the game before San Antonio closed the score.
Bonner's 3-pointer gave Phoenix a 7-6 advantage, the first time San Antonio had trailed in five games since losing June 22 at Seattle. The 6-foot-4 Bonner dominated San Antonio's smaller defenders, scoring 19 points in the first quarter while shooting 6-for-9 from the field.
"A couple of times we had decent pressure on them and they hit some tough shots," Hammon said. "You've got to give them credit. I thought they played pretty well."
Bonner's 16-foot jumper gave the Mercury a 33-23 lead with 3 minutes left in the first half as they limited the Silver Stars to 28 percent shooting from the field.
"Offensively, I can't remember us missing that many wide-open shots," Hammon said. "It was just one of those nights."
Silver Stars reserve Tully Bevilaqua announced prior to the game that she is retiring after this season. Bevilaqua has spent 14 seasons in the WNBA, including two with San Antonio. She has played in 449 career games, scoring 1,900 points, and is one of only four players in league history with 800 career assists and 500 career steals.