LOUISVILLE, Ky. -- We asked Louisville senior guard Shoni Schimmel to spend an afternoon with us in front of the camera. Usually on a day off from practice, Schimmel will catch up on TV shows -- right now, she's into "Revenge" -- by streaming them on Netflix. But today, she packed a bag filled with the clothes and accessories she loves, then showed off her style, on and off the court.
Photos by Robby Klein for espnW
1. Not as easy as it looks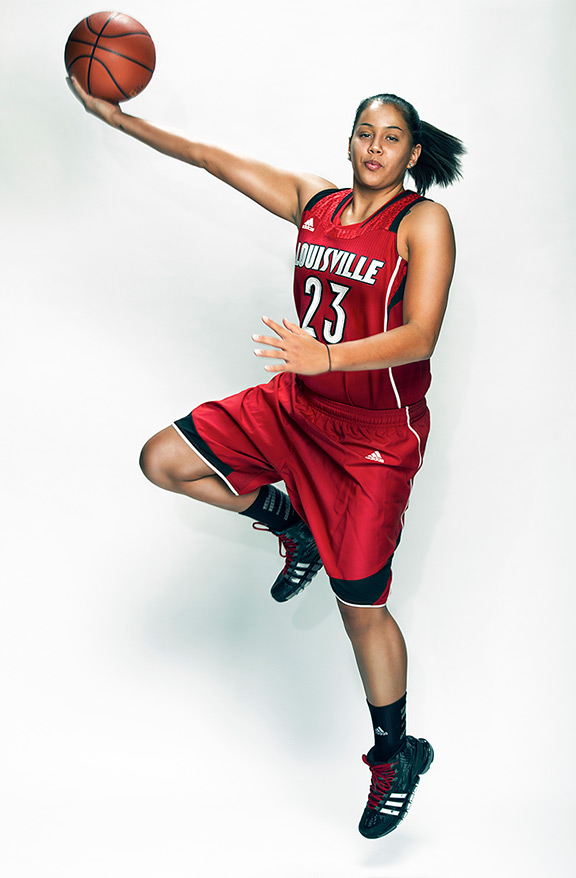 When Schimmel is asked to recreate the ridiculous playground shot she made against Baylor center Brittney Griner in the Sweet 16 of last season's NCAA tournament, she needs some direction. "Was it with my left hand? How was my body positioned?" She twists and extends the ball in her right palm, underhand, then asks, "Was it like this?"
Wait, what? Hasn't she watched the YouTube video of that moment dozens of times? It is easily one of the most spectacular moves -- behind-the-back dribble, turn in the air, overhead flip off the glass -- in NCAA women's tourney history, especially given the tension of the moment and the game's David-versus-Goliath narrative. As if the shot itself wasn't enough, the 5-foot-9 Schimmel popped off the floor after drawing the foul and went toe-to-toe with the 6-8 Griner, letting out a fierce whoop and providing the perfect image to go along with the underdog theme.
"I think I've seen it once," Schimmel says of the clip. "That whole moment was a misunderstanding. It's not like me to get in someone's face. After making the move, I was on the ground and I couldn't see Brittney, so I thought she stepped on me on purpose. It was obviously by accident; I just didn't know it at the time."
No one thought Louisville, a No. 5 seed, would oust top-seeded Baylor -- no one except Schimmel and her teammates, that is. She made a bet with her parents before the game that if the Cardinals won, the two of them would officially get married. Everyone on the Umatilla reservation where Schimmel grew up, in eastern Oregon, already considered Rick Schimmel and Ceci Moses married, because they had been together for 25 years and have eight children. But the couple had never made it legally binding -- they just didn't feel the need for outside validation -- until they walked into an Oklahoma City courthouse after Louisville's shocking upset in the regional semifinals.
2. Rez ball style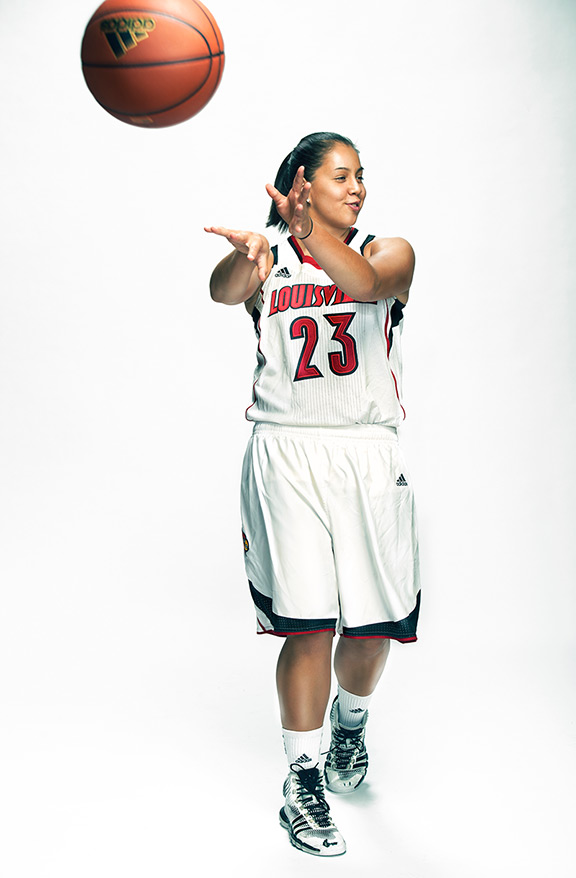 Some players think "flashy" is a negative term, but Schimmel is fine with it. That's the style of ball she grew up playing on the reservation -- "rez ball," as it is commonly known. She tosses a ball into the air and catches it on the tip of her index finger, watching it spin. "When I was a kid, I was hooked on the AND1 mixtapes," she says, referring to the popular streetball DVDs that emphasize jaw-dropping moves over drawn-up plays.
Schimmel hadn't played much structured basketball before arriving at Louisville. She chose the school over Oregon, UCLA, Rutgers and South Carolina because she wanted to experience a different part of the country while playing for a coach who was willing to adapt her free-flowing style to the college game.
Cardinals coach Jeff Walz lets Schimmel do her thing -- no-look passes, behind-the-back dishes, full-court baseball tosses -- within the structure of his offense, taking advantage of her ability to improvise but also pulling on the reins when Schimmel crosses over from creative to careless.
3. See the 3, be the 3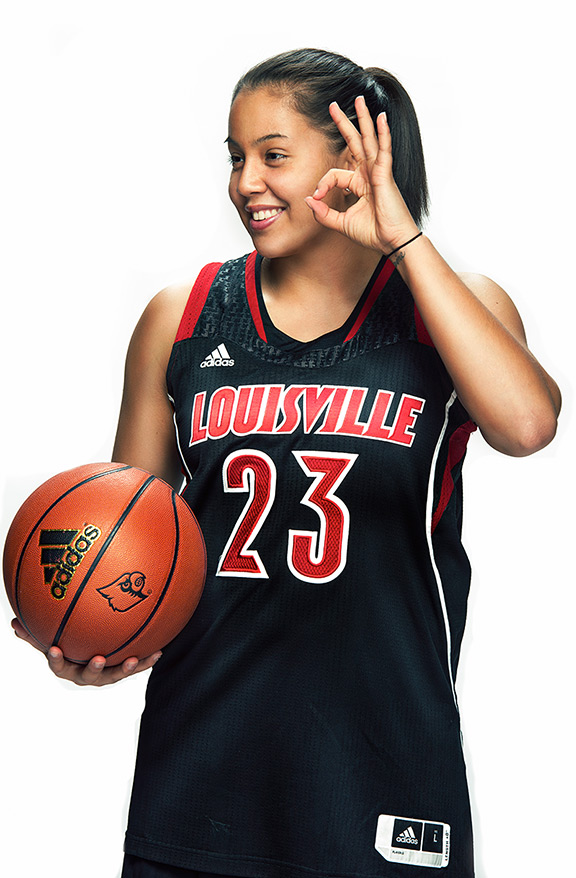 Schimmel has some swagger. There is something in her walk, her movements, that reflects confidence, especially when she possesses the ball. Toss her the rock and Schimmel light ups, displaying all the tricks in her arsenal.
Come to think of it, the Cardinals as a team have some of this same bounce to their step, a self-assurance that made them fun to watch on their run to the national championship game last spring. Occasionally, after making a 3-pointer, Schimmel will raise her arms or lift her hand to her eye, like she's putting on a pair of glasses. (Notice the three fingers extended.) On the opening possession of the NCAA title game against Connecticut, Louisville forward Sara Hammond made a 3 then ran back down court making the same gesture as Schimmel in the above photo.
In the end, Louisville had no answer for UConn's talent and depth. But more will be expected of the Cardinals after their epic postseason run made up for a mediocre regular season. (Louisville is ranked No. 5 in the preseason polls.) "I think we're better this year," says Schimmel, one of four returning starters. "We're more of a veteran team."
4. Shades of Shoni (and MJ)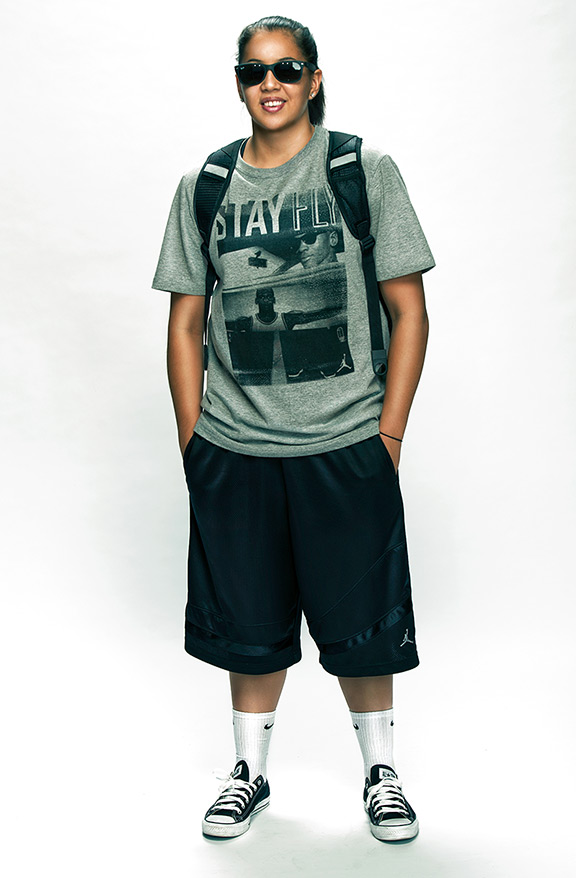 When she walks around the Louisville campus, Schimmel is usually wearing her black Ray-Bans. She is much more low-key away from the court and thinks the sunglasses give her an extra layer of protection. Of course, she's not really fooling anyone.
Her nickname -- "Shades" -- is perfect for her on-court persona. She is cool under pressure, much like her all-time favorite player, Michael Jordan. But ask Schimmel why she loves MJ so much and she is suddenly thrown for a loss. She shrugs her shoulders, with a confused look on her face, as if someone wants her to explain why she needs oxygen.
5. Finding her voice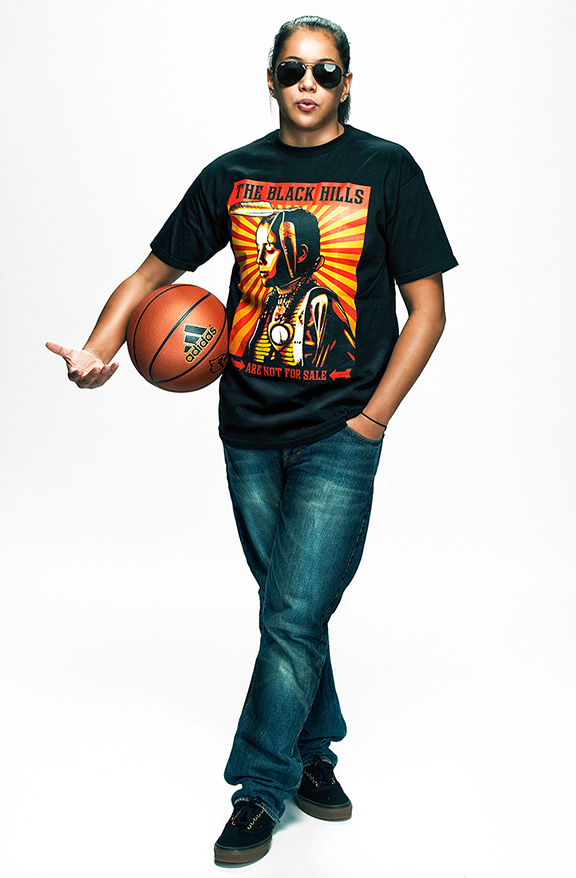 Schimmel is just starting to realize how much weight her voice carries within the Native American community. Over the summer, she and her sister Jude, who also plays for Louisville, and their parents visited the Black Hills of South Dakota to speak with the residents there. When Louisville plays, even on the road, members of the Native American community wait for Shoni and Jude after the game. These fans want their kids to see the opportunities that exist beyond the reservation, beyond the scourge of drugs and alcohol and school truancy that stunts too many young lives.
And Shoni wants to show them how good life can be -- if you keep your eyes up. "There's so much more," she says. "I want them to know that."
In the past, Schimmel was reluctant to speak publicly about topics close to her heart, for fear she might turn people off. Now, she is gradually owning and accepting the megaphone that sports has given her. She is one of the most prominent athletes of Native American heritage, one who finds herself at the nexus of a hot-button issue: Should the NFL's Washington Redskins change their nickname?
Two years ago, maybe even last year, Schimmel would have deflected the question. Not anymore.
"I would change the name of the Redskins mainly for the Native American people as a whole," Schimmel says. "It's about respect for the Native American race, especially to not promote the racism carried over from the past. It was racist to be called a 'redskin' back in the day, so what makes it OK today? There isn't a team called 'whiteskins' or 'blackskins' -- how would that go over with the world?
"Just because what our people went through was hundreds of years ago doesn't mean we forgot what happened, forgot what our elders went through. Changing the name would help give us, as Native Americans, the same equality that every other race wants."