RALEIGH, N.C. -- Elissa Cunane prefers bird-watching to binge-watching. Ask her what her favorite television show is, and the NC State center shrugs. Put her in the great outdoors with a trail to follow, and she's content.
"Growing up, I was always outside," said the 6-foot-5 sophomore, whose Wolfpack are coming off their first ACC women's tournament championship in 29 years. "That's my happy place."
"She gets that from her dad," Elissa's mom, Sharon Cunane, explains. Elissa -- whose name is pronounced "el-EE-sa" -- has Dan Cunane's smile, his height, his gregarious personality and sense of humor, his natural athleticism.
"I used to be 6-4, 250 [pounds], lifted weights, hunted and fished. I wasn't afraid to do anything," Dan Cunane said. "But Elissa doesn't remember me being fully healthy."
In 2002, when Elissa was 2 years old, Dan broke four cervical vertebrae and one thoracic vertebra in a bicycle accident. A Greensboro, North Carolina, policeman then with nearly two decades of service, he was initially totally paralyzed.
As the swelling of his spinal cord subsided, and with extensive physical therapy, Dan got back some use of his feet, legs and arms. His fine motor skills -- such as using his hands -- remain limited, and while he can stand up and sit down, he can't walk on his own.
He worked hard to regain as much as he could, and then learned to adapt to the challenges of a new reality. His family was by his side throughout the journey, and Elissa, from a very early age, gravitated toward helping her dad.
"She would help me make birdhouses. She knows what all the tools are and how to use them," Dan said. "We've got a picture of her on the riding lawnmower when she was like 7 years old. She would go fishing with me, and started doing some hunting. I liked that I was out there doing things, too, even if I was doing a lot of it through her.
"I think it's her helpful spirit. She looks at a situation and sees what needs to be done. You don't have to tell her."
How her father dealt with his injury has impacted the way Cunane approaches everything, including basketball.
"He really helped me with the mental aspect of the game," she said. "One thing he harped on is to control what you can control. He's had that life experience. That's one reason why I enjoy the game of basketball so much. [It's about] focusing on my attitude.
"If the refs are calling what you think is a bad game, or you think the other team is playing a little dirty, you can't control that. You can only control how you respond. That's one of the biggest things I've lived off of my whole life."
Dan and Sharon watched proudly from the stands this past weekend as Elissa helped lead NC State to its first ACC tournament title since 1991. The Wolfpack were ranked as high as No. 4 in early February, but then lost three of four games during a tough stretch of the schedule and entered the postseason feeling they had something to prove.
The team had a dinner last Wednesday at the Cunanes' house in Summerfield, a small town just an hour-and-a-half drive from campus but also located just outside of Greensboro, which has been home to the ACC women's tournament since 2000, the year Elissa was born.
Then the Wolfpack avenged a regular-season loss to Georgia Tech, topped a Boston College team that had upset Duke, and then, in the ACC final, won 71-66 against Florida State, which had eliminated No. 1 seed Louisville. NC State is projected to be a No. 2 seed in the NCAA tournament in the Greenville Regional.
"One thing he harped on is to control what you can control. He's had that life experience. ... You can only control how you respond. That's one of the biggest things I've lived off of my whole life." Elissa Cunane on how her dad had impacted her
Cunane recalled watching previous ACC finals from the stands as a child and wishing she could run onto the court to get one of the balloons from in celebration.
"So today I grabbed as many as I could," Cunane said Sunday after totaling 18 points and nine rebounds, and scoring the Wolfpack's final four points on free throws. "It's amazing to be on this stage and surrounded by all my best friends."
Optimism and gratitude are her go-to emotions. Cunane is known for her sunny disposition -- "My teammates sometimes yell at me in practice saying, 'Stop smiling and beat someone up. Push back!'" -- but she has had to amp up her toughness and aggression.
But she loves every part of playing basketball. Even on those rare days when she initially groans at the thought of getting up early to lift weights, she pauses to think of people, including her father, who wish they had her ease of movement.
"We've had challenges in our lives," Sharon said. "But we've taken it day by day, and continued around anything that is a challenge. Her optimism ... I don't know that we could claim credit for that; she was always a happy child. But I hope she has seen that we've overcome obstacles, and things have turned out all right."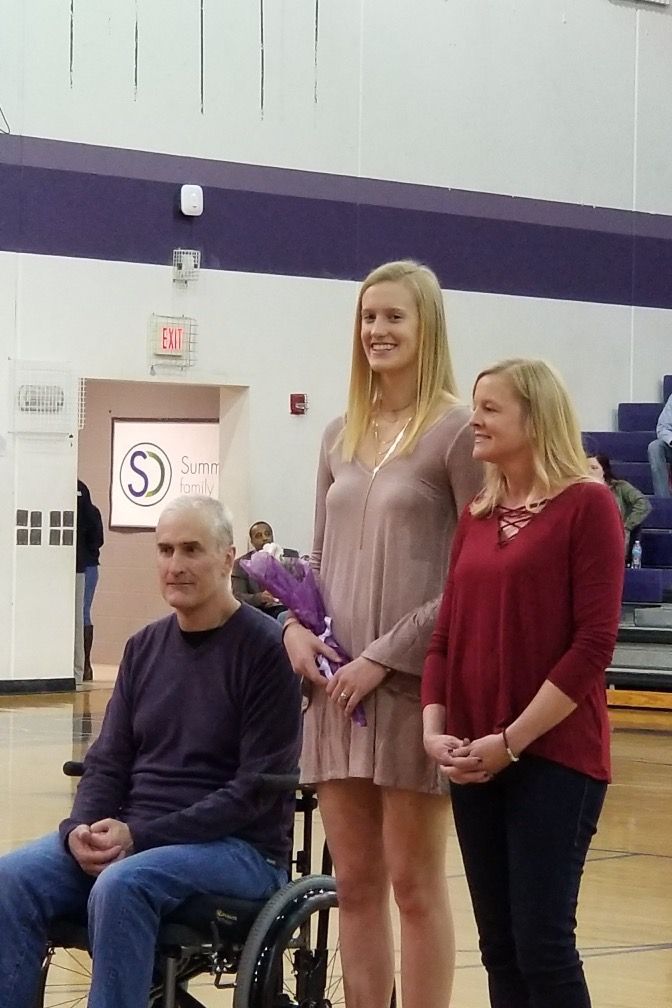 Elissa Cunane with her parents Dan, left, and Sharon.
Dan was injured Dec. 15, 2002, the date of son Will's fifth birthday. Elissa, who'd turned 2 that September, was taking a nap. The family had a party planned for Will and his friends, but first he and Dan played outside. They shot hoops, tossed a football around and then rode bikes.
Dan was on a mountain bike and was used to making small jumps on more difficult terrain. The jump he attempted that day seemed insignificant, but his front wheel hit first, and he flew over the handlebar, landing on his head. He didn't lose consciousness but couldn't move and knew he was badly hurt. Will ran back up a long driveway to tell Sharon to call 911.
Dan didn't return home until 4½ months later after spending time in the hospital and rehabilitation facility. For someone so used to being active and outdoors, and so dedicated to law enforcement, there was a very difficult adjustment period. At first, he couldn't do anything for himself.
"We had one kid in day care, one in kindergarten, and I worked full time," Sharon said. "You just get through the day, and you don't think about, 'What do we have to do tomorrow.'"
Dan has what's called central cord syndrome, which results from an incomplete spinal cord injury and inhibits motion and sensation, particularly in the arms and hands. During the first couple of years after being hurt, Dan got back some key functions. He can move adeptly in his wheelchair, propelled by his feet, and can drive, which allowed him to shuttle Elissa and Will to their various sports events.
But Dan lacks what's called proprioception, essentially an awareness of the position and movement of the body. He wasn't able to return to his police career and had to retire in 2004.
"I don't appropriately perceive where my body is in space," Dan said. "From the neck down, I have very spotty feeling. Some places are sensitive. Some places, you could take a sharp stick and poke me, and I will not feel it at all.
"Lack of balance and feeling are what really messed me up. I sometimes tell people it's like you've got a 5,000-piece jigsaw puzzle, and you're only missing five pieces. But those are the five you need to be able to see, 'Is it a horse, or is it a sunflower?' You can't tell what it is because you're just missing a few things."
Dan's physical challenges prompted young Elissa to figure out how best to help him, like opening doors, picking things up and handling cash or credit cards while grocery shopping.
"We'd go to Home Depot together, and she learned how to pick out a good board," Dan said. "She has always done well interacting with adults. We went hunting together. ... She was always wanting to spend time with me."
Added Sharon: "She anticipated things and saw a bigger picture, rather than just being concerned for herself. She always looked out for Dan, and I think that's carried over into her being the person that she is."
On the court, Cunane is a true center in most respects -- she's averaging team highs with 16.4 PPG and 9.6 RPG, while shooting 54.7% from the field this season -- but she also can hit facing up: She has made 17 of 38 3-pointers this season.
"Sometimes she gets in a hurry. When she gets the ball on the block, we want her to really slow down," NC State coach Wes Moore said. "I've been a big advocate of her using the baby hook shot; that's hard to defend when you're 6-5 and can keep that shoulder between you and the defense. She's shooting the 3 really well. It's exciting to think about her being only a sophomore and that she still has room to grow."
Moore also knows that Cunane's background is inseparable from her strengths as a player.
"She learned how to serve others," he said. "You couldn't ask for a better kid. Seeing her mom do all the extra things she does has made an impression on her, too."
Cunane says she thinks it has made her more ready for being an adult. Sure, if she could undo her father's injury, she would. But she's thankful for the insight she gained growing up as she did.
"There are so many things I've learned because of it that I wouldn't want to give up," she said. "Yes, I would love to have this life with my dad healthy. But this life is pretty great as it is, too."