COVERAGE MAPS/CHANNEL LISTINGS | WatchESPN AND ESPN3 LINKS
For the seventh consecutive year, ESPN will support the Kay Yow Cancer Fund in partnership with The V Foundation and Women's Basketball Coaches Association during its annual Play 4Kay women's college basketball games Sunday and Monday.
The Cancer Fund is named in memory of legendary NC State women's basketball coach Kay Yow, who died Jan. 24, 2009 after a three-decade battle with cancer.
Play 4Kay, formerly known as the WBCA Pink Zone and February Frenzy, will showcase an event-high 24 teams across ESPN2, ESPNU, ESPN3 and WatchESPN, including eight regionalized games in high definition within two telecast windows Sunday and a Big Monday doubleheader. In all, 12 ranked teams and 18 State Farm Wade Trophy hopefuls, including Baylor's Brittney Griner and Notre Dame's Skylar Diggins, will take part in Play 4Kay games. Some of the featured contests include No. 4 Stanford at No. 15 UCLA, No. 9 Kentucky at No. 11 Texas A&M and top-ranked Baylor at No. 3 Connecticut.
Throughout the games, ESPN also will encourage fans to contribute to the Kay Yow Cancer Fund at kayyow.com.
The eight regionalized games in high definition will include frequent switches to and updates from the other games as action dictates. The maps below display home market-protected games. In the 16 home markets of the competing teams, ESPN2 will start and remain with the game of local interest. ESPN3 will offer every Play 4Kay game in its entirety, while all the ESPNU and Big Monday games will be available on WatchESPN. The rest of the country (black areas of the maps) will be part of ESPN2's national telecast, which will allow the viewer to see the most compelling action from multiple games.
Coverage maps
Channel listings will be added as they become available.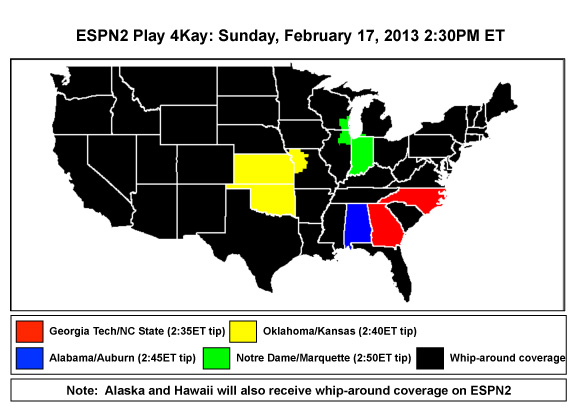 Red: Georgia Tech-NC State -- Channels: DIRECTV SD 730, DIRECTV HD 730-1, Dish 145, Dish FullCourt 467
Yellow: Oklahoma-Kansas -- Channels: DIRECTV SD 731, DIRECTV HD 731-1, Dish 146, Dish FullCourt 458
Blue: Alabama-Auburn -- Channels: DIRECTV SD 732, DIRECTV HD 732-1, Dish 147, Dish FullCourt 465
Green: Notre Dame-Marquette -- Channels: DIRECTV SD 733, DIRECTV HD 733-1, Dish 148, Dish FullCourt 466
Black: Whip-around coverage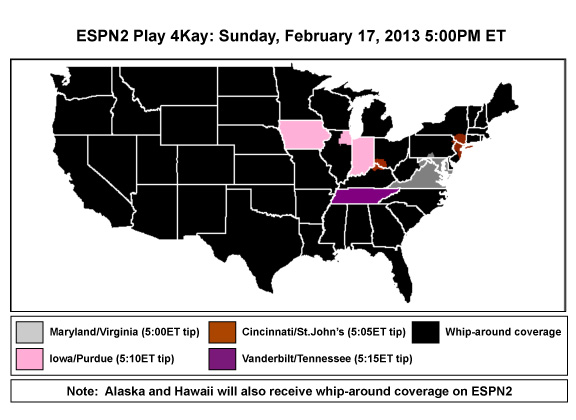 Gray: Maryland-Virginia -- Channels: DIRECTV SD 730, DIRECTV HD 730-1, Dish 145, Dish FullCourt 467
Pink: Iowa-Purdue -- Channels: DIRECTV SD 732, DIRECTV HD 732-1, Dish 147, Dish FullCourt 465
Brown: Cincinnati-St. John's -- Channels: DIRECTV SD 731, DIRECTV HD 731-1, Dish 146, Dish FullCourt 458
Purple: Vanderbilt-Tennessee -- Channels: DIRECTV SD 733, DIRECTV HD 733-1, Dish 148, Dish FullCourt 466