The semifinals of the 2018 Mae Young Classic aired Wednesday night on the WWE Network, with Toni Storm and Io Shirai locking down their spots in the finals. That match will happen Sunday at Evolution, as part of WWE's first-ever all-women's pay-per-view event.
Shortly after the filming of the 2018 Mae Young Classic concluded in August, KC Joyner sat down with Paul "Triple H" Levesque to run through the highs and lows of the tournament, expectations for Evolution, athletes crossing over into the WWE and much more.
ESPN: The Mae Young Classic has shown that the women's division can utilize both old school and new school methods of in-ring storytelling. Do you feel like it's important to take the best ideas from both?
Paul "Triple H" Levesque: I think you have to adapt to what is relevant today. Everything morphs over time and changes, and I think what you see here, much like with NXT and the different styles that have kind of meshed together around the U.K., some of it is what's old is new. I watch guys do joint manipulations in the U.K. and I'm watching the other kids go, "Oh my god, this is the craziest thing, I've never seen anything like that." When this stuff was done [back then] it was redundant, and then everybody stopped doing it, and what's old is new again and it's awesome. I love the hybrid of everything we are doing. I'm the biggest fan of it in the world.
[A short time later, Shawn Michaels stopped by on his way out of the arena to speak to Paul]
Shawn: If you get a chance, tell those ladies that was freaking breathtaking.
Paul: I absolutely will.
Shawn: Absolutely one of the greatest things I've ever had the pleasure to watch.
Paul: I absolutely will.
He really enjoyed the tournament, didn't he?
Paul: Trust me, Shawn and I have been around each other for around 25 years, he don't get giddy often. He gets giddy when we finish doing this.
---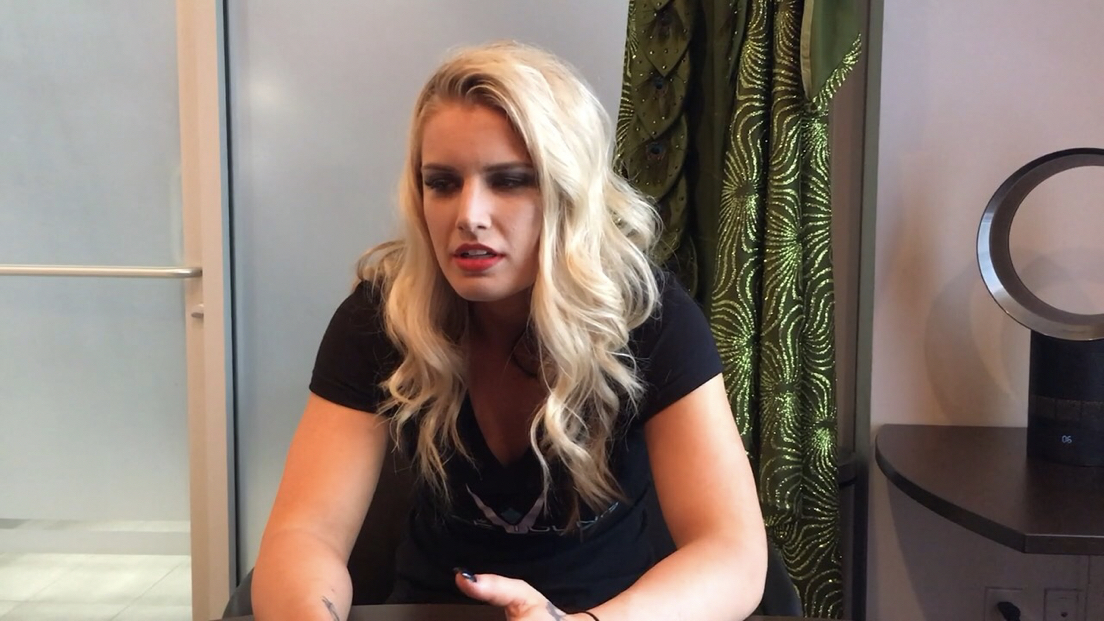 Toni Storm on the direction that women's wrestling is heading in in the WWE. (Interview courtesy of KC Joyner)
---
The Full Sail crowd was just as fired up about it. How do the crowd reactions impact the production pacing?
I'm sitting back here and pacing the show and pacing the reactions of how I need to react within the show for the fans here live. I know if I'm burnt, they're burnt. Sometimes I'll say, "Holy cow, I need a moment, and guys, we need to throw something on the tron and give them a breather because I'm exhausted, emotionally exhausted from that." You put yourself in the last couple of matches with Meiko [Satomura] and Toni and Tegan [Nox] and Io [Shirai], if you're not emotionally invested in those, you just don't watch.
Speaking of Tegan Nox, what happened to her is pretty devastating.
Last year she had the ACL injury that prevented her from being in [the first Mae Young Classic]. It took her all year and she just got rolling and really feeling good and just gets cleared, I mean 100 percent, banging around on it and everything's great -- and then to come here tonight in a position to where, let me just say it couldn't be any more heartbreaking for her, understand? Emotionally, it couldn't have been any more heartbreaking. I don't know at this point what happened. She landed funky on a dive and hurt herself.
[Nox later revealed that she had torn her ACL, LCL and MCL and both meniscuses, and fractured her left tibia on the dive to the outside.]
What type of contingency plans do you have in place for situations like this?
Look, somewhere in the back of your mind when you're doing these things you're building contingency plans -- at least I am -- of where you want to go. Even on the first night of the tournament, we got done and then there's a regroup. How did everybody do compared to what we thought? We've done a bunch of these now, and there's some times where you think somebody is going to be the ace and you see them and go, oh, I must have seen highlight reels or something because that wasn't what I thought it was going to be. Or there's somebody who overperforms because they are so much better than you expected them to be. Which is always a great thing, but you need to nimble and move.
Can the plans change during a match?
The last time we were here we were calling audibles live in a match. I did. Little known fact, change one up live. So you gotta be nimble. When Tegan goes down there's a quick regroup. This is the point where somebody's got to make the final decision and that's the pressure position. We all sit in the circle and somebody goes here's my opinion, here's my opinion, and usually, almost always, it's 50/50, and then you have to make the call.
And once the call is made, it's up to the team to implement the changes?
The thing about this team, and I just put everybody over for it in the other room, [it's] seamless. Bang, somebody goes down, the medical system does its job and what it's supposed to do and then we have to pick up those pieces and everybody comes together as a team and goes, "OK, here's the new directive," boom, and everybody grabs their piece and goes and runs and does it and it just works. That's one of the things, if somebody doesn't do their gig, it's a cog in the wheel and the wheel falls off. That's the mark of this team. This stuff doesn't happen by accident, there are a lot of people who put their heart and soul into it, behind the scenes as well.
There is a lot of quality depth on this roster of women as well.
When we went to do the first [Mae Young Classic] a year ago, I had been pitching to do it for a while, when we got the green light to do it, I remember having a conversation with Vince [McMahon] and he said, "What do you think you're going to do for the tournament, 16 [participants]?" There was a period when I thought 16, but I was like, no, 32. And even with 32, there were some heartbreakers in there where I had to tell someone "you're not in the tournament" that I wish would have been in there.
You are trying to balance it all out stylistically and everything else, because the styles, and how people match up fight-wise is what makes these things unique. It was deep then, but along the way to finding the 32, or whatever we ended up with in total with all of the alternates, you're digging up all of these diamonds that you're going like, "Oh, yeah, we're already packed, but next year [we will use you in the tournament]."
---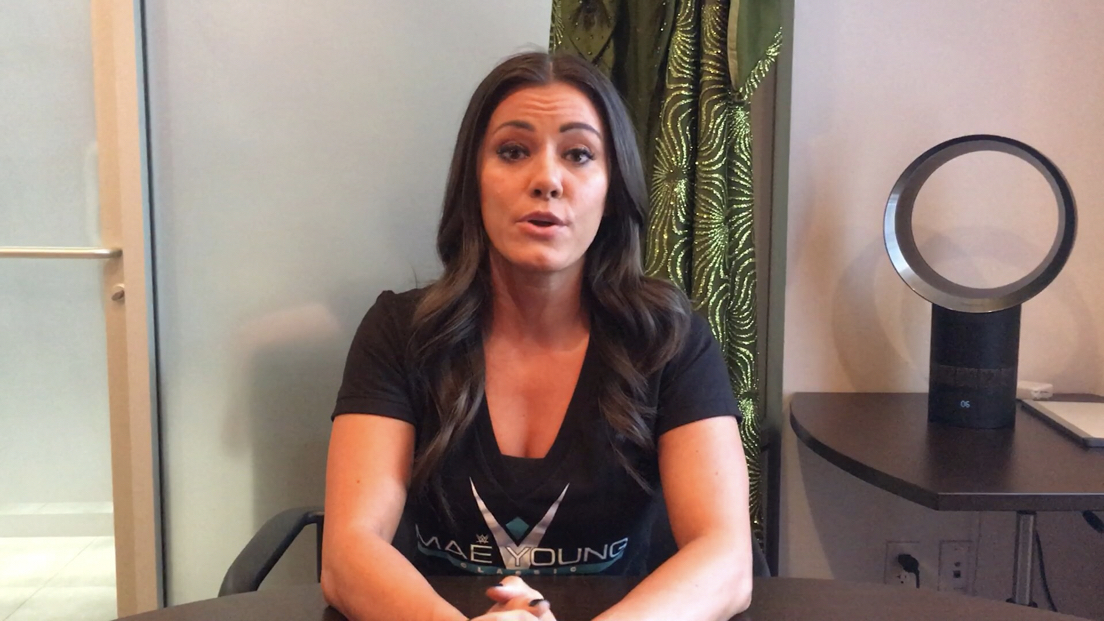 Kacy Catanzaro walked into the WWE Performance Center without a shred of experience in the word of professional wrestling. For the better part of the last year she's been training hard, and she shares what her experience has been like thus far. (Interview courtesy of KC Joyner).
---
Any surprise standouts show up in the tournament?
Kacy Catanzaro and Xia Li.
Kacy, I don't think she's even been with us a year all in, and she goes and does what she did last night and tonight and you're going, "Oh my god."
Two years ago in China when I first met Xia Li, she didn't know what WWE was. We had to explain to her what WWE was because we were there looking for athletes and she had never seen it. She grew up in farmlands in China so she didn't know what it was. Once we told her what it was and showed it to her, she was, "oh yeah, definitely." Then she came in and tried out and she just fell in love with it, and she has so much heart and passion I was like, "yeah, we're bringing her back." There's certain people you see when you give them the chance to, and they've never seen it before, they get the bug bad. She was one that was like that.
For Li to do what she did tonight and last night, two years from even knowing what it was, to be where she is now, that's incredible. That's [NXT coach] Matt Bloom, that's [NXT coach] Sara Del Rey, that's the team that we have and the system that we have.
The depth has to make booking these shows a lot easier.
When I think about the Evolution pay-per-view coming up and think about how far the women have come in a short period of time, and I think about the women we have on the main roster plus NXT, I could fantasy book a couple of years worth of stuff here.
"I think people think, 'Oh, the future is bright [for the women's division],' or they've come such a long way -- you haven't seen anything yet. If I was one of the girls on the main roster, I would be looking at this going, 'Yo, I gotta step up.' If I was one of the guys on the main roster, I would be going like, 'Wow, we are going to be the tertiary characters here in a couple of years if we don't step up our stuff.' That's good, that pushes everyone." Paul "Triple H" Levesque
The Evolution pay-per-view is coming up. Will we see segregated men's and women's pay-per-views in the future, or will they be blended where women main event some pay-per-views and men main event others or will it be mixed?
To me, if you segregate it, then it's not equal. I agree with it in theory for the Evolution one -- I love that concept. I love doing it and to do one [women's only pay-per-view] here or there, I think it's great. I don't think it should be an all-the-time thing.
To me, the variety of what we do is what makes it great. If everything is the same, then it's ehh [shrugs shoulders]. If you have a seven-to-ten match card, that's a big card, if half of them are women and half of them are guys, that's cool. I really do not think that's a stretch or implausible at all. I think that depth to me makes it more exciting. I'm a believer that you don't have to see every single thing every single time on every pay-per-view we do, and that it should be spread out a bit. Maybe you don't see the same people on the next pay-per-view. [The shows should] be different, but still be able to give the fans that same level of quality and same level of, "Oh my god, I have to see that." I think that's doable.
There are a variety of different origin stories in this year's Mae Young Classic, but some of the most impressive performances -- especially early on -- came from women who didn't have a pro wrestling background before they started training at the Performance Center. How do you identify those kinds of athletes and performers?
I have a recruiting team. We do it globally as well as here, and it's obviously going to grow because of all of the global expansion. When we first started doing this, it was where do you find athletes that aren't knocking on our door? They might be very interested, but they just don't know where to look. You connect with strength and conditioning coaches, you connect with athletic trainers, you connect with physical trainers, or you begin to make those connections and you start to work with the leagues.
Could you expand on the leagues connection?
The leagues want it to start to work. We work with the NFL Players' Association. They tell us we've got a 300-pound kid, he's 23, 24 years old and he's probably not going to make it this year, and he's going to get cut and he's probably done. He's probably a top 1 percent athlete in the world and he missed the mark by this much, but he has a big personality and is interested.
Do you have a similar system in place for the women's division?
It's the same for the women. The thing is now, in what we've created with the Performance Center and the effort around recruiting and the promotion of that recruiting, a lot of [athletes] are finding out and reaching out to us now. There's probably not a week that goes by that Canyon [Ceman], my lead recruit guy that runs talent development for me, doesn't call me and go, "Have you ever heard of this person?" I'm going to send you a link to them from, wherever, and they're calling to see what our interest level is. And then we determine if we have them come in for a tryout, or sometimes we bring them in.
Do you usually publicize the tryouts? Or are they typically done in private?
Cain Velasquez, he didn't care once he was there, he was like, you can publicize it all you want, but we try to bring them in quietly and let them get in there and see if it something you want to do without making a bunch of hoopla about it. Some of them want it publicized, some don't. So we've got a lot of athletes who walk through the place and determine if it's right for them.
Do they normally find that it's right for them?
I say it all of the time, there's not that many sports that pay you a ton of dough. So then when you get to a certain point in time where even if that sport is kind of not working out for you and your kind of at a change moment, that you start looking for other options. I used to use this analogy a lot. If you're an Olympic hammer thrower, your options are ... I mean, when the Olympics are done, [you can] coach or drive a Fedex truck, or find something to use your college degree in. But if you still want to be a stud athlete and you want to train and try to do something very athletic where you can do very well for yourself and also have a massive effect on the world socially, NXT is a great next step.
It doesn't get any bigger, in terms of crossover, than Ronda Rousey. What do you think was the biggest hook for her -- the interest in WWE? Continuing her athletic pursuits? The allure of social change?
I don't want to oversell the social changes, but Ronda said, "I feel the WWE is the biggest platform in the world for me to affect change." It's one of the first things she said to me. She wants to inspire young girls and young people and show them that you can do anything, and she said there is no bigger platform in the world for me to do that with than with you guys. [She said] with UFC, I got so far, but the bigger platform is this because I can go on talk shows, I can do entertainment stuff with WWE, I can do every single entertainment and sport aspect of it and reach the world on a global basis. We go everywhere. That's a game changer.