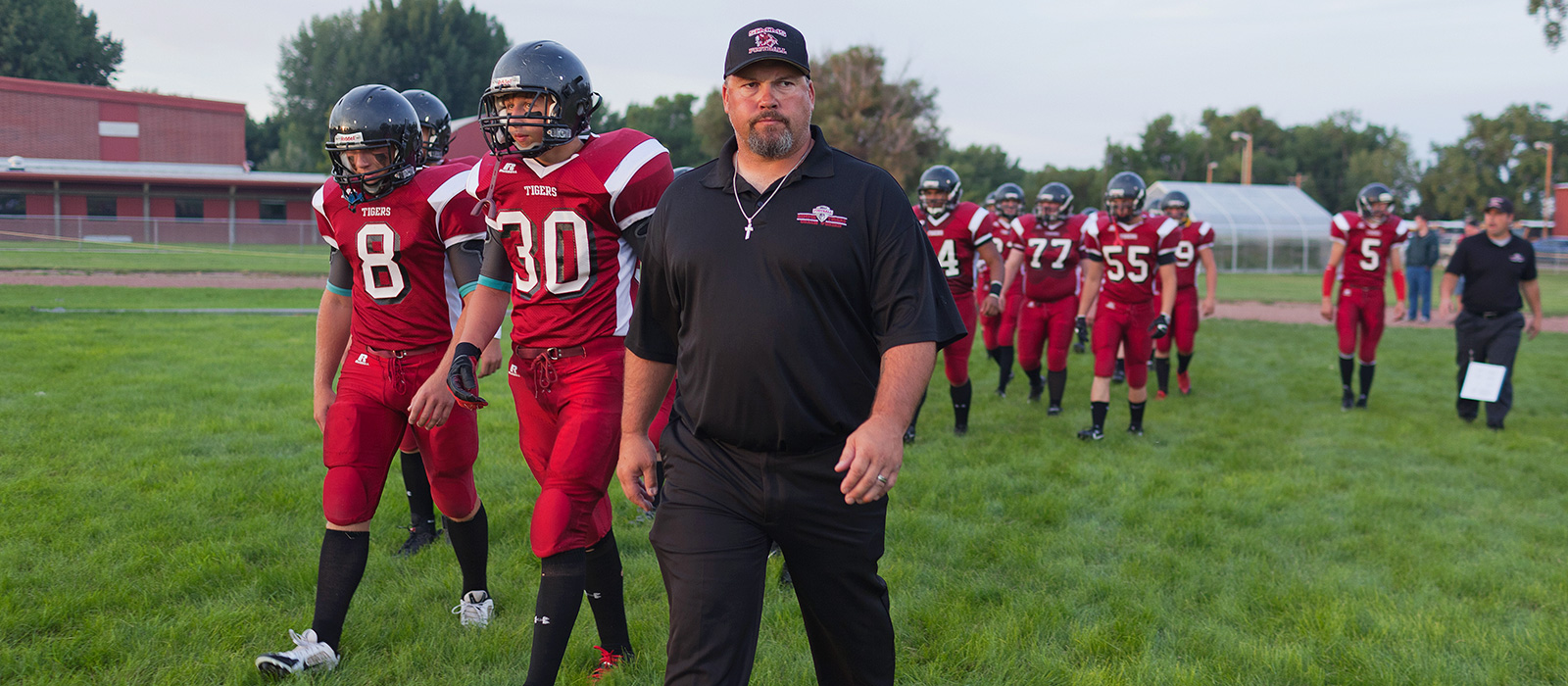 Breaking Good
Even after all his awful secrets came out, after he was sent away as a monster, Joe O'Brien held on to the craziest dream. He would coach again.
The plan had been for Joe O'Brien and Melissa Strain to meet Friday at noon in Helena, Mont., and divide up the meth. The two would gather in her car and open the FedEx envelope that the drugs were always shipped in. Joe would then stash some in his pockets or gym bag for his personal use and drive back to Great Falls, an hour and a half northeast, where he was staying for the weekend and where he, as Montana State's assistant head football coach, had afternoon recruiting trips. Meanwhile, Melissa, Joe's partner in drug deals, would haul the rest back to Bozeman, home to MSU, where she would distribute the meth from her campus apartment to her street-level dealers and later divvy up the profits with Joe.
But on that Friday in September 2003, nothing went as planned.
First, Melissa called Joe as he was stepping out the door for Helena. "I'm gonna be late," she said. "I ran out of gas."
"What?!" he answered. "How the hell do you run out of gas?" He tried to joke about how she could surely find stray cash in her car -- Melissa had been selling meth nearly as fast as Joe's California supplier could FedEx it to him -- but he sensed a nervous energy in her voice. "Hey, you're stressing me out," she said.
"OK," he replied, trying to reassure her. "Call me when you're back on the road." He hung up, a bit nervous himself now. Joe needed things to go smoothly. Not only did he have trips to two high schools, but tonight was his girlfriend's birthday party. Gracie Duffy, a former MSU cheerleader, would celebrate with Joe and her parents there in Great Falls, her hometown. Gracie was with friends for most of the day, giving Joe a small opening to get to Helena and back in her Ford Focus. But scoring meth in his girlfriend's ride made Joe anxious. So without waiting for a call from Melissa to tell him she had gotten gas, he hopped in the Focus and set out.
It was an incongruous sight. O'Brien, 30, was a former All-American defensive lineman at Boise State and an ex-pro who still looked the part, all goatee, barrel chest and thick-slabbed thighs, sliding into a car much too small for him. Then there was the incongruity of the situation: An assistant head coach at a Division I-AA program, who wore out even the other rising coaches in the film room, who spoke to the media and charitable groups regularly and who had designs on coaching in the NFL -- that guy smoked meth? That guy dealt meth? As Joe drove, he kept telling himself that he could sustain the secrets and lies as long as Melissa got on the road.
About 45 minutes later she phoned again. "You're not going to believe this," she said. "I got a flat tire."
"I've got to get back to Great Falls this afternoon!" Joe screamed. To his players, to anyone, Joe could be intimidating, a hulking mass of a man who had a habit of scowling even when happy. But he couldn't stay mad at Melissa for long, not when a desire for meth overwhelmed his anger at having to wait for it. "I'll bypass Helena," he told her, making her a deal, "and meet you in Winston." It would save her roughly 25 minutes of driving and add about that much to his commute.
"All right," Melissa said. "We'll meet there."
In the early afternoon, outside Winston, O'Brien got a third call from Melissa. "I'm still running behind," she said. "I'll meet you in Townsend." Townsend was another 20 minutes from Winston, in central Montana; driving there meant probably rescheduling his first recruiting stop. But irate as he was, he still agreed.
They decided to meet in a gravel lot in the one-stoplight town, across the street from a post office. Joe somehow still got there first. About 15 minutes later, around 2 p.m., Melissa showed up. He got out of his car and into the passenger side of hers. "God damn it, it took you forever to get here," he said. "What's going on?"
"Yeah," she said -- then nothing more. She was a tall, skinny woman given to erratic outbursts, but today she looked particularly spooked. Joe, however, was too on edge to pay her mood much mind. He wanted to smoke some meth there in the car and asked Melissa for a pipe. She said she'd left hers at home.
What about the shipment? he asked.
"It's in the trunk."
That was strange. She'd never been so careful handling a package. "Why is it in the trunk?" he asked.
"'Cause I don't carry it in here, you son of a bitch!"
"What are you yelling at me for? I'm doing you a freakin' favor, driving to Townsend."
In an instant she was out of the car and at the trunk, unlocking the hatch and taking out the FedEx envelope. A moment later she plopped back into her seat.
"Here," she said, handing him the package.
"What are you doing?" he asked. This wasn't the plan. "I just want my share."
"I'm f---ing done with you!"
It didn't make sense. From the beginning, years ago, selling meth had been her idea, Joe says; he'd wanted to get out, especially after his promotion at MSU from defensive line coach to assistant head coach, but, Joe says, she'd used his ascent against him, threatening to tell the media about his secret life. (Melissa Strain did not answer ESPN's request for comment.)
Still, if she were serious about it being over, and serious about him just keeping this latest shipment, he figured he'd have enough meth to last him six months. So he got out, walked back to Gracie's car, squeezed his way in and peeked inside the envelope. Then he heard a woman -- and not Melissa -- yell, "Freeze!"
Several police cars had already pinned him in. Cops were everywhere. It seemed like 30 guns were pointed at him, the closest held by a female officer who told him now to put his hands up. He looked at the barrel of her handgun. It shook violently in her grip. All he could think was, Please, lady. Just shoot me. Get it over with.

'I'm Being Completely Honest'
After his arrest, after his booking in the Broadwater County Jail, after he had to tie an inmate jumpsuit around his waist because nothing stretched over the shoulders of his 6-foot-2, 280-pound frame, after days of screaming headlines and even after his resignation from Montana State, Joe still pushed the idea that he had been set up, that Melissa was out for revenge and that whatever she had told the cops was a lie. His lawyer, Dan Buckley, entered a plea of not guilty, his case built on the idea that the cops had little on Joe and, worse, had illegally seized and opened the FedEx package.
Buckley continued to challenge Joe: Are you telling me everything you know? Joe at one point looked him in the eye and said, "I'm telling you, Dan. I'm being completely honest with you." Joe bonded out of prison for $15,000 and went to work as a roofer in Bozeman. He was still with Gracie, having told her the same things.
Then one day his lawyer called. "You need to come into my office. Today," he said, his voice testy.
When Joe got there, Buckley laid into him. Joe was lying. Buckley had heard from prosecutors that a drug task force had been monitoring Melissa's distribution chain for weeks if not months. Detectives had detained her the morning of Joe's arrest and she'd agreed to wear a wire to get to Joe. The cops had recorded everything, every conversation of Joe's drive to Townsend. And because the drugs had been shipped to Joe from California, because they'd crossed state lines, this was now a federal case.
"You need to start telling me the truth," Buckley said. "Now!"
Ah, yes, the truth. The truth that Joe had spent his entire life hiding. The truth that a decade later, in 2013, he would return to Montana to willingly reveal, in a bid to gain the confidence of a community whose kids he longed to coach, a community ravaged by the sort of meth Joe once sold. Even today, when he meets with people in that community, this truth is his public deformity. There is never a shortage of people who use it against him, yet it also releases him, reveals a flawed humanity that others can't help but embrace.
Still, back in 2003, the weight of his secrets, one stacked upon another, stacked upon still more, already had strained him for nearly two decades. And Joe allowed himself there in Buckley's office to see the allure of honesty, the lightened load. The moment everything changed, the truth was he'd already lost the job he loved, the reputation he'd built and the friends he'd cherished. The truth was he was tired. He agreed to meet with Matt Collar, the cop from the drug task force overseeing the investigation.
When he sat down with Collar, Joe started at the beginning.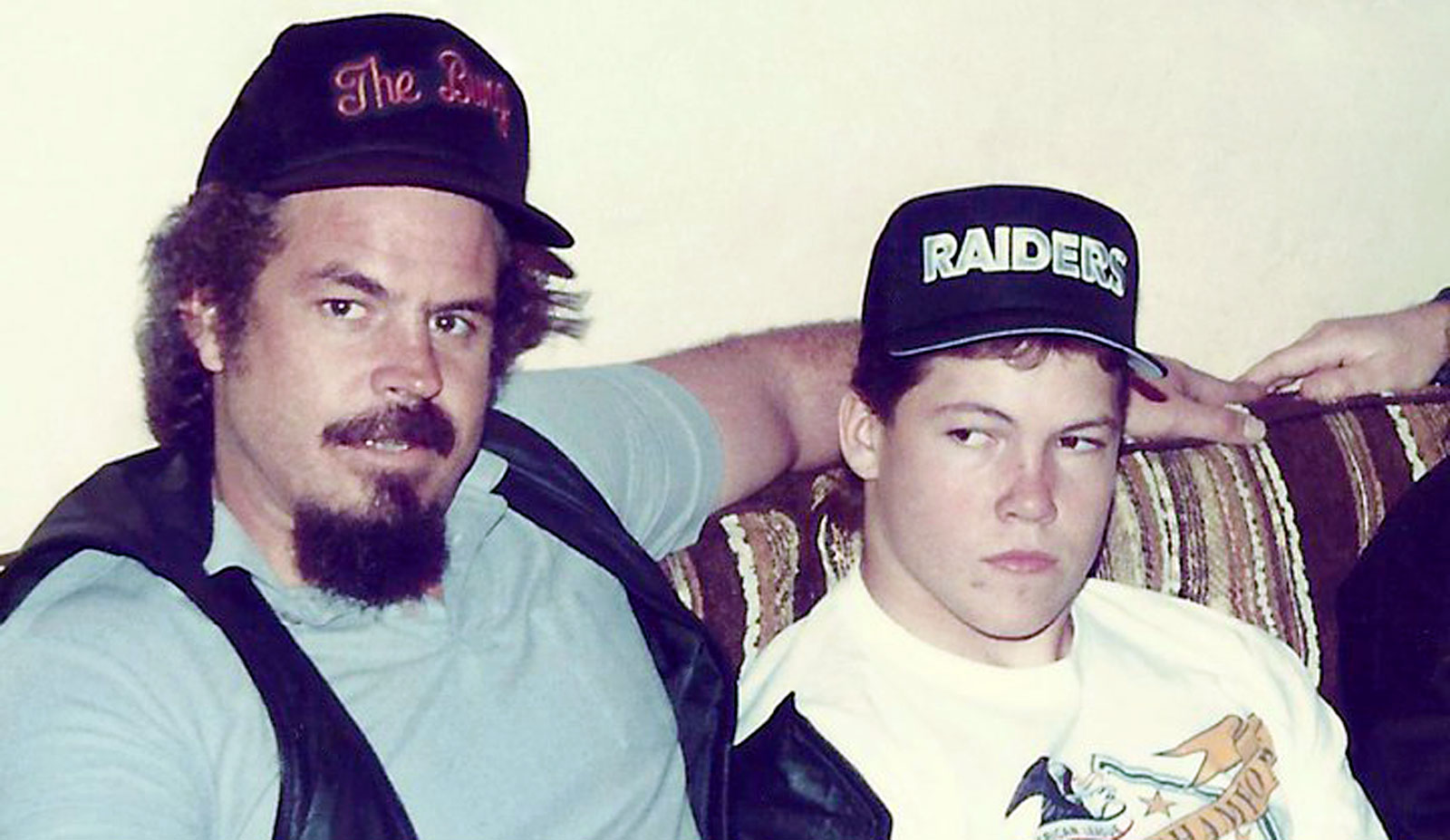 'Keep Your Mouth Shut'
Scott O'Brien was a nasty-ass man, a brawny, bearded, tattooed biker who smoked or snorted whatever was in front of him, associated with the Hells Angels and, when he was only 17, fathered a boy he named Joe. His girlfriend and later wife, Diane O'Brien, was just as intimidating -- nearly 6 feet tall and tattooed, on her own Harley, sharing her husband's drugs and as eager to start a fight as break one up. Joe remembers his parents going at it in the family kitchen in Oakley, Calif., a working-class suburb 40 miles northeast of Oakland, throwing fists and then pots and pans at each other while Joe and his older half-brother Chris (from Diane's previous relationship) and younger sister Autumn watched. He was scarred by it, and he spent his days as a young boy anxious that his actions, however innocuous, might lead them to brawl again.
In 1981, when Joe was 8, Diane decided to move to Rapid City, S.D., where her sister lived, and brought along the three kids and a fourth she'd had by another man -- baby Jason, part of the dissolution of the O'Briens' marriage. Diane found work at a bar and met a man whom Joe, even today, refers to only as "Brent." She and Brent moved in together. "He was a f---ing asshole," Joe says. He beat up Diane, beat up the kids, once got so upset about some bathwater that young Autumn and Jason had splashed that he pulled both children out of the tub and, as Joe would later write, "beat their naked little bodies viciously and unmercifully." Haunted by their siblings' screams, the two older boys decided to do something about it.
A few nights later, Joe says, after Brent and Diane had gotten high in the family room and passed out, Chris, then 11, leaned close in the basement bedroom they shared and whispered, "Joe, I'm going to kill Brent tonight." He pulled two bricks from under his bed. He'd found them in a nearby field, he said. Joe, 9 at the time, could hear his brother's heavy breaths as he tugged his pillowcase until it was off, placed the bricks inside and began walking up the stairs. Joe followed. The boys reached their mother asleep on the couch, and then Chris climbed the stairway to the second story where he presumed Brent was asleep. Joe, his fear finally overcoming his curiosity, stopped. A moment later he heard Chris' footsteps and a wild scream.
Chris rushed down the stairs and out the front door, and Joe followed. Brent stumbled down the steps too, screaming and bleeding profusely from his nose, his face like raw hamburger meat, red and without form. Before he could say or do much else, though, he passed out from the loss of blood. When he came to, Diane -- far from a perfect parent herself, yet still aware that her children needed protection -- convinced Brent that an intruder had attacked him; Brent, mean enough to have many enemies, bought the story. Days later, still sporting a massive black eye, Brent said he was well enough to head back to the job site where he worked construction. Diane made him a lunch, kissed him goodbye, then put two boxes in front of Chris and Joe. "You boys pack whatever you can in these," she said. The family had eight hours before Brent came back. They didn't have time to pack their furniture. Diane even left behind her beloved 1950 Harley-Davidson Panhead. It was on the bus ride back west, to Medford, Ore., where Diane had family, that Joe persuaded his mother to let him try to live with his dad.
Scott O'Brien could be a brutal man, but he was also big enough to protect Joe, and for that reason Joe idolized his father. Scott, by then, lived in Pittsburg, Calif., the shabby East Bay suburb where he had grown up. He rented a one-bedroom apartment in a project that was rough even by the standards of this decaying storefront town: Crack addicts and prostitutes roamed the streets, and Joe, the only white kid within blocks, heard taunts everywhere he went. But when it was just he and his dad alone in their apartment, Joe's nerves calmed. Scott persuaded Diane to let Joe stay. "[Scott] loved him like nobody's business," says Gary O'Brien, Joe's uncle, who lived in Pittsburg and visited Scott and Joe often with his wife, Dina. Scott was still impulsive -- prone to weekend benders with his biker buddies -- but was going to trade school to become an electrician and earn a legitimate living. Around Joe, he could be kind. And he still held out hope for the boy. He demanded Joe get good grades so that his life would be better than the one Scott was always trying to escape.
Back in the days before his drug use had derailed and hardened him, Scott had been an athlete -- as a junior swimmer, Joe says, his dad once finished second to Mark Spitz in the Junior Olympics -- and encouraged Joe to play sports. And as a chubby kid with a lot of anxiety, Joe found release in football. From his first games in an 11-year-old league, he loved the contact. "The ecstasy I derived from [one] single hit was the highest high I had ever experienced," Joe says. "I knew I was born to play football." The game assuaged his nervousness. He no longer slouched his way past classmates in the hall -- he made friends with them. He studied. He found himself thinking that, even though he lived in a ghetto with crackheads, life was stable: He had his dad, and Uncle Gary and Aunt Dina, and football.
But the illusion ended one Saturday night when, at 3 a.m., his father rushed into his bedroom.
"Joe, I hit someone with a car," he said, panic in his voice.
Joe sat up. "What?"
His dad told him to get the cleaning supplies. "I need you to wash the car."
Scott had been partying in nearby Concord and, on the ride back with a friend, drunkenly passing vehicles on the left and right. He passed one car near an entrance ramp and didn't see another vehicle on the shoulder, broken down, or the woman standing next to it. Scott hit the car and the woman. Then he decided to keep driving. He got back to Pittsburg, threatened his friend with death if he said anything, and hurried home.
Joe grabbed a flashlight and went outside to check out his dad's Cadillac Coupe de Ville. He saw a large dent in the front passenger-side fender. He grabbed a sponge and a hose, and as he got closer he saw blood -- and then chunks of human flesh.
He girded himself and began cleaning, petrified. It took him a long time to scrape everything off, gagging as he went. When he had finished, he shined the flashlight over the rest of Cadillac. He noticed dents and blood and human remnants on the hood and near the trunk, showing the woman's trajectory. "It was like out of a horror movie," Joe says.
Scrubbing away the incriminating marks took hours. Then his dad hopped in to get rid of the evidence, telling Joe, "Keep your mouth shut."
The cops, acting on a lead, soon found the car in Oakley and ultimately tied Scott O'Brien to the death of 36-year-old Sandra Jablonski. Joe's father was sentenced in 1985 to three years in prison for vehicular manslaughter.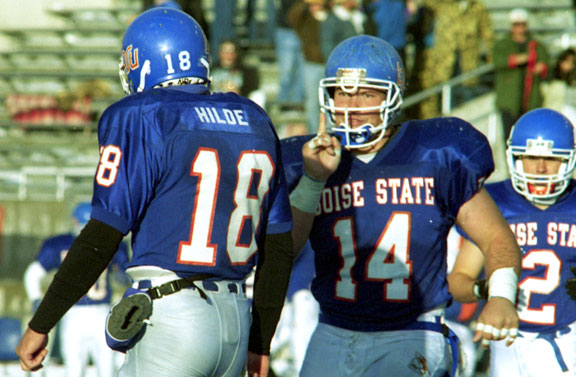 'You're Kidding, Right?'
Joe went to live with Uncle Gary and Aunt Dina rather than move to Oregon, where his mother and brothers and sister were. For all its flaws, Pittsburg, Calif., still felt like home. He was angry, at times afraid to sleep, deeply pained by the death of Jablonski -- and, given the stares he got around town, humiliated. But Gary and Dina told him how much they loved and believed in him. "We just tried to keep him focused on school," Dina says. "He carried himself with a quiet manner."
What no one knew was that Joe was living a dual existence. He appeared outwardly normal, even upstanding. He carried a 4.0 GPA in eighth grade and was named a Pop Warner Scholar All-American. But inwardly he was a mess, bewildered by the turns of his life, finding solace in the weed he smoked with friends on his walks to school and in the beer he sneaked from Gary and Dina's fridge.
His freshman year, Scott was released and regained custody of Joe -- which Joe didn't mind; he still, despite it all, loved his father, in part because Joe was now more protector than protected. The following year, Joe made the Pittsburg High varsity as a lineman. At a bonfire with other high schoolers along the San Joaquin River one night, a kid persuaded Joe to try meth. He'd seen it and knew his dad used with his biker friends, but when he took it, the high was amazing, better than even the most vicious hit he could level on the football field. Joe was alert, as wired as he'd ever been, and yet strangely calm too. It was a sensation that he soon sought whenever he could.
So began what Joe would later call The Lie -- his belief that he could be both an honorable young man and the owner of a serious addiction, both the success his father wished him to be and the outlaw his father actually was. He was a standout lineman, named team captain with more than 100 college recruitment letters, but went to practice high, his heart drumming against his ribs. He was elected student government senior representative, but hung out with the stoners who shared their lines and told him they'd keep his habit their secret. Above all else, The Lie was resilient.
The Lie survived his father's death. In October of Joe's senior year, Scott O'Brien died of a heroin overdose. It was a Thursday night before a football game and Joe decided to play the following evening. Roughly 40 of Scott's biker friends stood in the stands in support. Joe recalls now that it was cathartic to play the game he loved amid that much sorrow. Joe had about 20 tackles, he remembers, and finished the season on a similar emotional plane, good enough for 77 tackles and 13 sacks. He was named to the all-East Bay team and accepted a scholarship to Santa Clara University. Still, his drug use didn't cease; if anything, his father's passing allowed him to justify it. "Getting high, I rationalized, was my way to cope with the anger and sadness inside me," Joe says. Meth became his chosen way -- his militant, secretive way -- to both dull his grief and live by his dad's renegade spirit. His father's death from drugs only served to cement Joe's own addiction.
The Lie survived spectacular success. Santa Clara shuttered its program after Joe's sophomore year, so he transferred to Boise State. There, as a 6-foot-2, 240-pound defensive linemen, as tenacious as he was undersized, he quickly became a team, fan and media favorite. "Every child should have a hero like Boise State football player Joe O'Brien," the Idaho Statesman wrote. "I want my son Philip to grow up just like him. I love him to death," defensive line coach Barry Sacks said. By his senior season, in 1994, Joe would destroy offensive lineman in practice and then pat them on the butt and tell them how to beat him next time. He would guarantee victories. He expected the team to win the Division 1-AA national championship, a completely unrealistic goal; the Broncos in 1993 had gone 3-8. And yet in 1994 Boise State finished 10-1, made the 1-AA playoffs, and then, three rounds later, made the championship game against Youngstown State, where the team lost 28-14. Nothing, though -- not the Big Sky Defensive Player of the Year award, not his 1-AA All-America selection -- sated him as meth did. He did it on the weekends, or when he knew his absence wouldn't be noticed. He did it alone, in his apartment. He did it because he wanted to, which was separate from having to, he told himself. He did not crave it. He did not lose weight, or his teeth, or grow hideous pockmarks on his skin.
He kept the secret through the summer of 1995, when the Vikings invited him to try out; Joe played in some preseason games but failed to make the team. He kept the secret in Scotland, playing for the Scottish Claymores of NFL Europe. He kept it through an assistant coaching gig at Boise State in 1996. He kept it from Tara Edwards too, a beautiful woman he met that same year and the sister of a Boise State player. He kept it when the Saints asked him to come to camp in the summer of 1997, when Joe was 24 and at his self-professed physical peak of 278 pounds.
The Lie survived other addictions. To help Joe recover from workouts, a Saints teammate told him to try something called GHB. Gamma hydroxybutyrate is a depressant, legal only through prescription, that stimulates the growth hormones that develop muscles. It can appear in a clear liquid form and, when drunk, gives an intense four- to five-hour high. Joe loved it. He walked around Saints camp with GHB in his Gatorade bottles. (The NFL didn't test for the substance in 1997.) The drug became a big enough problem that he needed to snort meth every morning to offset the GHB he chugged every afternoon. It became a big enough problem that when he failed to make the team, after playing in three of the Saints' four preseason games, he never allowed himself to think that his drug intake had anything to do with it.
The Lie survived family turmoil. The worst incident wasn't when his wife, Tara, a few months after he was cut and aware of his addictions, found Joe in the garage, hallucinating -- yelling at an imaginary group of football players and the image of his father, who he saw writing something on the wall. And it wasn't when Joe woke from that hallucination in a padded hospital room, wearing only his underwear. It was the day the couple's daughter was born.
They were living near Pittsburg, and Joe was playing for the Arena Football League's San Jose SaberCats, but because of a back injury, on the injured reserve list. His routine consisted of a secret 6 a.m. swig of GHB and a snort of meth, followed by an hour's drive to the team's facilities in Santa Clara, some physical therapy and more GHB until the morning grew hazy. The rest of each day became a calculation of intake against professional functionality. One morning around 8, Joe was on the training table, already blissed out, when a team trainer said he had a phone call from his wife. Tara said her water had broken and he needed to take her to the hospital. He poured another cupful of GHB to calm himself, and set out.
Only he got lost. He realized much too late that he was heading away from his home, on a highway toward San Jose. Then a cop pulled him over. "You were swerving," the officer said. Joe explained that his wife's water had broken and that he was rushing home. The cop let him go with a warning, but Joe was still disoriented and got lost again. Then he ran out of gas.
He called Tara, and sheepishly said she needed to come get him.
"You're kidding, right?" she said.
A few hours later, at the hospital, their daughter was born, but Joe was too far gone to remember it. Not long after that, Tara divorced him and returned with their daughter to her family in Virginia. Joe's old life was gone, but the The Lie lived on. And it was about to turn far worse.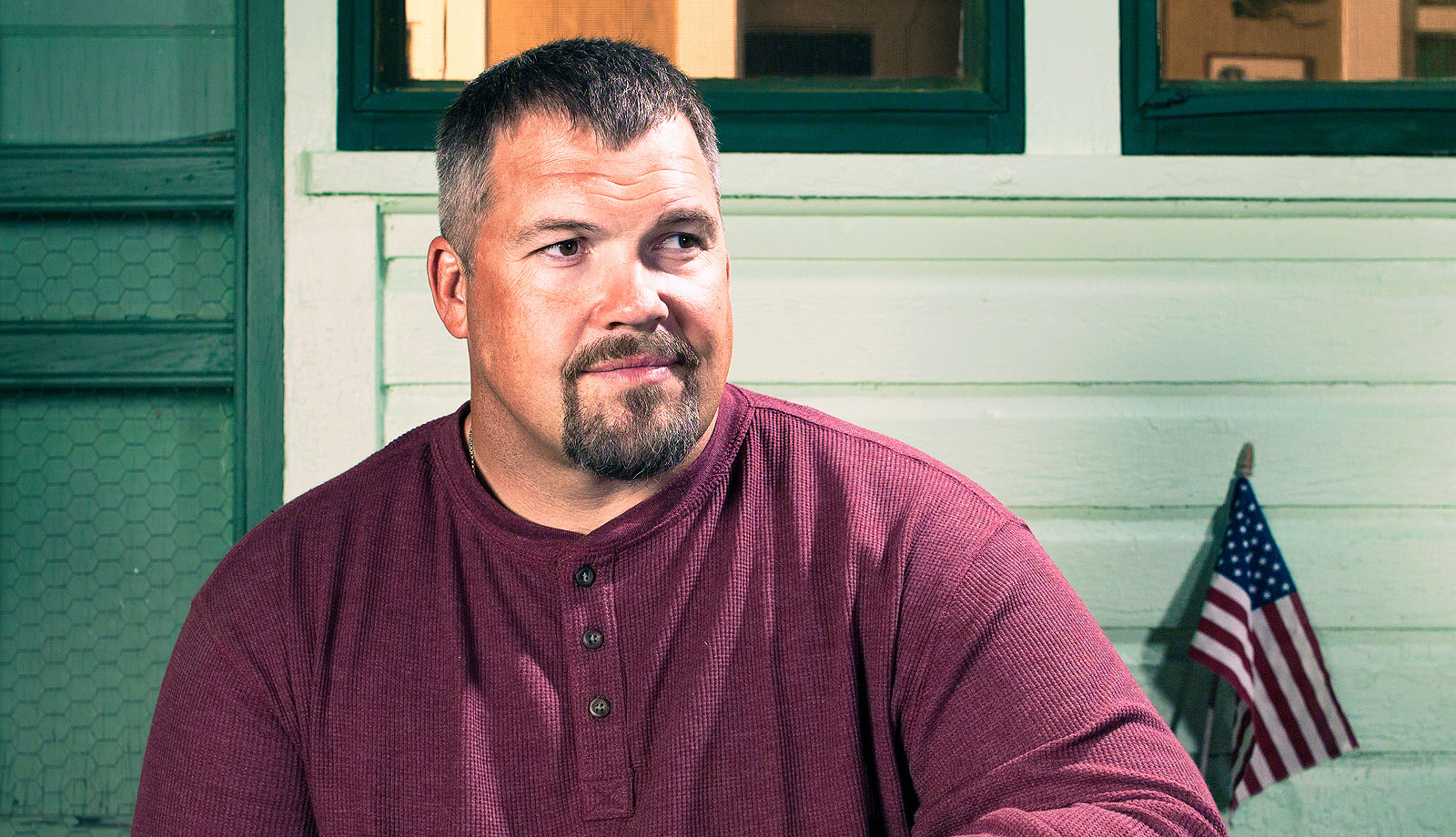 'My Absolute Stupidity'
Even today, on a bright winter morning in 2013, years after the therapy sessions and pastoral consultations and even despite the sympathetic squeezes and glances from his wife, imploring him with her eyes to go on, Joe has a hard time explaining how black those years were, how strange it was to witness his life run on opposite tracks, getting so much better and so much worse at the same time. The telling of that long chapter is painful for him, but recalling what happened next is almost too much to endure. His eyes dart to the window or down to his hands, ashamed. His palms are sweaty. Then at last, driven perhaps by some inner compulsion to seek absolution from one more public airing, he forges on.
Credits shy of his degree, Joe had moved back to Boise to graduate and, in the process, cleanse himself of his past. He wanted to coach. He thought that if he couldn't play, coaching was the one thing he could do well. He lived on the site of the apartments he managed for a Broncos booster who remembered Joe's glory days. Across the street stood a mangy house with an unkempt yard and a lot of nighttime visitors. Joe had his suspicions about what went on there. Despite promising himself he'd stop, Joe was still on GHB and meth, and one afternoon, he walked across the street and introduced himself to the woman who opened the door, Melissa Strain. Joe would later recall her saying she was on welfare and that this was the home of her boyfriend, who let her and her two girls -- a 6-year-old and an infant -- stay with him when they had nowhere else to go. Melissa alluded to partying, and meth, but she also told Joe that her boyfriend hit her, and she worried what effect the fights were having on her girls. Her stories brought to mind his days in South Dakota. He could commiserate. And soon the two were snorting meth when the kids were asleep.
One night, Joe and Melissa were at his place with the paraphernalia she preferred: lines of crank next to a baby monitor. As they got high, the baby began crying and Melissa walked across the street. Joe then heard screaming. Melissa's boyfriend had come home and he thought Melissa and Joe were either having an affair ("You slutty bitch!" Joe heard him shout over the baby monitor) or, just as grievous, she was sharing her meth with Joe ("I know you're with that ex-football player doing dope!"). The boyfriend threatened to kill Melissa. Joe ran over there and, as he would later say, "beat the living s--t" out of the guy.
Everything Joe did -- from snorting with Melissa to pummeling her boyfriend -- was stupid, and he thought as much at the time. But his addiction was so ingrained and the shame about it so intense, he often could find relief only with another hit. His actions were all the more indefensible because he had, days earlier, accepted a job to be a graduate assistant within the football program at the University of Northern Arizona. But because Melissa's boyfriend kicked her and the girls out of the house, Joe's old life followed him to his new one: He moved Melissa and her daughters with him to Flagstaff, where they lived in a mobile home 12 miles from campus.
"I felt I couldn't abandon [the girls]," Joe says. (At this point, Joe's relationship with his own daughter was little more than the check he mailed every month -- how his ex-wife wanted it.) That two methheads could provide vulnerable girls stability showed the extent of Joe's delusion. It was another lie he told himself.
Again, though, no one saw anything untoward. In Flagstaff, he lacked access to ingredients he needed to make GHB and suffered hideous withdrawals, staying up three or four nights at a time and seeing guns in the clouds, but no one on the Northern Arizona staff noticed. "There are a lot of guys who coach, but there are not a lot of guys who have Joe's passion for the game," NAU head coach Jerome Souers would later be quoted, by way of an explanation for his ignorance. "He was on the fast track to coaching stardom." Sure enough, after the symptoms subsided and he finally kicked GHB (though he and Melissa still occasionally snorted meth), he accepted an assistant position in 1999 at Montana State, overseeing the defensive line.
Melissa and the girls came with him to Bozeman, where he set them up in their own campus apartment, found Melissa a job and absolutely flourished as a coach. "He understood how defensive linemen needed to play," Pete Kwiatkowski says, then the defensive coordinator at MSU and now in the same position at Boise State. "And he had the motivational part … down." On Saturdays, Joe led the players from the field house to the stadium on his Harley. He always loved the violence of football and would get so excited during games, his hands shaking, that he'd head-butt his linemen -- they in helmets, Joe without. "And, like, he partially rang my bell," Adam Cordeiro, a defensive end, once told a local TV station. Others recognized him as a coaching savant. Says Kwiatkowski, "I always thought that one day I'd be working for him." After the 2002 season, Joe was promoted to assistant head coach.
He was asked to recruit what he knew, and that meant Northern California -- and that meant reconnecting with old friends and new supplies of meth. "By day I would woo football prospects," Joe says. "By night I would do meth. It was tearing me up inside," he says.
Melissa had complained to Joe about not making enough money, and in January 2001, Joe says she floated the idea of selling the meth he brought back with him. It was a brazen plan, and not just because of Joe's rising coaching stature: Melissa's apartment was across the street from the campus police station. "In my absolute stupidity, I agreed," he says. After all, if he were already smoking it, why not profit from it too? An associate named Albert Perez, court records would show, FedExed the meth to Joe or Melissa, and Joe kept some for himself to snort at his leisure, gave the rest to Melissa to distribute to her street dealers and split the profits as they rolled in. Business picked up: Selling a quarter of an ounce at a time, with a street value of $2,800, Joe says, he and Melissa were soon receiving two deliveries a week from California.
Then one Friday morning in 2003, a bye week for Joe and the Bobcats, Melissa walked into a local FedEx center and picked up her latest delivery. That's when Detective Matt Collar pulled her aside. Meth use had absolutely ravaged the state, causing the governor to intensify the focus of the Missouri River Drug Task Force. Collar, on that task force, told Melissa that he and his colleagues had been talking with her street-level dealers for weeks now. They'd also been watching the packages FedExed to her. Collar looked at the one in her hand and said he -- and the dogs who'd sniffed it before her arrival -- had a strong idea what might be inside. He asked her if he could search it. Melissa handed it over.
Collar opened it and told Melissa she had two options. She could say nothing, and face the full wrath of the state's prosecutorial arm. Or she could cooperate with Collar, right now, and perhaps gain leniency at a future sentencing, especially if she started talking about her supplier. She started talking.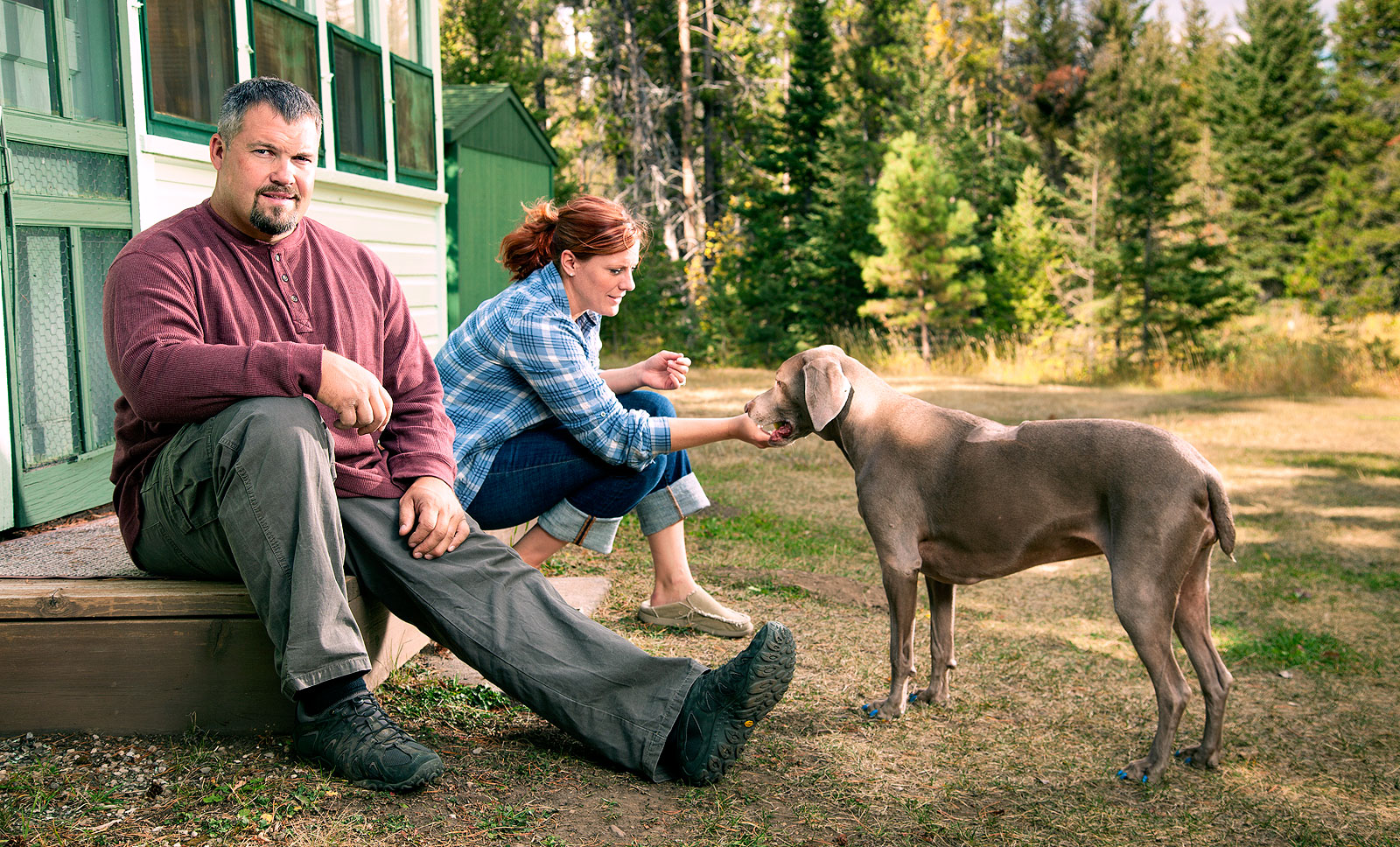 'It Was So Scary'
Two things, Joe will tell you, saved him in the months and years after that day -- after Melissa started talking and set up the bust, after he was charged with selling more than 50 grams of meth for at least $23,000, selling it on campus property (from Melissa's campus apartment) and laundering the money after the sale; after the shock to his friends and colleagues ("It's like we've experienced a death -- like we're in mourning," MSU head coach Mike Kramer said); after his resignation and guilty plea; after Melissa got three years, Perez six and Joe four. The first thing to save him was finally telling the truth. The second was Grace.
Gracie Duffy was auburn-haired, blue-eyed, a comely cheerleader, when she saw a big, intriguing older guy on the sideline in 2002. Make no mistake, Joe saw her too. Neither pursued the other during the season, but in the spring of 2003, a month before she graduated, they ran into each other in downtown Bozeman. A conversation led to phone calls, emails and dates. "I knew almost instantly that I was in love with her," Joe says. She had no idea Joe had a meth habit when she moved in with him that summer, a few months after they started dating, and mere weeks before she would be forced to bond Joe out of jail, on her birthday.
Disbelief, anger, confusion, humiliation -- she felt them all, and at the same time. Her boyfriend was a meth dealer. She was 23, he 31, and in the months ahead, many family members tried to persuade her to leave him: Why stay with a drug fiend staring down hard time? "But I felt like I knew the Joe nobody else knew," Gracie says. She knew the coach who scowled on the field but then, in his office, behind closed doors, looked at her with warm eyes. She knew the big kid who got down on the carpet with toddlers at family gatherings and lost himself in play. She knew the ham who would announce himself by swinging open a door and crooning, in his best Lionel Richie voice, "Helloohh … Is it meeee you're looking for?"
The first time Gracie went for a prison visit, in Boulder, Mont., it "was so scary," she says. The walled perimeter. The security check. The ever-present guards. And at last this man, in an orange jumpsuit, slouched and broken, on the other side of a glass wall. Joe told her that day that, if this were too much, she could leave and never visit him again and move on, and he would understand. But she didn't leave. Today, when asked why not, she draws her lips into a thin line and stammers, and then flushes red, self-conscious. At last she settles upon a response: "In my heart, I knew he wasn't this person that was in all the media."
He was held in eight detention centers in five states during his incarceration. Inmates received 300 minutes of phone time a month, and Joe and Gracie rationed them into 10 minutes a day so they could talk every day. A couple of times he went over his allotment of minutes with more than a week left in the month. Those were the worst days. In a prison in Lewisburg, Pa., he entered an intensive nine-month drug rehab program that would reduce his time but also, he hoped, at last free him of his addictions. The rehab counselors at one point asked Joe to list the people his drug use had hurt, and he couldn't name them all, because he didn't know them all, because once he considered the meth he sold, the list was in the hundreds, maybe thousands, maybe tens of thousands. The level of destruction, he said, terrified him. Along the way, he says, he also found a faith in God that helped him endure the black hours of self-loathing and quieted his desires for meth.
The rehab and Joe's behavior trimmed his term to 28 months, and on Sept. 20, 2006, Joe was released, two-plus years sober. In 2008 Gracie and Joe were married in her hometown of Great Falls. Not everyone was happy to see him free: Gracie and Joe once went to a late autumn game at MSU, and fans around him screamed, "felon!" and "hypocrite!" and pelted him with snowballs.
It wasn't just football fans who couldn't move on. Joe started a roofing company, Get The J.O'B Done, because no Great Falls construction company or motorcycle repair shop seemed to want to hire him. It was good work, out in the sun, but the roofing company was just a stand-in for what he really wanted.
In prison he had drawn up football plays in the journal he kept. "Coaching is my calling," he says. "It's the most natural, purest thing I've ever done."
He wanted to stay close to Great Falls, but every high school coach he called either refused to return his message or gave him a polite but firm no. Conrad Duffy, Joe's brother-in-law, took over the high school team in Cascade, Mont., 25 miles from Great Falls, in 2008, and despite Conrad's pleas, school administrators allowed Joe only a "volunteer" position, helping with practice. Barred from the field, he sat in the press box without a headset on Friday nights until, frustrated by the conditions, he left the team. He thought the college and pro ranks might be more forgiving but found that no university could fathom sending him to talk to high school recruits. And the only offers he coaxed out of pro teams, in independent leagues or the Arena Football League 2, and always with the help of old colleagues or teammates, were unpaid positions, the professional euphemism for volunteer. He took one such job in Fresno in 2009, with the AFL2's Central Valley Coyotes, after his parole officer and Gracie approved. It was tough operating his roofing business from California and seeing Gracie sporadically, but Joe loved being back, coaching the defense. After a season, though, the league folded. In spring 2012, after dozens of rejections, at all levels of football, Joe resigned himself to a simple fact. His neighbors, his church -- certain communities would forgive him. But the football community? Never. No matter how many applications he filled out, no matter how much of his past he revealed, there were always those who wondered what Joe was, in fact, still hiding.
And then, in April, Joe heard that a school board member named Russ Bloom wanted to meet him.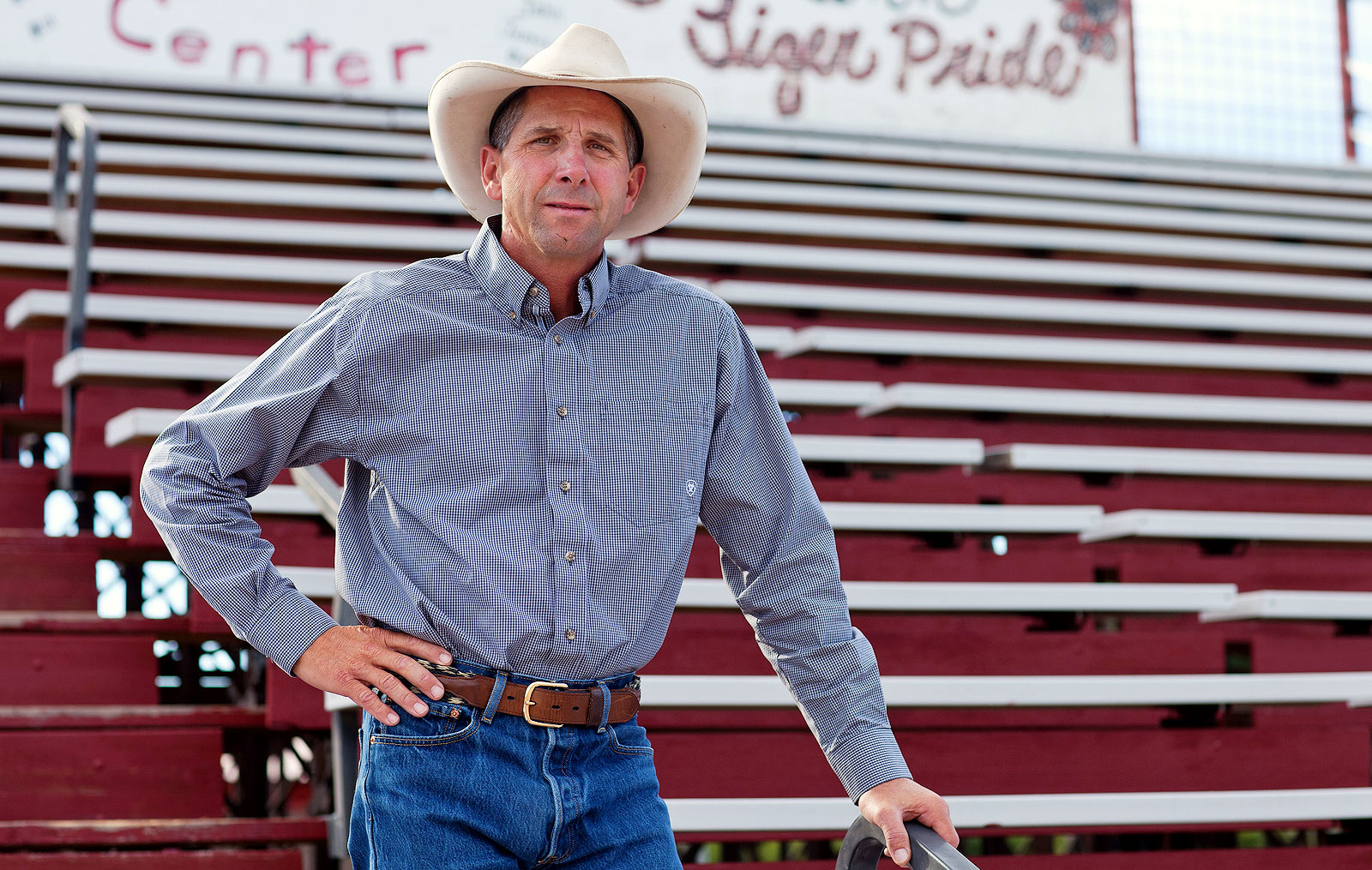 'They Never Knew What Hit Them'
Today, in hindsight, Joe can see his meeting with Russ Bloom as the moment his story stopped being his alone. Bloom would be the first to pass Joe's tale through his personal filter. And over the course of the coming months, seemingly everyone in Bloom's town would do the same -- Joe's tale spreading from one resident to the next in a collection of narratives and counter-narratives. The story of Joe O'Brien would, in a way, become the story of the town itself.
Still, in April 2012, Bloom was just a man on the school board in Simms, Mont., a tiny ranching town 30 miles west of Great Falls, with a mutual acquaintance of Joe's named Harold Goode. Goode owned a Cajun-style restaurant in Great Falls that Joe loved; both former football stars, Goode and Joe had become friends. When Harold Goode wasn't running his restaurant, he was coaching football at Simms, where the high school had 105 students and where the team played the eight-man game. Goode had called Bloom in January and said his business demanded too much of him now, and he wouldn't have time for the team in the fall. He recommended Bloom talk with Joe O'Brien.
"Wow, that's radioactive," Bloom had said.
"He's a changed man," Goode responded. Harold had a 16-year-old, Devan, on the team. "Russ, I would trust my son's life with this man."
And so Bloom agreed to meet Joe at Goode's restaurant for lunch.
Joe sat waiting when Bloom walked in. A wiry man with the tanned forearms of a rancher and the squinting gaze of George W. Bush -- a comparison he endures but doesn't encourage -- Russ shook Joe's hand, and his grip was lost amid Joe's mighty paw. Bloom had brought his sons, 16-year-old Zeb, the captain of the team, and 14-year-old Jake, an eighth-grader, but, unsure if he wanted his boys around Joe, told them to eat at another booth.
The lunch wasn't so much a discussion as an interrogation. Bloom had grown up in Simms but spent 20 years living away, in Oregon and Seattle, where he worked as a veterinarian. He helped at local racetracks in the 1990s and heard of the destruction that meth wreaked on the jockeys who smoked it as an appetite suppressant. He knew the drug's harm personally too: His wife's sister-in-law, a working mother who sat on Montana's antidrug task force, was busted in Butte in the '90s for selling the stuff. Meth had decimated Simms and the rest of Cascade County in the 1990s and aughts, turning them from small, endearing communities to places where you could get crank from an upstanding farmer or registered nurse, pass a former high school classmate on the street but not recognize him, marvel at the number of busts -- one sheriff's deputy alone found 200 meth houses in the county -- and the audacity of their location: one was two blocks from an elementary school, another next door to the sheriff's house.
So why should he, Bloom asked, or anyone else in this community, even take lunch with a man like Joe?
Joe nodded and started in. What impressed Bloom weren't Joe's answers per se -- they hit on the tropes of a transformed man looking for a second chance -- but how Joe delivered them. He never matched Bloom's pique. He just slowly and calmly explained his life. For every "belligerent" question Bloom posed, he says, Joe gave a transparent response in a quiet voice.
By the end of the lunch, Bloom invited his sons over. "Boys, there's someone I'd like you to meet …"
Afterward, Bloom phoned another school board member, Shanna Bulik-Chism, a fiery 5-foot-nothing blonde with a dry wit and sharp opinions, and raved about Joe. Bulik-Chism knew who Joe was; her husband, Mike, was, coincidentally, Joe's parole officer. Protocol and confidentiality agreements prohibited Mike from revealing much, but he told his wife Joe seemed to be one of the few truly reformed parolees he'd encountered. Bulik-Chism had also read Joe's self-published 2011 autobiography, "Busted Bronco: From Addiction to Redemption." She was floored, she says, by its level of honesty and shared the book with some of the kids in her care at the juvenile detention center she ran in Great Falls. After Bloom's call, she decided to invite Joe to speak about his life at Simms High's spring sports banquet, as a way to introduce him to the parents in the audience -- and some of the kids, who were as vulnerable, Bulik-Chism says, as Joe had once been. Both Bloom and Bulik-Chism thought he'd make a great coach, but neither had the temerity to propose that to the rest of the seven-member board, which approved hirings. At the banquet, Joe gave a brief but dramatic take on his life. It was well-enough received that board members heard no complaints from parents about Joe serving later that summer as a volunteer coach at Simms' football camp. By then the board had hired a 25-year-old former college wrestler, Rob Hazenburg, to be the football coach and new athletics director. Due to Hazenburg's inexperience, Harold Goode agreed to return to the sideline for the 2012 season as an assistant.
The year, however, started so poorly -- 1-3, including a near-50-point blowout -- that the coaches agreed they needed help. With the approval of the district's superintendent, the school asked Joe to come on as a volunteer assistant and oversee the defense, with no caveats.
Joe had heard all this before but couldn't help but become ecstatic. Maybe, at last, my chance, he thought. The opponent in two weeks was Sunburst, so the Friday before, Joe was at Sunburst, scouting out the opponent. He then got film of the game and spent 14 hours that weekend studying it, breaking down how Simms' defense might dominate Sunburst's offense. Monday afternoon, at practice, Joe handed out a comprehensive defensive game plan to each of the 21 players on Simms' roster. They'd never seen anything like it -- who was this volunteer coach? Joe said Simms would have four linemen down this week instead of the usual three, blitz the strong A gap, where Sunburst's O-line seemed weakest, and hound the ball as a unit. The defense, Joe said, would be a monster.
Zeb Bloom came home from practice that Monday, and Russ asked him how it went. "Dad," Zeb said, "if we'd had Joe all season, we'd be undefeated."
Joe spent Tuesday and Wednesday honing his plan and correcting, but never admonishing, his players' mistakes. The kids had a new and demonstrable confidence at practice, and parents began to show up to witness it. By Thursday the defense, if not a monster, was certainly a machine: finely tuned, with flawless execution. Friday night that machine destroyed Sunburst. "They never knew what hit them," Zeb Bloom says. Sunburst's O went three-and-out on its first four possessions and rarely crossed the 50-yard line thereafter. Jake Bloom had a season-high 23 tackles. And Simms, three weeks after losing 52-6, won 30-0.
Afterward, with the fans still buzzing, the team huddled around Joe. "This," he said, with tears streaming down his cheeks, "was the most important game I've ever been in in my life."
Monday afternoon, Joe handed out another detailed game plan, this one for Chinook, a conference power. Once again, the plan switched up Simms' defense to exploit weaknesses in Chinook's offense. Once again, the kids practiced with a confidence unseen earlier. But Tuesday afternoon, Dave Marzolf, the superintendent, talked with Coach Hazenburg, who in turn talked with Joe. A parent, Hazenburg said, had threatened to pull his sons from the team if Joe kept coaching.
Joe told Hazenburg he didn't want to be the reason any kid couldn't play football. He could barely form the words, but Joe said he would step away from the program. Goode drove him back to Great Falls that afternoon. Joe said nothing, just leaned his head against the window and looked at the passing farmsteads.
'This Isn't the Place for Him...'
The parent who didn't want Joe coaching was Keith Rohrer. He'd spent the previous week driving to, and returning from, Kearney, Neb., where he'd picked up a load of cattle for his ranch outside Simms. He had heard from his wife and 16-year-old son, Kalvin, the team's starting center, about the win over Sunburst and Joe's role in it, and when he'd unloaded his cattle, he drove to the school to talk with Marzolf, the superintendent. Rohrer told Marzolf he had nothing against giving people like Joe a second chance -- but Rohrer thought Joe had already received it. He was out of prison, married, had a baby boy, Tuff, and his own roofing company. Society had forgiven him. But a school doing the same -- that was another matter. "And my opinion was, 'This isn't the place for him, to be around my kids,'" Rohrer says. After Joe removed himself from the team, "I was relieved," Rohrer says, and thought nothing further would come of it.
He was wrong. Simms lost the rest of its games, giving up at least 50 points in each. Visiting fans outnumbered Simms' home crowds. In practice, "Players were starting to get down on each other," linebacker Jake Bloom says. "It was just the confidence in our plays and our defense."
After the season, in late 2012, the school board began to entertain who might assist Hazenburg, helping him develop into a better coach. (Hazenburg declined ESPN's request for comment.) The decision had implications beyond lifting the demoralized spirit of a team and fan base. By some board members' calculations, Simms' school district had had trouble retaining roughly 80 students over the past few years -- those students choosing rival districts with better football squads than Simms'. With only 105 high schoolers, every departure was like removing a load-bearing beam, bringing the whole school closer to collapse. Despite the repudiations of other board members, including vice chair Ken Steinke, Joe emerged in board discussions as a strong candidate to help Hazenburg.
But because of how Joe had been forced from the program, "I didn't even know if he'd take our call," Shanna Bulik-Chism says. The board chairwoman, Stephanie Merja, phoned Joe and asked if he'd be interested in a paid coaching position. Joe asked if he could meet her in person and said he was interested -- but only if he could be the head coach. After so many brief flirtations and caveat-heavy half promises of school districts, not to mention flat-out rejections, he was tired of being jerked around.
Well, crap, Bulik-Chism thought, when she heard the news from Merja. That won't happen. Sure, every coach at Simms is given no more than a one-year contract, which then is up for review. But given the discord in the community about Joe, she thought, there was no way --
"I think it's the same mountain," Merja interrupted. Whether Joe would be the head coach or an assistant, his supporters would have the same mountain to climb, she said. So why not just consider him for the head coaching job?
"I was thinking," Bulik-Chism says, "You've got some big cojones, lady."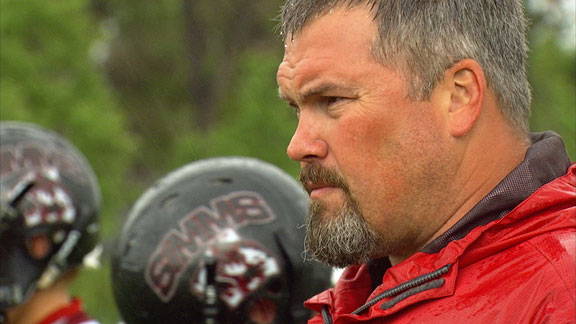 'I've Got, So Far, 58 Signatures'
Stephanie Merja had grown up in Davis, Calif., near Sacramento, a theater nerd who fell for a guy on the Stanford football team named Chuck from some Montana town called Simms. Chuck blew out his knee sophomore year but soon married Stephanie. And after getting his mechanical engineering degree, the couple found a home in Palo Alto, Chuck working for Hewlett-Packard, Stephanie for a theater company, building costumes. Still, Chuck longed to head home to run the family farm. And when, in 1981, three years into their marriage, Stephanie agreed, her life acquired unexpected dimensions.
Stephanie helped Chuck raise cows and winter wheat, and then a son and two daughters. Over time, Chuck got involved at Simms High, creating and managing its robotics club, and Stephanie rose within the school board, to chair. She made difficult decisions -- she implemented the district's four-day school week -- but knew the coaching candidacy of Joe O'Brien would be the hardest she'd help make.
Merja and other board members decided to first gauge the opposition among the players' parents, to see if many held Keith Rohrer's views. One cold weeknight in January 2013, the parents gathered in the school library and voted. Each set of parents received only one vote, so any disagreements among spouses needed to be worked out in advance. The final tally surprised everyone: 16 to 4, in favor of hiring Joe.
Bloom and Bulik-Chism pounced, wanting to schedule a board vote for the next monthly meeting. But Merja decided, no, not yet. She wanted to hear from the rest of the community, and she called a Town Hall-style meeting in two weeks, where anyone could say anything they wanted about the choice of hiring Joe O'Brien.
Joe would open the forum by discussing his life and desire to coach the football team. He had done it enough to know it would likely make him sweaty, even tear up. And when he and Gracie walked into the school's band room that Monday night in February, where the meeting would be held, Joe's uneasiness intensified. Every seat was filled, old land owners, young parents, their children. Maybe 100 people in all. Even a television crew: KRTV from Great Falls had sent its sports director, Richie Melby.
Merja called the forum to order, and Joe paced the front of the room, speaking for roughly 20 minutes about his dad, his career, the details of his criminal indictment (an attempt to squash rumors that he had either dealt drugs directly or dealt to kids, neither of which the government claimed). And then, in a clever turn, Joe discussed how he, in particular, could inspire kids off the field, especially those from unstable homes. It was his record, he said, that gave him credibility; kids would more likely heed his warnings than those of a coach with a spotless resume.
After his speech, Joe and Gracie left, and the townsfolk discussed him. The collective conversation overwhelmingly opposed his hiring. Some people wondered whether Montana law even allowed an ex-convict to work in a school. (Merja had checked and it did.) One resident said, "This man is a felon. A felony stays with you for your entire life." Keith Rohrer stood up. "This isn't a place for a convicted felon," he said, then, looking at a green binder in his hand, added, "And I've got, so far, 58 signatures from parents, taxpayers and alumni from this school that agree with me."
No argument from any of Joe's champions -- Harold Goode, for one, spoke at the forum -- could match the weight of those 58 signatures Rohrer had gathered (so far), and the room's chorus of voices that abhorred Joe's crime, how similar it was to so many others that had helped turn their Rockwellian small town into something grimmer, more desperate, more shameful with every ounce of meth sold.
Shanna Bulik-Chism went home despondent, believing the forum would sway other board members.
Russ Bloom went home and worried about his kids. He had lived with his family in big cities because he wanted them exposed to more of the world than he had been. Then he and Carol had come back to Simms because he believed the town still imbued its youth with values he cherished: honesty, hard work, perseverance. But he had witnessed so much intolerance tonight that he wondered, for the first time, if he'd made a mistake coming back.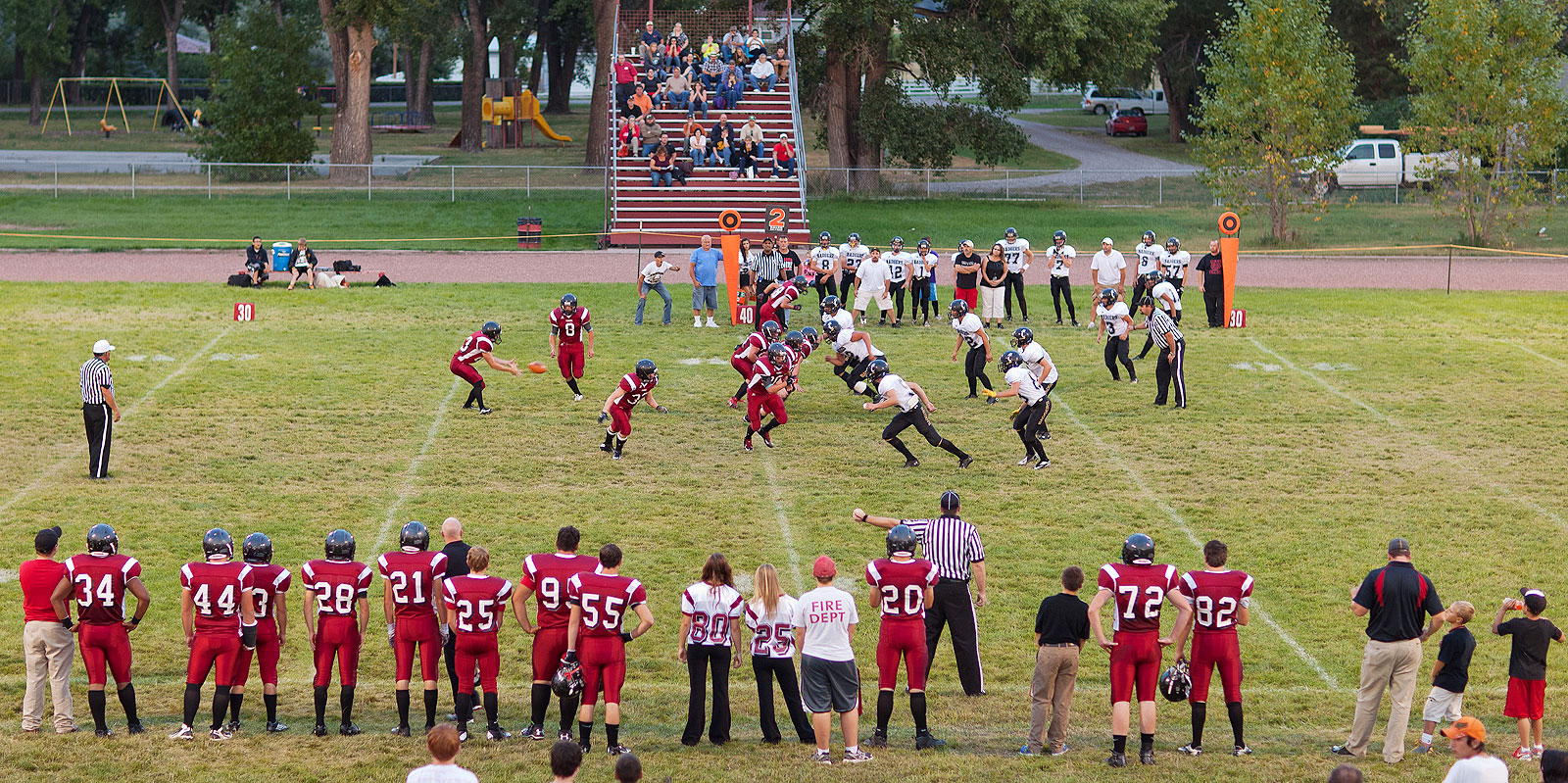 Living With Their Vote
A school board member in Dallas, Chicago -- heck, in Great Falls -- can issue a decision and live a social life free of its ramifications. The cities are big and the decisions mostly small, and even when votes are contentious, board members can easily congregate only with people who think as they do. That's not Simms, where the seven board members would have to literally live with their vote. And as the Feb. 13 meeting that would decide Joe's fate approached, the divide between those who wanted Joe as their coach and those who didn't widened.
A counter-petition, started by Carol Bloom and Trudy Claussen, the mother of another football player, Zach, gathered the signatures of people in favor of Joe and quickly surpassed what Rohrer had collected. The bleachers at Simms High basketball games resembled a school cafeteria for adults, with those who liked Joe over here, and those who didn't over there. Meanwhile, the football players all seemingly supported Joe, Zeb Bloom says, though some had to do it more quietly because of their parents' view.
The school's teachers rallied around last year's coach, Hazenburg, a P.E. instructor at the school who amid the bickering withdrew his name from consideration to head the team again. The teachers thought that if Hazenburg couldn't coach, or wouldn't, Joe shouldn't either, and in an internal poll voted 29-2 against his hiring. Harold Goode, furious, said because the school and factions in the community seemed to believe mistakes should not be forgiven, he had no choice but to leave this town for a more fair-minded one, and enrolled his son, Devan, at a high school in Great Falls. The Bloom and Rohrer families, which had known each other for generations, quit talking to one another. Russ Bloom heard rumors that he was using his board position to pressure school administrators to support Joe; Keith Rohrer heard he'd bullied people and distorted the facts of Joe's past to collect more signatures.
As the meeting neared, Shanna Bulik-Chism couldn't sleep, afraid, for one, that she and Bloom didn't have the votes; only Merja had also given Joe their support, though board member Eric Buhler seemed willing to listen to her. But her greater concern was how, if Joe didn't win, she could still justify living here.
Stephanie Merja couldn't sleep either. One night Chuck Merja found her in the kitchen at 1:30 in the morning, cleaning, and she told him she had a lot on her mind. A few days before the Tuesday vote, she seemed to find clarity. She phoned Joe and asked to meet. Because of Joe's roofing company and its on-site demands, Merja and Joe decided on meeting halfway, at a cemetery outside Simms. There, Merja apologized. She was up for re-election in May and told Joe this had been a difficult process for everyone. She remembers saying she'd make up her mind Tuesday but didn't think she could support him anymore.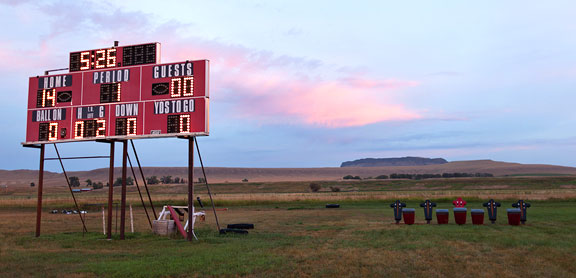 'All Those in the Affirmative...'
Joe left the cemetery stunned, fighting back tears. You fool, he thought. He had become inured to dealing with the reluctance of other school districts. But Simms had been different, enticing him with his own team to coach, on his terms, with people who had accepted him for who he was, and so Joe had bought into the idea that this time, it might really work out. This school might really be the one to forgive his sins.
It was hard not to be angry. He had been in prison, after all, when his old friend and MSU colleague, Pete Kwiatkowski, took a job with Boise State as defensive coordinator. How many times had Joe thought where he would be if he hadn't gotten into meth? Kwiatkowski had helped bring Joe onto the Montana State staff, so it wasn't a stretch to imagine Joe going with Kwiatkowski to Boise. And because Joe was the leader of that 1994 Broncos squad, a Boise State All-American and fan favorite, who's to say he couldn't have been in Chris Petersen's job now, the head coach of the Broncos? He had the charisma, the history with the school, the wunderkind reputation. Who's to say he wouldn't be wearing the big headset, pacing that blue turf?
But instead? Instead it appeared he couldn't even get a job with an eight-man football team in Nowhere, Mont., that would pay less per year ($3,400) than he would likely spend on gas.
He and Gracie drove to the school Tuesday night, not saying much, and walked into the school library, fully expecting to lose. KRTV was there again, but not nearly as many people had gathered as at the forum, though many players lined the back, where Keith Rohrer also sat. Joe and Gracie took a seat, and Joe hunched his big shoulders forward. Gracie put an arm around him.
The proceedings soon took on a different cast, though, and even Joe noticed it. No one who spoke in the public comment portion derided Joe; in fact, Carol Bloom said she had gathered 126 signatures going door to door, and had 277 more from an online petition she'd filed. Old Scottish Claymore teammates wrote from the UK, coaches and teachers from the Bay Area who knew Joe as a kid, clients of Joe's in Great Falls -- they all said that he was a good man and that the board should consider, as Gracie's mother wrote, "What messages you are sending YOUR students about 2nd chances."
At last, the moment came. Bulik-Chism still didn't think she had enough to win. Russ Bloom thought Merja would be the swing vote. Joe had his head down, Gracie's hands in his, their palms damp. Merja said they would vote by a show of hands, and then she paused. The pause dragged into a moment of its own, as if she were still weighing her decision. Then she said: "All those in the affirmative, raise your hand."
Bloom's shot up, along with Bulik-Chism's and the hand of the sympathetic Eric Buhler -- and Merja's too. Joe gave Gracie a holy s--t look. Bloom, shocked by the tally, raised his hand even higher. Merja then quietly said "OK" and asked for those opposed to raise their hands. She then said, as flatly as she could, "The motion passes."
The library, after a pause of its own, roared in cheers. Gracie looked at Joe. He had his head down, and she saw his eyes well up. The meeting adjourned and Joe walked about the library, dazed, shaking hands and accepting hugs. Bulik-Chism rushed home, exhausted, and slept for 10 hours. Russ Bloom talked with a television reporter about his hope that the community would stand behind the board's vote. And Stephanie Merja quietly left the school. Weeks later she would say: "My husband said he would have done anything for his high school coach … I believe that none of us have gone without mistakes. And I believe that the people who would be most influenced by him, wanted Joe."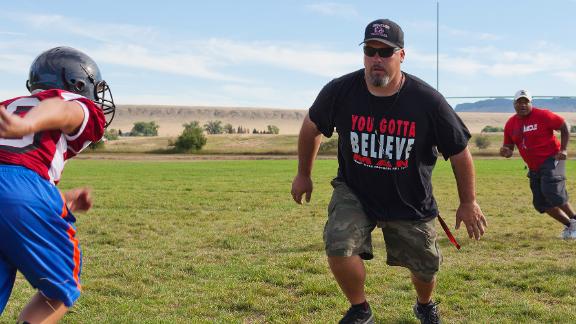 'Today Is Day One'
The clouds had threatened rain all afternoon and now it came, a persistent, unending drizzle made worse by the high steppe's disregard for spring. The calendar said it was early June in Simms, Mont., but minutes before 5 p.m. the thermometer read in the low 50s, and the temperature was sinking fast. Out there, behind the high school, Joe O'Brien paced the football field, oblivious to the inclemency, making his final preparations for his first day of football camps, his first day as head coach.
He looked older, much older than you'd think five months could age a man. Suddenly, he had gray everywhere, streaking his hair, overwhelming his goatee. If he weren't so physically large, he would have appeared almost professorial.
He had a plan, a minute-by-minute agenda for today's practice, one he'd been thinking about for so long that when today at last arrived, he didn't know how to occupy himself. He'd paced the house all afternoon, knowing that practice began at 6 but asking Gracie at 2, 2:30, 3 if he should head over. Finally, at 4 she said, "Just go." On the 30-minute drive from Great Falls to Simms he'd called her: His heart was beating so fast, he said, he wondered if he were having a heart attack.
Now the hour was here. The players emerged from the equipment shed that doubles as Simms' locker room, helmets on but without pads, at least for today. Joe strode to them. He was wearing a hooded, red rain jacket and red shorts that set him apart from his three assistant coaches, dressed in black and standing some feet off, as much gawking spectators today as colleagues. Joe gathered his football players around him, 18 in total. "Fellas, this is Day One, right? It's Day One. It's bad weather conditions, the grass is high -- it's perfect isn't it?" Joe waited a beat for the kids' shouts to die down before repeating, as much to himself as anyone else, "Today is Day One."
To be sure, some of those who had made it possible had suffered. Shanna Bulik-Chism, disgusted by the vitriol that persisted well after Joe's hiring, decided not to run for re-election. Stephanie Merja lost her re-election campaign by 10 votes, and at her last board meeting, on May 14, a couple of weeks before Joe's first practice, she read from a letter she'd written, saying she thought she'd been booted after eight years of service, "because a few people wanted to teach me a lesson for how I voted on a single issue." As if to prove her point, Ken Steinke, Joe's fiercest critic on the board, was soon after named its chairman. Bulik-Chism says Steinke had alluded to trying to get rid of Joe after his first season. (Steinke did not respond to requests for comment.) But even she had a hard time believing that. "If Joe wins," Bulik-Chism says, "and if [his critics] see the kids coming home with positive attitudes, how do you say, 'We want to get rid of this guy?' That's what I'm hoping these people will see."
As the practice progressed, the kids followed and abided by their coach's words with something approaching infatuation. Joe O'Brien seemed to possess that rare quality of demanding excellence without inciting fear. He even joked with the kids. "Got that, Sunshine?" he said at one point to a defensive back who'd spaced out. He seemed very much at home on that overgrown field.
His favorite player, as readily obvious as the kids' love for him, was Kalvin Rohrer, the son of Keith Rohrer, who'd first said Joe should not be coaching. Keith and his wife, Jenny, had told Kalvin that though they opposed their son playing for Joe, the decision was his to make. When Kalvin said he wanted to suit up, it thrilled his coach. Kalvin was a center with quick feet, sound fundamentals and a nasty demeanor come game time, much as Joe had once been. "Damn it, Kalvin," Joe said at one point during the practice, after Kalvin had sped his way through a footwork drill. The kid assumed something was wrong but Joe said, "That's excellent … Love it."
When the practice drew to a close he gathered his players together again. "I'll tell you what, it's been a long time for me personally," Joe said. "It's been a long time and it's an honor to be here." To lighten the mood, he told the players about the heart attack he thought he was having on the way to practice. He waited a few moments for the levity to pass, and then said: "I love you guys. I want you to know that."
He went home that night and his mind was racing with thoughts about how the line could get better, how his running backs could make crisper cuts, who should start at linebacker. On and on.
It was a beautiful insomnia. The man whose life had been held hostage by his past couldn't fall asleep because he was finally free to dream about his future.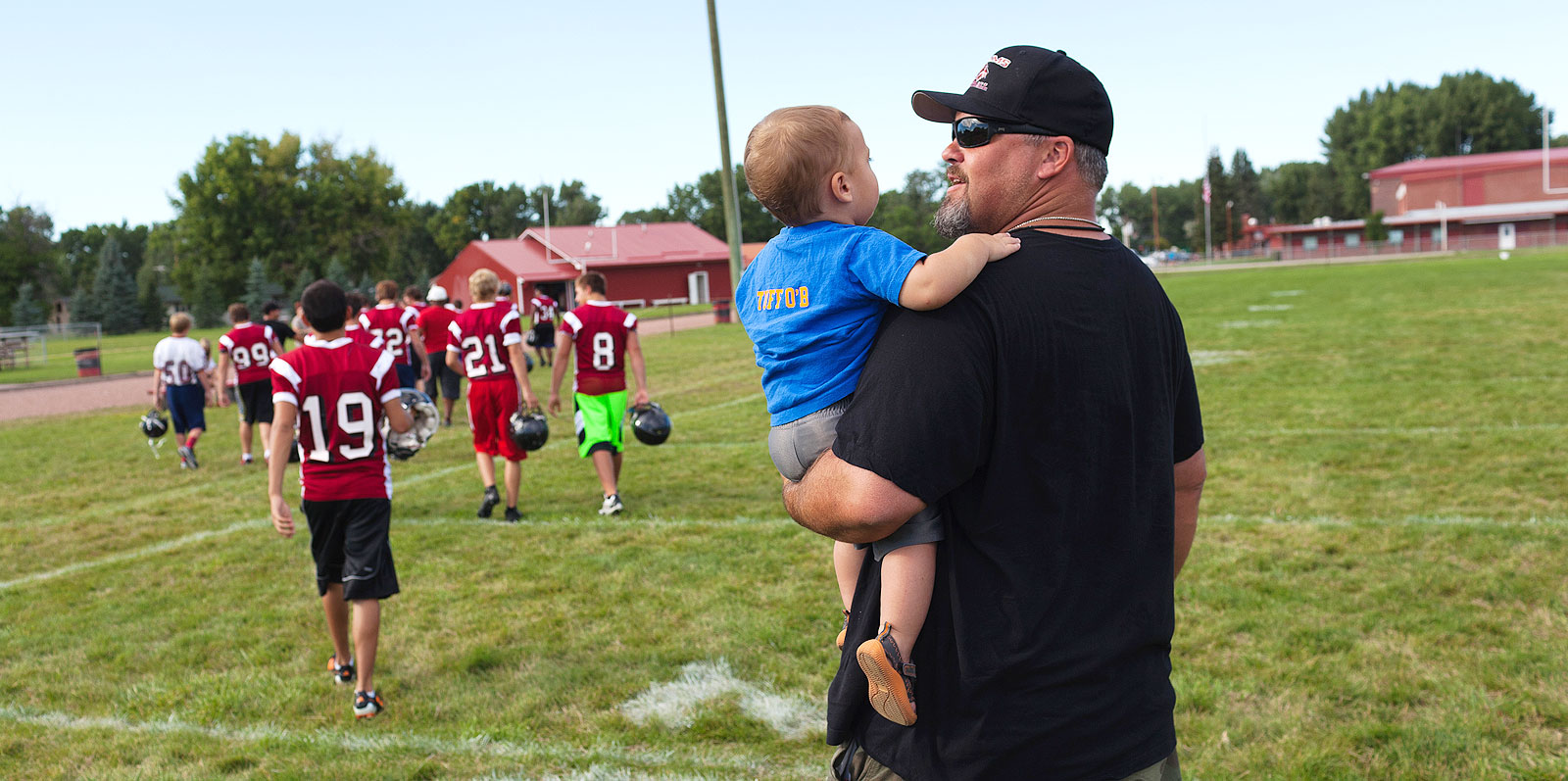 Editor's note: Simms was 4-1 at the time this story was posted, having outscored its opponents 171-88.
Paul Kix is a senior editor at ESPN The Magazine. Follow him on Twitter: @paulkix. Follow ESPN_Reader on Twitter: @ESPN_Reader. Follow the Mag on Twitter: @ESPNmag.