The Rookie: Blake Griffin
SAN FRANCISCO -- Three orange, 20-pound medicine balls are outside a white van, placed on the sandy side of Highway 101, a few hundred yards from the San Francisco Zoo with the Pacific Ocean a few hundred feet below.
They were placed there by stealth trainer Frank Matrisciano. He is wearing his usual attire: boots, wraparound shades, a military desert sun hat, a weight jacket and long-sleeved shirt, shorts and, just in case the sand starts swirling, a pullover face-mask hood.
One by one, recent college players Blake and Taylor Griffin of Oklahoma and Jeff Adrien of Connecticut pick up the balls and begin the 20-minute hike into the sand dunes up from North Beach. No one in the party on this late May day, a group that also includes former UConn and current New Orleans Hornets forward Hilton Armstrong, has any idea where he will be training.
"The odds on anyone finding me is slim unless I tell them where I am at, because I constantly change," Matrisciano said. "They will think I'm somewhere and say, 'He is always there,' but I'm not. I'll be somewhere else."
Blake Griffin, who has been the consensus No. 1 NBA draft pick for months, is making his second stint with Matrisciano. He chose to come here, as did his brother, to go through a regimen that is enshrouded in secrecy. Matrisciano is extremely protective of his identity, but the players have no problem reveling in his paranoia. They poke fun at him and his trusted companion, his regal white-and-gray husky, Seminole, who travels with him to every training session.
GET MORE GRIFFIN
Blake Griffin on ESPNEWS



Blake Griffin's ESPN.com chat transcript

Listen: Blake Griffin on "The Herd with Colin Cowherd"



Blake's OU Video blog for ESPN The Magazine

Knight Watch: Bob Knight breaks down Blake's game

The discreet locations around the Bay Area are all part of his methods. He wants not only to surprise the trainees so there is no repetition but also to shock the muscle groups. Matrisciano's training focuses on using nontraditional elements, which can include a discarded railroad tie or the monkey bars at a playground. His objective is to force the muscles to adjust to unstable weights and surfaces.
"We don't do anything on a flat surface, and we don't do anything on a hard surface," Blake Griffin said. "Everything is sand and stairs."
Said Taylor Griffin, "It's definitely one of the hardest things you will ever face. Frank's thing is that if you can run up a 60-degree incline in sand with a 60-pound weight vest on, then running 94 feet down a flat court should be easy."
The players end up trekking to the destination that regular walkers steer clear of as they stay on the strolling, running and dog-walking path. In front of the basketball players is a steep sand dune that seems to climb at least 50 feet straight up.
Timothy Archibald for ESPN.com

Blake Griffin didn't plan on coasting into the NBA, even when he could have.

Timothy Archibald for ESPN.com

Former NBA coach Bob Hill, left, is part of Griffin's plan to become an impact rookie.

Timothy Archibald for ESPN.com

Every dog has his day.

Timothy Archibald for ESPN.com

Stealth trainer Frank Matrisciano has pushed athletes beyond their limits for years.

Timothy Archibald for ESPN.com

Blake Griffin had a ball on the beach.

Timothy Archibald for ESPN.com

The sun and sand conspire against those who challenge the hill.

Timothy Archibald for ESPN.com

Whatever you think of the extreme methods, Griffin has displayed a commitment to physical fitness with his NBA future on the horizon.
Matrisciano begins the 50-minute workout (dubbed "chameleon") with the players running up the sand dune with the medicine ball. Up and back, up and back, up and back they go. The medicine balls are left atop the hill after a few runs. So, too, are the sneakers and, for some, the socks. Again, Matrisciano continues to badger them to pursue the hill as their feet sink into the sand.
"Frank is one of a kind. There is nobody on this planet like Frank," Taylor Griffin said. "He is extreme -- the most extreme dude you will ever be around."
The time of the workout doesn't change. There are two 50-minute sessions. What you do in the 50 minutes fluctuates. Maybe one day you can run the hill 20 times in 50 minutes, maybe another you can do it 25, and on and on. The plethora of options Matrisciano can select include running beach stairs or using a harness on the sand to drag him along while both trainer and trainee wear a weight vest.
During the second 50-minute session on this day, the players stand on a sand ledge, ready for squats and push-ups in the sand that only get harder as time keeps moving.
The players are hunched over, their muscles aching, their abdomens stretched and the fatigue evident by their facial expressions.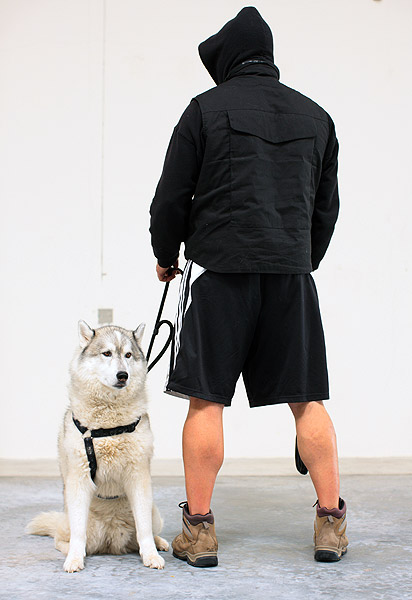 Timothy Archibald for ESPN.com
The mysterious Frank Matrisciano and Seminole
What muscles hurt at the end of the two-plus-hour chameleon workout?
"Every single one," Blake Griffin said. "I remember the first day we came out here last year, and I remember waking up and thinking, 'Man, I don't know if I can do this for two more months.'"
Said Armstrong, "Everything hurts. There isn't one muscle [that doesn't]. My eyelids hurt, my feet, my back, legs and everything you can think of, Achilles, it's crazy."
Yet these players don't leave. The Griffin brothers are here every day for weeks. Armstrong also is doing it for the second straight summer.
Matrisciano calls it his Law Seven.
"For every 10 guys that come here, the ratio is that three stay," Matrisciano said. "Guys will last 11 minutes, maybe 12 minutes, and they are gone."
Blake Griffin said of last year's regimen: "A guy came for a day of the workout, and then you never saw him again. It's funny because you can always tell which ones aren't coming back because they are like, 'Y'all do this every day?' or something like that, and you are like, 'You get used to it,' and they are like, 'Man, I can't do this.'"
Matrisciano said he has been given nicknames such as "genetic freak" and "mental patient." But, he said, "I'm not crazy. No one wants to train this hard. No one. This is me, though. This is who I am."
Matrisciano's personal story is a mystery. He grew up in northern New Jersey, and his mother, brother and a sister still live in the state, he said. His father passed away, as did another sister in an accidental death at home. He isn't a Navy SEAL, never was, despite rumors to that effect. He said that rumor was perpetuated when the father of former Duke guard DeMarcus Nelson, one of his trainees, introduced him as a SEAL when he went to a Duke-North Carolina game.
"I trained with Navy SEALs and trained tons of guys in the military," Matrisciano said.
He was going to enter the military, as his father did, but decided he was only into the fitness, not "jumping out of airplanes or anything else," he said. So, in New Jersey, he began to train just about anyone who wanted to deal with his methods.
When he was in Jersey, he would train boxers, police officers, state troopers and female triathletes. According to Matrisciano, most come to him thinking they can handle the training with ease because they're in shape after doing "illusionary" workouts.
WATCH: Andy Katz explores Frank Matrisciano's methods

He tells a story of two New Jersey state troopers who walked into his training room and saw two female triathletes who had been doing his methods for weeks. He said they scoffed at the women, so Matrisciano kicked everyone out except the state troopers. "Within eight minutes, one of them was over the toilet throwing up," he said.
Eight years ago, he moved to the Bay Area. Through his friendship with Washington Wizards general manager Ernie Grunfeld, he started training Grunfeld's son, Danny, then a player for Stanford. That turned into a stint of training Wizards guard Gilbert Arenas, but according to Matrisciano, Arenas didn't last more than a week because the training wasn't for him.
Word spread within the NBA and college circles, and a cult following began.
"I train more than basketball players," Matrisciano said. "I train personal trainers, boxers, martial arts, triathletes, women getting ready to fit into their Oscar dresses. I'm training them for life. I moved out here because I always wanted to train in this area. It's cold enough, around 50 degrees, but not freezing. You can't do this stuff in the heat, or you'll drop. This is not what I do. This is who I am."
The players attest that there is nothing phony about Matrisciano. He secures furnished apartments in downtown San Francisco for the out-of-town players. He said the college players don't pay a fee. But the NBA players do, though he wouldn't divulge how much.
"I don't have any expenses, no furniture, just a bed and a satellite TV in my place," Matrisciano said. "I eat the same thing every day: sweet potatoes, black beans, brown rice, chicken. And I have a dog."
The players adhere to his eating habits. Blake Griffin has been stringent about what he inhales, limiting himself to oatmeal and eggs in the morning; a burrito in the afternoon consisting of rice, beans and chicken (no sour cream); and then either salmon or chicken over vegetables in the evening (no sauce or oils on top). He supplements those foods with protein shakes.
The eating regimen is just a part of Matrisciano's teaching discipline. He's banking on people like Griffin adhering to his regimen for the rest of his life. He is a firm believer that a person's age is based on his condition, not his birth year.
When Matrisciano is asked how old he is, he responds that he's 20 to 24.
"You asked me how old I was? I tell the truth. I don't lie," Matrisciano said. "Now, the age thing is a different story."
His claim to be a 20-something is his estimation of a biological age, based on the condition of everything from his major organs to his bones and muscles. But his chronological age? Well, that's 45.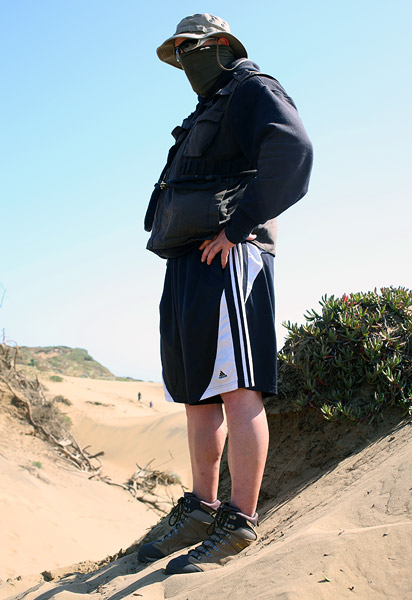 Timothy Archibald for ESPN.com
Matrisciano is king of the hill.
"To do this stuff day after day, it wears on you mentally," Matrisciano said. "That's part of it. To go on the basketball court will be nothing for these guys. They will mentally adapt to it.
"Guys need a challenge, and they'll say, 'My college strength guy or my pro strength guy doesn't do it.' So I say 'OK,' and in 11 minutes they're done, 12 minutes they'll say, 'F--- this.' One guy called his agent and said, 'Get me the f--- out of here.' I call the other training illusionary. It's good to do it, but it doesn't push you past that."
What makes the outdoor chameleon training even more taxing on the body is that it comes late in the afternoon, after the players have done two-plus hours of work on the basketball court.
At 8 a.m., they wait for Matrisciano to pick them up in a van. Then they head to an undisclosed gym in the South Bay to work with former NBA and college coach Bob Hill until 11.
Hill was introduced to Matrisciano by Atlanta Hawks scout Steve Rosenberry last year.
"[Matrisciano] told me to come out here, and when I did, I was blown away by the apartment he got for me," Hill said. "He drives us wherever we want to go, and I ended up staying three months when my plan was three weeks. The guys come here first, and then the afternoon for the two 50-minute evolution workouts, and then twice a week we come here for more shooting. It's a total commitment. I appreciate everything Frank stands for."
Hill makes his home in San Antonio and said he wants to eventually return to the NBA as a head coach. He relishes working with the Griffins and players such as Armstrong and Sacramento Kings forward Kenny Thomas. The basketball skill work isn't for the weak, either. The players go at one another, hurling their bodies for boards and crashing to the court on occasion.
"There are no excuses here," Hill said. "What we're building is mental toughness."
If agents were watching this workout, they would have cringed, fearing their clients would get hurt. Griffin nearly did in clashing with Armstrong. The workout would be what the NBA teams strive to do during individual pre-draft sessions, and what the NBA draft combine would love to be but can't because of agents' influence on eliminating contact.
How does Matrisciano fend off the agents? "I don't let them in," he said. Matrisciano's clients during this training session were represented by at least three different agents, proving he doesn't play favorites. "Nobody knows where I am," he said. "I am in San Francisco. Great, then come find me.
"The parents of the guys coming in from high school or college appreciate that. I don't have to tell you it's a harsh world out there. It's a circus -- from AAU to college, it's a circus. The kids are pawned off, pimped off, and I don't need to be involved in that, and I won't be involved in that, and that's my choice."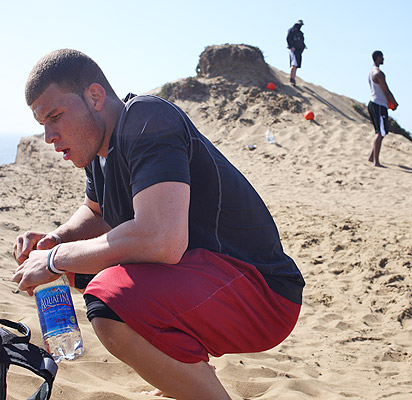 Timothy Archibald for ESPN.com
Even Blake Griffin needs a water break now and then.
As for Blake Griffin, Hill said his return to San Francisco this past spring proved his commitment to the program.
"He's such a quick jumper and a strong jumper, and the thing that impresses you so much is that he can dribble the ball, and offensively he'll be able to do what he wants with the pick-and-roll, cross-screening, and he'll be able to score in the NBA in a variety of different ways," Hill said. "If the Clippers take him, he'll have an immediate impact. He's got a marvelous attitude and picks things up quickly, and he's shooting the ball better, too."
Griffin credits his improvement in his game this past season, after which he was named the consensus national player of the year, to last summer's regimen with Matrisciano.
"It helped a lot because I had two knee injuries my freshman year, and it helped me get back to where I never worried about my knees," Griffin said. "I just play, and it helped my vertical. I leaned down a bit, too. Everyone thought I had lost a lot of weight, but when I came back, I had actually gained 10 pounds."
Turns out Matrisciano's Law Seven didn't apply to Griffin.
"Because he is a mental and physical beast, because he wants to be the best, and I guess this where he feels he will achieve that goal," Matrisciano said.
Griffin could have coasted because he is a lock for the No. 1 overall pick. The only workout he did was for the owners of the top slot, the L.A. Clippers.
"There are plenty of guys who could be in his position who would be like, 'I'm set,' and just chill until the draft," Taylor Griffin said. "But Blake's thing is he wants to be an impact player his rookie year."
Blake Griffin's mantra is from a Henry Ford quote that he has tweaked for himself: "The competitor to be feared the most is the one who never worries about others at all and goes on making himself better all the time."
"I told him, you know there are guys in the NBA who are at the top," Matrisciano said. "But I tell them there is a storm coming from Oklahoma, and they don't know it yet."
The question will be, can Griffin return to work with Matrisciano after a grueling NBA season?
"I will. I may not come as long, but I'll definitely be back either at the beginning of the summer or right before training camp," Griffin said. "This gives you a base where you can do so much more and last so much longer on the court.
"Let me just put it this way: When I went back to Oklahoma last year when we were done here, the guys were complaining about having to go to the weight room and do our 30-minute workout or our 45-minute workout, and I was like, 'Man, I could do this all day, this is great,'" Griffin recalled. "I don't have to go on a sand hill wearing a 40-pound weight vest and run up it carrying a 20-pound ball or do pull-ups. This has made that easy. I'm not saying we work harder than anyone else, because [other] people work hard. But this is definitely tough, and it pushes you."
Matrisciano's system isn't for everyone. He knows that. And yet those who are loyal to his rigorous methods swear the results are worth the brutal climb.
So while plenty of other players go another route, Griffin heads west for the Bay. While plenty of others cut short Matrisciano's regimen before seeing the benefit, Griffin just keeps coming back for more.
You get the feeling he wouldn't have it any other way.
Others might worry about agents, signing bonuses and what they'll wear on draft night. Griffin puts his 60-pound weight vest on and starts chugging up the sand hill.
Andy Katz is a senior writer at ESPN.com.
Join the conversation about "The Rookie: Blake Griffin."