Friday, September 17 2021
Rocket Failure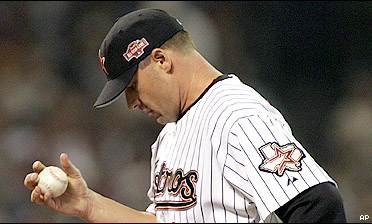 Roger Clemens didn't have All-Star stuff in his first NL start.


More from ESPN.com

Crasnick: Fall guy?


Jimy Williams appears headed for the unemployment line with the Astros underachieving in the NL Central.
Stark: Big Unit on the move?
Randy Johnson said Monday he'd like to win another World Series, which could lead to his leaving Arizona.

Crasnick: A-Rod's big pitch


In his first trip to the All-Star Game as a Yankee, Alex Rodriguez's biggest task may be to recruit Randy Johnson.

Stark: Tejada towers at Derby
Hitting one bomb after another, Miguel Tejada put on quite a show to win the Home Run Derby.

Neyer: The ultimate all-time derby


Imagine Babe Ruth, Barry Bonds and other all-time greats battling for home-run supremacy.

Sutcliffe: Home-field reward has real merits


There's plenty of upside to the All-Star Game's World Series home-field reward.

Stark: Midseason awards
Handing out the first-half hardware to Cy Youngs and Yuks, MVPs and LVPs, rookies and managers in each league.

Stark: Infield of Dreams
Led by shortstop B.J. Upton, the U.S. infield at the Futures Game consisted of a collection of potential All-Stars.

Crasnick: Potential impact prospects


The Twins' Justin Morneau, among other prospects, could be big players in the second half of the season.

Olney: Breaking out
The Mariners made it clear they didn't want Carlos Guillen. Now he's making it clear Seattle made a mistake.

Klapisch: Highly charged?
Mike Piazza and Roger Clemens makes a great subplot, but there won't be any All-Star fireworks in Houston.

Morgan: New chapter for Clemens-Piazza
Given the history between Roger Clemens and Mike Piazza, their All-Star Game exchange should be interesting.

Olney: All-Star Snubs
Lyle Overbay leads the list of players who have the right to be annoyed over being left off All-Star Game rosters.

Schwarz: Squatters' rights
No American League catcher has ever won a batting title, but Pudge Rodriguez might be strong enough to pull it off.