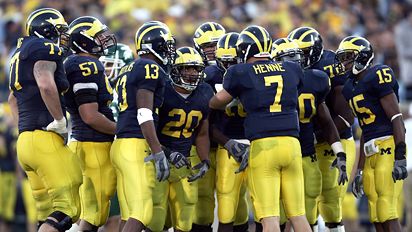 Breaking The Huddle
As Ivan Maisel breaks the huddle on the 2007 season, first-time Division I-A head coaches, Darren McFadden and Peyton Manning are lined up in the initial I-Formation backfield.
Ivan Maisel
•
Top 25 Overview
|
Maisel, Beano forecast the season

|
Pick 'em
•
Wraps
:
VT's Glennon
|
Beano

|
McShay: Stress test


And The Herbie Goes To ...


From the hogmollies and sack masters to the bands and coeds, Kirk Herbstreit's Herbie Awards celebrate college football's best players, fans and more. See who got some hardware. The Herbies

•

McShay: Game-breakers … Changers | Vote: Awards | Picks
•

College GameDay: Speed drills | Players to watch


Questionable Content


With inexperience at quarterback and a new scheme on defense, Notre Dame has plenty of question marks this season. Story

• Clausen confirms arm surgery | Scouts: Irish recruiting needs


•

Still a QB guessing game at ND | How many will ND win?
• Rittenberg: Ball State's Davis proved mettle at Big House


Live Another Day


An injury and a quarterback controversy forced Sam Keller from Arizona State. He's found new life at Nebraska. Mark Schlabach

• Maisel: OU, Murray ready to run | Big 12 predictions | Wrap


• Griffin: Cowboys taking aim at title run | Big 12 recruiting needs


• Mack Brown

| Big 12 preview

| Rank 'em: Big 12 | Index

Most Improved


The Big East enjoyed a banner year in '06, with three teams ranked in the top 12 and a perfect bowl record. What's next? Ivan Maisel

• Maisel: Keys for WVU, 'Cuse | USF QB has 'moxie' | Ray Rice


• Forde: UL's family affair

|

Brian Brohm | Steve Kragthorpe
•

Wraps: Bruce Feldman | Mel Kiper | Rank 'em: Big East

Tangled Up In Blue


After suffering late-season disappointment for three straight years, three Michigan seniors return to Ann Arbor determined to finally beat Ohio State and win a bowl game. Mark Schlabach | Wrap

• Schlabach: Big Ten at crossroads | Downsized Hill ready to roll
• Big Ten: Predictions | Podcast

| Wolverines ready?

| Vote


Shadow Run


After playing second fiddle for years to USC, now is the time for Karl Dorrell and UCLA to take back a share of Los Angeles. Pat Forde

• Maisel: Turner ready to shine | Forde: Pac-10 calls ...

| Vote
• Maisel: USC's RB stable | Moody to leave | Transfers the norm


• Mag: DeSean Jackson's identity

... Cover shoot

| Vlog


Powerful Stuff


Florida had its run. Or will the Gators' grid guys duplicate the feat of their hoops brethren? One of our Power 16 experts still takes a shine to Florida, but the rest favor USC in 2007. Power 16
• Expert predictions: Bowls | Conferences | Wrap: Schlabach


• Games to watch: National | Conference | 2007 Preview index

End text -------------------------