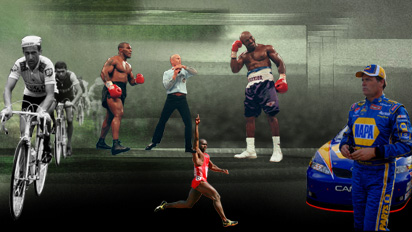 Cheated & Mistreated
Cue up Bananarama: It's been a cruel summer for sports fans. So how do
you
feel after getting blasted by the Cheat Wave of '07? Wayne Drehs finds SportsNation is hot at almost everyone.
Story
•
Future of cheating
|
Drehs chat wrap
|
Cheats at the fair?
•
Dale Murphy

|
Dale Murphy chat wrap
•
Timeline: Hot Spots Through the Years
SportsNation speaks
In polls, chats, and conversation pages, you have told us what you think and how you feel about cheating in sports.
•
Are you hot?
•
Vote: Do you cheat?
•
SportsNation poll
•
Pat Forde checks in with the masses
Drehs: Dark day for college sports
University of Northern Colorado senior punter Rafael Mendoza can begin to move on with his life after a jury found Mitch Cozad guilty of second-degree assault on Thursday.


Jackson: Gambling addiction
Tim Donaghy isn't the first sports figure with a gambling problem … and he won't be the last, writes Page 2's Scoop Jackson.


Caple: Tour de Farce
Jim Caple loves the Tour de France, but even he is saddened by the scandals in this year's race.


Hill: Sports hypocrisy
Chuckle if you must at cycling's drug problem, but don't turn a blind eye to the same issue in American sports, writes Page 2's Jemele Hill.


AT THE FAIR
Beyond the corn dogs and butter sculptures are tales of animal doping, swine switching and fake cow fur. It's the dark underbelly of cheaters at the fair.
Elizabeth Merrill
IN THE OWNER'S SUITE
One-upmanship has always extended beyond the playing field, especially when executives like Dan Snyder, Carmen Policy and the late Bill Veeck (right) have been able to work the rules. John Helyar

IN BOXING
He threw a fight for the right to try for a title. Sixty years later, Jake LaMotta, the Raging Bull, looks back on that fateful decision. Wright Thompson

IN TENNIS
Cheating is hard to pull off in tennis. However, whether it's coaching from the stands or bathroom breaks, players can, and do, get away with various forms of gamesmanship. Greg Garber
• Inside ATP Gambling Scandal

FROM PAGE 2
In an excerpt from "Cheater's Guide to Baseball," Derek Zumsteg recounts Billy Martin's unpredictable managerial career. Excerpt