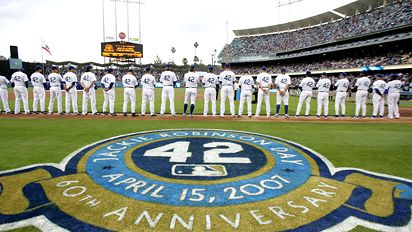 A Lasting Impression
On the 60th anniversary of Jackie Robinson's debut, Rachel Robinson remembered him as a real American hero.
Watch

Olney: Big-name player
Forget about those guys on the left side of the infield. Robinson Cano, heir to multiple legacies, is fast becoming the best player in pinstripes.


Jones: The Upton brothers
There are fewer black players in the majors than 30 years ago, but the highly-touted Upton brothers chose baseball over football.


End text -------------------------
JACKIE ROBINSON FACTS
BORN
Jan. 31, 1919, Cairo, Ga.
MLB DEBUT
April 15, 1947, vs. Boston (NL), Ebbets Field
HIGHLIGHTS
.311 BA, '47 NL ROY, '49 NL MVP, 1 WS title
FINAL GAME
Sept. 30, 1956, vs. Pittsburgh, Ebbets Field
HALL OF FAME
Inducted in 1962 -- 78% of vote
DIED
Oct. 24, 1972, Stamford, CT