Rangers' 30 runs sets AL record in rout of Orioles
A CLOSER LOOK
Saltalamacchia
• Summary: After looking at the score, it's hard to believe the Orioles led this game 3-0 at one point. The Rangers' 30 runs sets a modern MLB record, surpassing the mark of 29 runs that were scored by the Red Sox (June 8, 1950) and White Sox (April 23, 1955). It's the second-most runs all-time as the Chicago Colts (now the Cubs) scored 36 against the Louisville Colonels on June 29, 1897. Jarrod Saltalamacchia led the Rangers' charge, going 4-for-6 with two homers, five runs and seven RBIs.
• Home run heroes: Ramon Vazquez had two homers, while Travis Metcalf and Marlon Byrd both hit grand slams.
• Anyone got the Ravens' number?: The Baltimore Ravens, who play across the parking lot from the Orioles, haven't allowed 30 points since Week 12 in 2005.
• More scoring notes: The Rangers are the first team with four players (Metcalf, Byrd, Saltalamacchia, Vazquez) with four RBIs since the Phillies on May 17, 1979 (Rose, Maddux, Schmidt, Boone). This is the sixth time that a team has scored 9-plus runs in two innings.
• Quotable: "I knew we'd get the bats going, but I never expected anything
like this. When the faucet is on, you want it to stay on. You never want to cut it off." -- Texas manager Ron Washington
-- ESPN.com news services
Rangers 30, Orioles 3

BALTIMORE (ESPN.com news services) -- Five runs in the fourth inning.
Nine runs in the sixth.
Ten in the eighth.
Six more in the ninth.
The Texas Rangers rounded the bases at a dizzying pace and
became the first team in 110 years to score 30 runs in a game,
setting an American League record Wednesday in a 30-3 rout of the
"This is something freaky. You won't see anything like this
again for a long, long time. I am glad I was on this end of it,"
said Marlon Byrd, who hit one of two Texas grand slams.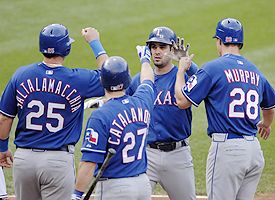 Ramon Vazquez celebrates his three-run home run with Jarrod Saltalamacchia (25), Frank Catalanotto (27) and David Murphy.
(AP Photo/Nick Wass)
Trailing 3-0 in the opener of a doubleheader, Texas couldn't be
stopped. At last, the last-place Rangers did something right.
"We set a record for something on the good side of baseball,"
manager Ron Washington said.
It was the ninth time a major league team scored 30 runs, the
first since the Chicago Colts set the major league mark in a 36-7
rout of Louisville in a National League game on June 29, 1897,
according to the Elias Sports Bureau.
"It was AMAZING in capital letters," said Travis Metcalf, who
hit a grand slam after being called up from Triple-A Oklahoma
earlier in the day.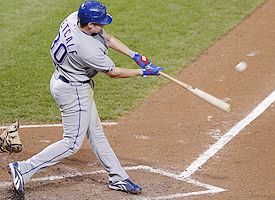 Travis Metcalf kept up the Rangers' hot hitting in the second game.
(AP Photo/Nick Wass)
In the second game of the doubleheader, Metcalf drove in four runs and the Rangers scored three runs in the eighth inning for a 9-7 win.
Hours after announcing manager Dave Trembley would return for
the 2008 season, the Orioles absorbed the most lopsided loss in
franchise history and set a team record for hits allowed in a game
(29).
The Rangers had totaled 28 runs in their previous nine games,
including two runs on seven hits in their last two.
"I knew we'd get the bats going, but I never expected anything
like this," Washington said. "When the faucet is on, you want it
to stay on. You never want to cut it off."
The Rangers set a team record for runs scored in a doubleheader
-- before the second game even started.
"You don't want to be the one to make the out. You feel like
you have to get a hit every time up," Byrd said.
Jarrod Saltalamacchia and Ramon Vazquez, the bottom two batters
in Texas' lineup, each homered twice and finished with seven RBIs.
"That was ridiculous. I have never been in anything like that
in my life," said Saltalamacchia, who went 4-for-6 with a walk and
scored five runs. He came in batting .179 and finished at .262.
David Murphy had five of the Rangers' 29 hits, the most by a
major league team since Milwaukee had 31 in a 22-2 victory over
Toronto on Aug. 28, 1992, according to Elias.
Texas had 57 at-bats, tying the AL record for a nine-inning game
set by Milwaukee in its 1992 rout of Toronto.
Tony Award

The Rangers' 30-3 win over the Orioles on Wednesday night set a modern MLB record for runs in a game. Here's a look at which teams hold the highest scoring records in the "big four" sports.

Sport

Total points

Team (vs. opponent, date)

MLB
30
Rangers (at Orioles, 8/22/07)
NFL
72
Redskins (vs. Giants, 11/27/1966)
NBA
186
Pistons (at Nuggets, 12/13/1983)
NHL
16
Canadiens (at Quebec, 3/30/1920)
The Rangers added five points to their team batting average,
raising it to .258. They finished with more runs than outs made
(27).
Baltimore went from seventh in the AL with a 4.39 ERA to 11th at
4.60.
Asked how to handle such a devastating defeat, Trembley replied,
"You have a real short memory and you let it go."
Kason Gabbard (6-1) allowed three runs and seven hits over six
innings. He is 2-1 in six starts since Texas acquired him from
Boston on July 31.
Even with the one-sided score, there was a save. Wes Littleton
earned his second career save and first this season by pitching
three scoreless innings.
Texas erased a 3-0 deficit by batting around in a five-run
fourth. A walk to Byrd and an infield hit by Jason Botts preceded a
two-run single by Saltalamacchia. After a visit from pitching coach
Leo Mazzone, Daniel Cabrera (9-13) gave up a go-ahead, three-run
homer to Vazquez.
Texas made it 14-3 by scoring nine runs on 10 hits in the sixth.
The 10 hits matched a club record for one inning and were three
more than the Rangers totaled in their previous two games.
Cabrera left after serving up a home run to Saltalamacchia.
Brian Burres yielded two singles and a walk before Byrd hit his
third career slam. Saltalamacchia, Vazquez, Frank Catalanotto and
Ian Kinsler added RBI singles.
Texas got seven hits in the eighth. Metcalf hit his first career
slam and Saltalamacchia added a three-run shot.
Vazquez's second homer highlighted a six-run ninth.
Game notes Baltimore's Kevin Millar went 1-for-4, extending his run of
reaching via hit, walk or hit by pitch to 48 games -- one short of
Ken Singleton's club record set in 1977. ... Melvin Mora ended an
0-for-16 skid with a fourth-inning bunt single.
Information from The Associated Press was used in this report.
Oriole Park at Camden Yards
5:05 PM, August 22, 2007
Coverage: WJZ
Capacity: 45,971
Umpires:
Home Plate Umpire - Rick Reed
First Base Umpire - Bob Davidson
Second Base Umpire - Hunter Wendelstedt
Third Base Umpire - Sam Holbrook
2023 American League West Standings
2023 American League East Standings