Customize ESPN
College Football Podcasts
Brian Thomas Jr. hauls in his 2nd TD for LSU
Jayden Daniels throws a nice pass over the shoulder of Brian Thomas Jr. for an LSU touchdown.
LSU's blown coverage leads to wide-open Ole Miss TD
Jaxson Dart finds Dayton Wade with no one around him for a 15-yard Ole Miss touchdown.
Logan Diggs punches in 1-yard TD for LSU
Logan Diggs takes the handoff and crosses the goal line for an LSU touchdown.
Jaxson Dart delivers dime to Jordan Watkins for 63-yard TD
Jaxson Dart finds Jordan Watkins over the middle for a 63-yard Ole Miss touchdown.
Brian Thomas Jr. makes athletic grab for an LSU TD
Jayden Daniels finds Brian Thomas Jr. in the corner of the end zone for an LSU touchdown.
Ulysses Bentley IV runs free for 43-yard Ole Miss TD
Ulysses Bentley IV takes the handoff and finds the end zone to give Ole Miss a 14-0 lead.
Ole Miss scoops up fumble after Jayden Daniels takes massive hit
Jayden Daniels fumbles after getting crushed near the sideline, and Ole Miss recovers the ball.
Ole Miss strikes first with 4th-down TD
Ole Miss takes an early lead with a Quinshon Judkins receiving touchdown on fourth down.
COLLEGE FOOTBALL SCOREBOARD
SATURDAY'S GAMES
TOP HEADLINES
Caleb Williams throws 6 TDs in win over Colorado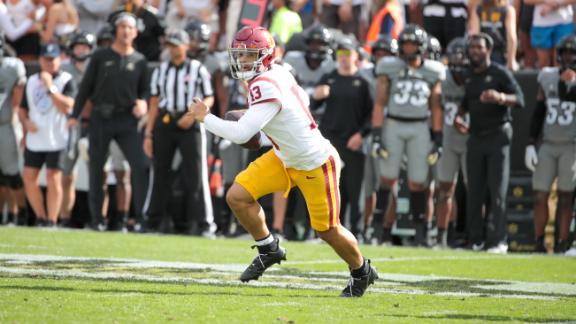 Shedeur Sanders shines with 5-TD performance vs. USC
Deion: You're a hater if you don't see what's coming with Colorado
Omarion Miller hauls in clutch 4th-down TD from Shedeur Sanders
Caleb Williams finds Tahj Washington for a 71-yard TD
WHAT WE LEARNED
Brock Bowers' 40-yard TD catch-and-run helps No. 1 Georgia fend off Auburn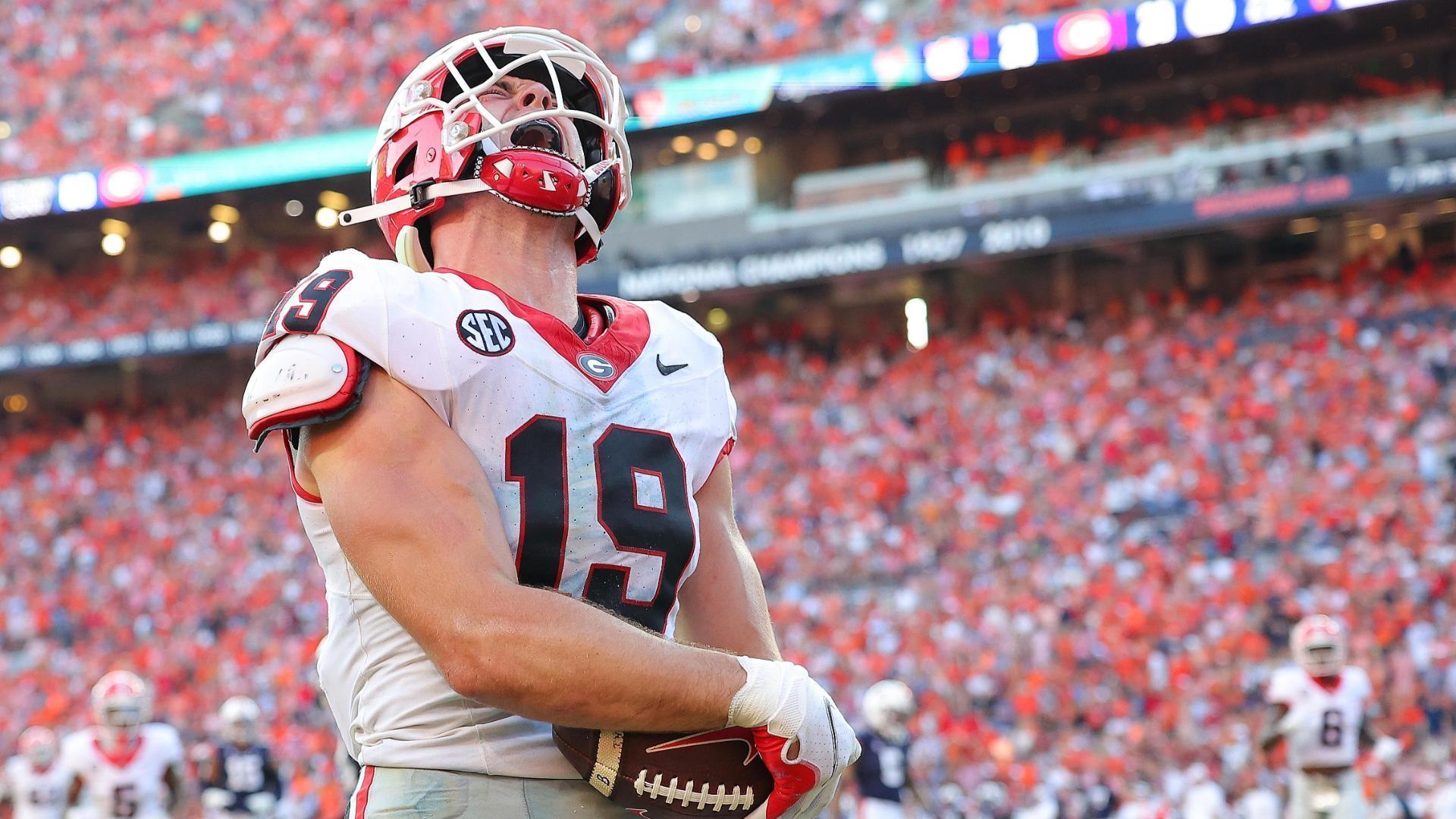 UAB HEAD COACH WAS NOT HAPPY
Trent Dilfer incensed on the sideline after a costly penalty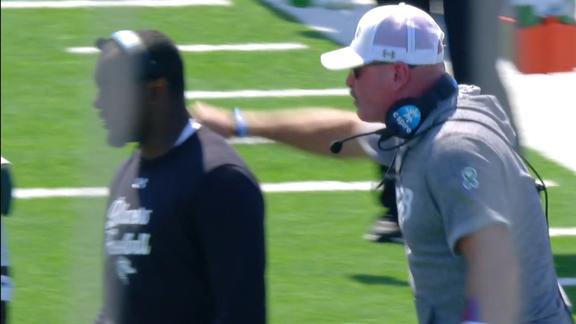 SATURDAY'S TOP PLAYS
Bowling Green WR reaches back for sensational one-handed TD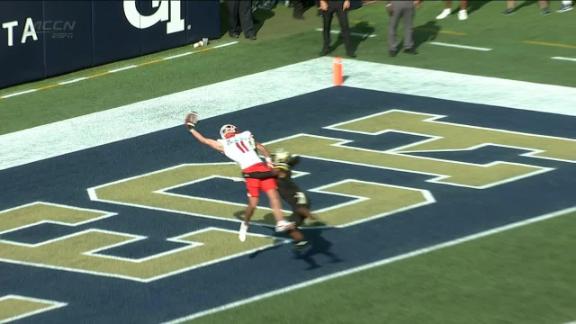 'You got Moss-ed!' UAB WR makes incredible catch over defender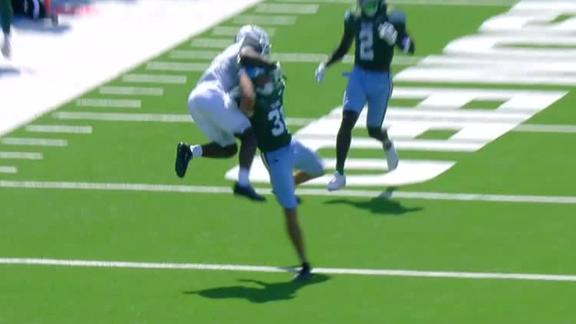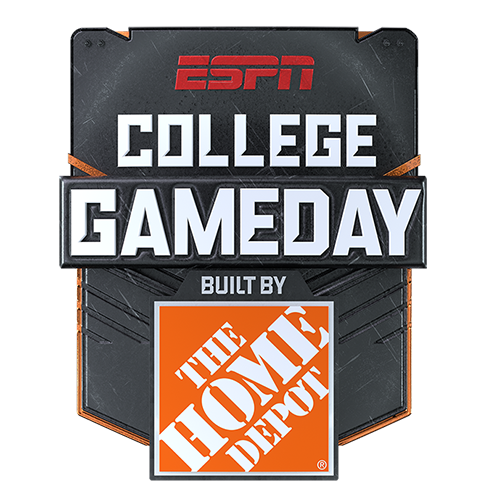 'COLLEGE GAMEDAY' IN DURHAM
Pat McAfee has amazing reaction to Duke student's field goal attempts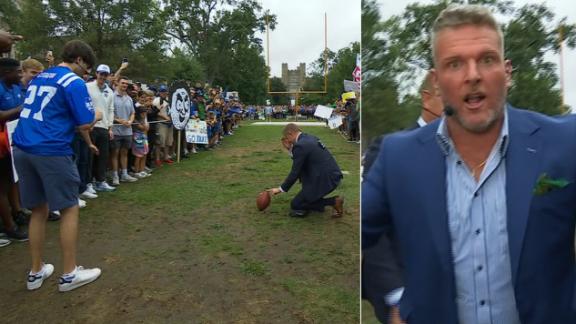 BEST FROM THE PREPS
BLOCK PARTIES
Memphis returns the blocked FG for a TD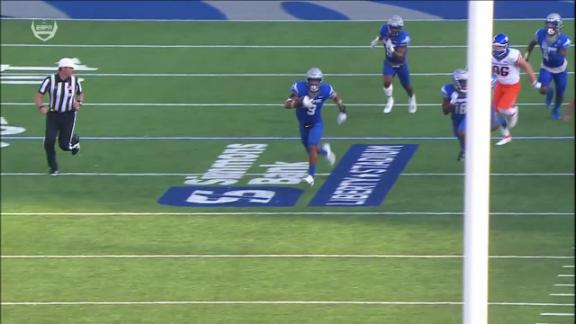 Ike Larsen blocks UConn's PAT attempt to win game for Utah State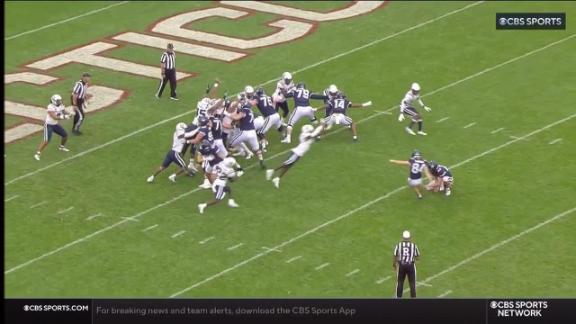 Customize ESPN
Photo by Steph Chambers/Getty Images

NFL draft legend Mel Kiper updates his list of the best prospects in next year's draft, including the top at each position.

AP Photo/David Zalubowski

Colorado places a pair of coaches on ESPN's list of possible head coach replacements for the Spartans.
Courtesy Mississippi State Athletics

Bear Bryant's Tide, the two-time defending national champs, hadn't lost in more than two years until the Bulldogs' shocker. A look back from those who were there.

Illustration by Alexander Wells

Twenty-five years ago, Vols fan J.R. Greene talked his way into leading the team onto the field for the national title game. This is his wild story.

Keric Jackson/Shenandoah University

Van Voorhis, who became the first non-kicker woman to play in a college football game on Saturday, had prepared for this nearly her whole life.