Fantasy Hockey
Relive the best moments of the first round of the Stanley Cup playoffs
From stunning goals, epic saves and series that went the distance, relive the best moments of the Stanley Cup playoffs so far.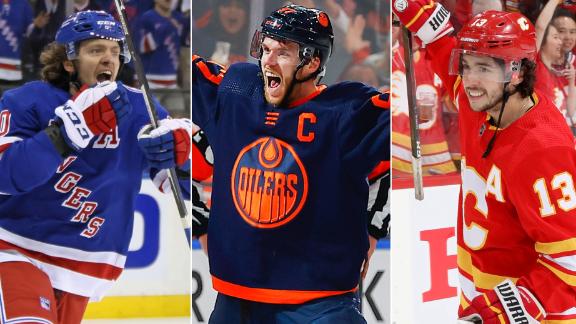 Verhaeghe on Panthers: 'We're not nervous anymore'
Carter Verhaeghe talks about the Panthers winning their first series in 26 years and the main difference between this Panthers' team compared to last year's.
Customize ESPN
NHL Rank: Playoff edition
Illustration by ESPN

Where do Matthews, Makar, Josi and Shesterkin rank? Here are the results of our poll of ESPN's NHL analysts.
Jeanine Leech/Icon Sportswire via Getty Images

We explore the next moves each team should make this summer and forecast their 2022-23 outlook.
ESPN

Sidney Crosby debuted in the 2005-06 season, when many of today's young stars were still just developing as players. We put No. 87's influence in perspective, with voices from among that group.