EASTERN CONFERENCE FIRST ROUND
CLE leads series 2-0
| | 1 | 2 | 3 | 4 | T |
| --- | --- | --- | --- | --- | --- |
| WSH | 22 | 18 | 23 | 23 | 86 |
| CLE | 27 | 26 | 33 | 30 | 116 |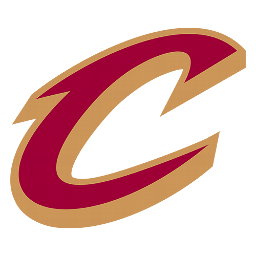 Cavs' blowout victory over Wizards is largest playoff win in team history
CLEVELAND (AP) -- The Cleveland Cavaliers' extreme makeover is complete.
For more than two months since a colossal trade dismantled the defending Eastern Conference champions, Cleveland has waited for the game where its team of mixed parts and new faces finally molded into a legitimate NBA title contender.
It happened.
Maybe Gilbert Arenas was talking about some other Cavaliers a few weeks back. The team he faced Monday night doesn't look so beatable.
LeBron James scored 30 points, Zydrunas Ilgauskas added 16, and the Cavs played their best game since the Feb. 21 megatrade, blowing out the Washington Wizards 116-86 to take a 2-0 lead in an opening-round playoff series oozing with bad blood.
The 30-point margin of victory was the largest in Cleveland's 112-game postseason history, and the Cavaliers' performance was perhaps their finest 48 minutes since November.
"We are playing the champs," Wizards coach Eddie Jordan said. "I know they changed their team. But they still have the same coaching staff, the monster player and he's taking over the series."
James was scary all right.
He scored 14 points in the third quarter when the Cavs opened a 25-point lead over the Wizards, whose defensive scheme coming into their third series in as many years with Cleveland was to slow the superstar by roughing him up with hard, clean fouls.
It may be time for Plan B.
The Wizards hardly bothered James, who finished with 12 assists and nine rebounds, barely missing his third career postseason triple-double. James went to the bench with 6:12 left. At that point, the Cavaliers were leading by 24 points and coach Mike Brown inserted seldom-used reserves Dwayne Jones and Damon Jones.
With his team up by 15 at halftime, Brown began reminding his team about the importance of staying aggressive. He only got in a few words.
"I didn't say anything," Brown said. "LeBron James did. LeBron started talking, I just left and the guys just followed his lead."
Wally Szczerbiak added 15 points for the Cavs, who have struggled with injuries and inconsistency since GM Danny Ferry dealt half his roster at the trading deadline. With Cleveland staggering, Arenas called out the Cavs, saying "I think everybody wants Cleveland in that first round" and "We don't think they can beat us in the playoffs three years straight."
Those comments followed Wizards forward DeShawn Stevenson calling James "overrated."
Washington is eating its words.
The Wizards have lost eight straight playoff games to Cleveland, and they'll have to figure out something before Thursday night's Game 3 in Washington or they'll be heading off on summer vacation, again courtesy of the Cavs.
Arenas went 2-for-10 from the field and Caron Butler and Antawn Jamison were both 4-of-13 as the Wizards' Big Three combined for 28 points. The trio spent much of the fourth quarter sitting and thinking about what happened and the task ahead.
"For us to come out undisciplined and unfocused was real disappointing," Jamison said.
Despite all the trash talk, Jamison insists the Wizards weren't taking the Cavs lightly.
"We didn't underestimate anybody," he said. "We know this is a very special team. They didn't play well in the last month of the regular season, but just like any veteran team, when the playoffs get started you're going to elevate your game.
"Let's be honest. Some guys talked. It's over with. We know this team is capable of not only going past the first round but going past that."
James withstood more rough treatment by the Wizards.
In the third quarter, Washington center Brendan Haywood was ejected for a flagrant foul on James. Haywood didn't make much of an effort to go for the ball and shoved James hard with both hands as he drove and the All-Star went flying out of bounds.
"It was scary," said James, who compared it to when he got undercut as a high school junior and broke his wrist. "I knew it was going to be a tough fall. I bounced up, though."
Haywood, who had an altercation with James in Game 1, could face further discipline for the intentional foul. He didn't speak to the media and was escorted from Quicken Loans Arena by a security guard.
James didn't have an opinion on whether Haywood should be suspended.
"It was not a basketball play in any shape or form," he said.
It was hardly the only physical one.
In the first half, Arenas was called for a technical foul and Cleveland's Anderson Varejao was given a flagrant foul after hitting Washington's Andray Blatche in the face.
The Wizards may be acting like bullies, but they insist they don't want to do anything more than make James work harder.
"There's a difference between taking hard fouls and trying to hurt somebody," Washington's Antonio Daniels said. "No one in this locker room or that locker room fouls anybody with the intention of hurting him. That's not the way the NBA is. That's not the way it's played. We all get knocked to the floor. That's playoff basketball. When you drive, you should expect to get hit."
The Wizards' problem in Game 1 was they missed shots the down stretch with a chance to win. They were cold again, but this time it had a lot to do with Cleveland's defense. Washington shot 38 percent from the field, missed 11 free throws and was outrebounded 49-34 while being outscored 80-50 over the final 30 minutes.
Game notes
The 116 points were the Cavs' most in a regulation playoff game since May 17, 1992, when they scored 122 against Boston. ... In 35 playoff games, James is averaging 27.5 points, 8.0 rebounds and 7.2 assists. ... The Cavaliers are 6-0 in series when they win Game 1, including 3-0 against the Wizards. ... Washington fell to 2-13 in its last 15 playoff games. ... The Wizards are 0-4 in Cleveland this season. The lost to the Cavs on Feb. 22, when Cleveland dressed just eight players one day after its three-team trade with Chicago and Seattle.
Rocket Mortgage FieldHouse
7:00 PM, April 21, 2008
Coverage: TNT
Attendance: 20,562
Capacity: 19,432
Referees:
Dan Crawford
Mark Wunderlich
Rodney Mott
2023-24 Southeast Standings
2023-24 Central Standings