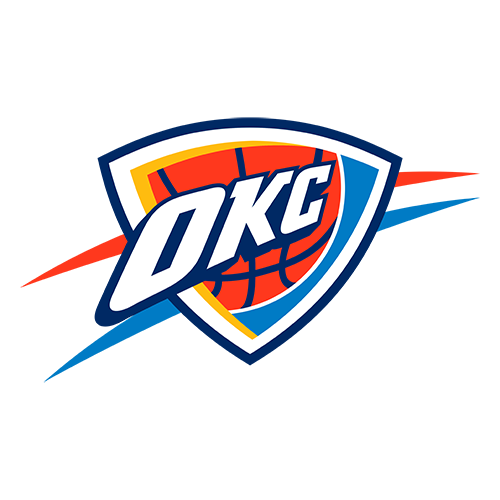 | | 1 | 2 | 3 | 4 | T |
| --- | --- | --- | --- | --- | --- |
| OKC | 21 | 24 | 27 | 25 | 97 |
| CHA | 24 | 25 | 29 | 25 | 103 |

Okafor has 25 points, 13 rebounds in Cats' win over Thunder
CHARLOTTE, N.C. -- Sean May was tired -- again. Only this time, May had finally been effective for the Bobcats after months of slogging up the court in poor shape following knee surgery.
So with May breathing heavy as he was taken out midway through the third quarter of Charlotte's 103-97 win over the Oklahoma City Thunder on Wednesday night, part-owner Michael Jordan was quick to strike from his courtside seat next to the bench.
Mike said, 'Do you need an oxygen mask?'" May said. "I said, 'No, just give me a couple minutes and I'll be fine.'"
For the first time this season, May was right. With 10 points and 11 rebounds, May recorded his first double-double in nearly two years. With Emeka Okafor adding 25 points and 13 rebounds, the Bobcats had rare production inside, fueling their fourth win in six games under new coach Larry Brown.
"This was Sean's best game by far," said Brown, who had banished the former first-round pick to the inactive list earlier this season. "He needed something like that."
Gerald Wallace added 21 points and Jason Richardson scored 18 to surpass 10,000 points in his career for the Bobcats, who won consecutive games under Brown for the first time and sent the Thunder back to their losing ways.
The Thunder were playing their first game since snapping a franchise record-tying 14-game losing streak Saturday at Memphis. Kevin Durant scored 24 points and Jeff Green added 18, but while Oklahoma City shot 54 percent, it couldn't overcome 19 turnovers and its lack of depth inside in dropping to 2-17.
"Tonight was better than most losses because we did some things well," Durant said. "But two or three possessions at the end of the game kind of hurt us."
The game matched the two lowest-scoring teams in the league, but the Bobcats haven't looked like the struggling bunch in Brown's first month in charge of his record ninth NBA team.
In scoring more than 100 points for the third time in four games, the Bobcats showed more depth and got a big boost from an unlikely source.
May had played in only 58 games in his first three seasons in the NBA and sat out all of last year after undergoing microfracture knee surgery.
Brown got frustrated at May's fitness following his rehab and moved him from a starter in the opener to inactive in the next five games. He returned and played sparingly, then didn't get off the bench for two games while Brown made him do extra conditioning work before and after games.
While he's still tired after long stretches, May shot 4-of-7 and was particularly effective on the boards in the first half, grabbing eight rebounds. He played a season-high 27 minutes.
"I've been waiting for something like this," May said. "Coming out of the second half, [Jordan] just said, 'You're close to a double-double, give me one tonight.'"
Playing their league-high 13th home game out of 18 games overall, the Bobcats finally pulled away late in the fourth quarter.
Green's jumper with 3:36 left cut Charlotte's lead to 94-90. But Okafor's dunk off a feed from Raymond Felton on the next possession gave Charlotte breathing room.
Russell Westbrook missed a driving layup before Okafor made a free throw with 17 seconds left to ice it.
Okafor has 49 points and 23 rebounds in the past two games as he gets more involved in the offense, helping Richardson get more looks from the outside.
Richardson surpassed 10,000 points on jumper from the right wing with 3:32 left in the third quarter. It was part of an 8-2 run that gave Charlotte a 73-64 lead.
With interim coach Scott Brooks starting Westbrook and Chris Wilcox for a second straight game ahead of Earl Watson and Nick Collison, Oklahoma City stayed within striking distance, but had trouble defending May and Charlotte's other big men.
"We gave up too many offensive rebounds," Brooks said. "We didn't do a good job of taking care of the ball. We've got to get better with that."
Game notes
Thunder C Robert Swift (back) missed his sixth straight game. ... Bobcats F Nazr Mohammed was deactivated for the first time this season. ... Brooks and Brown both have ties to Sam Mitchell, who was fired as Toronto's coach Wednesday. "Disappointing," said Brown, who coached Mitchell in Indiana. "He will bounce back," said Brooks, who played with Mitchell in Minnesota. ... It was clear before the game that Thunder G Kyle Weaver wasn't in Charlotte long. Weaver, who was traded less than two months after being the Bobcats' second-round pick, was seen asking an attendant where the locker room was.
Regular Season Series
CHA leads 1-0
Spectrum Center
7:00 PM, December 3, 2008
Attendance: 11,629
Capacity: 19,077
Referees:
Joe Crawford
Joe Forte
David Guthrie
2022-23 Northwest Standings