WESTERN CONFERENCE 1st ROUND - GAME 5
DEN Wins series 4-1

| | 1 | 2 | 3 | 4 | T |
| --- | --- | --- | --- | --- | --- |
| NO | 27 | 22 | 17 | 20 | 86 |
| DEN | 24 | 25 | 31 | 27 | 107 |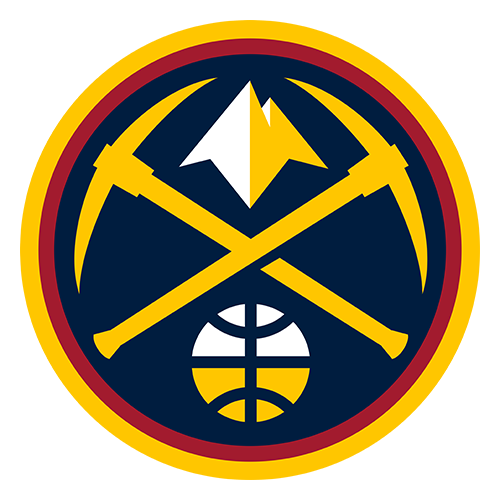 Carmelo, Nuggets beat Hornets to make second round
DENVER -- With a little help from the hometown kid, Carmelo Anthony is finally moving on.
Behind Anthony's 34 points and the floor leadership of Chauncey Billups, the Denver native who came home this season and galvanized a city and a team, the Nuggets advanced to the second round of the NBA playoffs, 107-86 over the New Orleans Hornets on Wednesday night.
After five straight first-round flameouts, 'Melo led the Nuggets to their first playoff series win since 1994. They'll face the Dallas Mavericks in the second round.
"That monkey is awful heavy sometimes," Nuggets coach George Karl said. "I'm just really happy for 'Melo."
Dallas advanced to the Western Conference semifinals by defeating San Antonio in five games. Denver swept the season series with the Mavericks 4-0.
Anthony's 34 points were a career playoff best. Billups had 13 points and 11 assists, and J.R. Smith scored 15 of his 20 points in the second half to fuel Denver, which needed just five games to go from traditional first-round fodder to a playoff success story.
"I thought we could be a good team," Karl said. "But I never thought we could be this good."
Despite the final score, the capper wasn't nearly as easy as Denver's three other wins, including the 58-point blowout in Game 4 that matched the NBA record.
Playing without Tyson Chandler but with a pride and passion unapparent through most of the series, the Hornets made the Nuggets sweat. It was tied at 62 midway through the third period before Denver went on a 24-4 run to ice it.
David West led the Hornets with 24 points and Chris Paul had 12 points and 10 assists.
The Nuggets were coming off the most lopsided road win in NBA playoff history, a 121-63 shellacking in New Orleans on Monday night.
"Whether it's 58 points or a 1,000 points, a loss is a loss and you just try to get that bitter taste out of your mouth," Hornets forward James Posey said before the game.
Karl told his players not to look at Game 5 as a gimme after what happened in Game 4: "Don't get me wrong, New Orleans is capable of winning a game against us and playing well. If that happens than we can look in the mirror and say we're still playing with house money and let's move on," Karl said.
The Nuggets were equally determined to match their opponents' verve.
"I don't want to go back to New Orleans until next year," Anthony Carter said.
He won't have to.
The Nuggets finally started to create some separation late in the third quarter when consecutive 3s by Billups and Smith (twice) gave Denver its biggest lead yet, 73-62. The spurt began with Anthony's deflection that led to a sweet fastbreak lay-up by Dahntay Jones.
When the 14-0 run was finished, the Hornets were history.
Including the playoffs, the Hornets were 13-6 following a loss of 10 or more points, and they looked for much of this night like they were going to win. They built a nine-point first-quarter lead before settling for a 49-49 tie at halftime.
The Hornets used a 16-2 spurt to take a 25-16 lead and let some of the air out of the Pepsi Center. But with the Nuggets' bench players on the court, Denver scored eight electrifying points in a row to recharge the arena.
Still, the Hornets, with Hilton Armstrong starting at center for Chandler (ankle), went toe-to-toe with the Nuggets until Denver's third-quarter run started the celebration.
It was especially sweet for Billups, who was born and raised in Denver. He came from Detroit in the Allen Iverson trade a week into the season and transformed his beloved Nuggets from an afterthought into the West's second seed.
"Chauncey is the best thing that happened to Denver," Paul said. "The mind-set that he's given this team right now is something that will fuel them in the next round."
Game notes
The average margin of victory in Denver's four wins was 37.5 points. The Nuggets' previous best average in a playoff series was 20 in their 3-2 win over San Antonio in the first round in 1984-85. ... The crowd observed a moment of silence before the game for former Nuggets player Glen Gondrezick, who died Monday at age 53 after apparent complications from a heart transplant he received last September. ... The last time the Nuggets won a seven-game series was 1985, when they beat Utah in the Western Conference semifinals. ... Anthony's previous career playoff high was 30 points (twice).