MLB Draft 2005 - Vital Information
What:
First-Year Player Draft
When:
Tuesday, June 7: 1-6 p.m. ET
Wednesday, June 8: 12-6 ET
How:
By conference call with all 30 MLB teams
Where:
From the commissioner's office in NYC
Rounds:
50 total (around 20 on first day)
2005 First-Year Player Draft -- First Round
TEAM
PLAYER
1.
Diamondbacks
Justin Upton, ss
2.
Royals
Alex Gordon, 3b
3.
Mariners
Jeff Clement, c
4.
Nationals
Ryan Zimmerman, 3b
5.
Brewers
Ryan Braun, 3b
6.
Blue Jays
Ricky Romero, lhp
7.
Rockies
Troy Tulowitzki, ss
8.
Devil Rays
Wade Townsend, rhp
9.
Mets
Mike Pelfrey, rhp
10.
Tigers
Cameron Maybin, cf
11.
Pirates
Andrew McCutchen, cf
12.
Reds
Jay Bruce, cf
13.
Orioles
Brandon Snyder, c
14.
Indians
Trevor Crowe, cf
15.
White Sox
Lance Broadway, rhp
16.
Marlins
Chris Volstad, rhp
17.
Yankees
C.J. Henry, ss
18.
Padres
Cesar Carrillo, rhp
19.
Rangers
John Mayberry, rf
20.
Cubs
Mark Pawelek, lhp
21.
Athletics
Cliff Pennington, ss
22.
Marlins
Aaron Thompson, lhp
23.
Red Sox
Jacoby Ellsbury, cf
24.
Astros
Brian Bogusevic, lhp
25.
Twins
Matt Garza, rhp
26.
Red Sox
Craig Hansen, rhp
27.
Braves
Joey Devine, rhp
28.
Cardinals
Colby Rasmus, cf
29.
Marlins
Jacob Marceaux, rhp
30.
Cardinals
Tyler Greene, ss
Sandwich Picks for Type A Players
31.
Diamondbacks
Matt Torra, rhp
32.
Rockies
Chaz Roe, rhp
33.
Indians
John Drennen, cf
34.
Marlins
Ryan Tucker, rhp
35.
Padres
Cesar Ramos, lhp
36.
Athletics
Travis Buck, rf
37.
Angels
Trevor Bell, rhp
38.
Astros
Eli Iorg, of
39.
Twins
Henry Sanchez, 1b
40.
Dodgers
Luke Hochevar, rhp
41.
Braves
Beau Jones, lhp
42.
Red Sox
Clay Buchholz, rf
43.
Cardinals
Mark McCormick, rhp
44.
Marlins
Sean West, lhp
45.
Red Sox
Jed Lowrie, 2b
46.
Cardinals
Tyler Herron, rhp
47.
Red Sox
Michael Bowden, rhp
48.
Orioles
Garrett Olson, lhp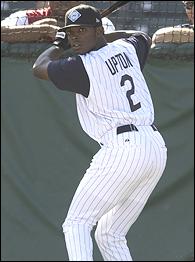 Justin Upton was considered the top overall prospect in the draft.
With the No. 1 pick in the draft, the Diamondbacks selected high school shortstop Justin Upton. The 17-year-old Upton and Stephen Drew, who signed with Arizona last week after holding out for nearly an entire year, give the D-Backs two quality position-player prospects, writes Baseball America's Jim Callis.
Story


• Justin one-ups brother B.J.
• Day 1 picks: Rounds 1-18
• Day 2 picks: Rounds 19-50



From Baseball America

• First-round analysis
• Draft-day Blog
• Final first-round projection

• BA's 2005 draft home
• Best Tools


Morgan: Draft loophole is unfair

MLB's draft system favors ownership and international players but hurts American prospects – especially African-Americans.
Street: Reliving the draft
The draft is something you've always wanted and expected, yet still you ask yourself if it really happened, writes A's reliever Huston Street.
Royals draft Nebraska third baseman
The Kansas City Royals selected Nebraska third baseman Alex Gordon on Tuesday with their highest draft pick ever.
Dodgers make Tennessee pitcher their first pick
The Los Angeles Dodgers took Luke Hochevar, a pitcher from the University of Tennessee, with their first pick in Tuesday's first-year player draft.
Mariners take USC catcher with No. 3 draft pick
The Mariners used the No. 3 overall selection in Tuesday's amateur draft on catcher Jeff Clement, a 6-foot-1, 210-pound left-handed power hitter.
Cubs select LHP Pawelek, come to terms
The Chicago Cubs chose left-handed pitcher Mark Pawelek of Springville High School in Utah with the 20th pick of Tuesday's draft.
Rangers first pick is son of former major leaguer
Stanford junior outfielder John Mayberry Jr. was the first-round pick of the Texas Rangers on Tuesday, taken 19th overall in the amateur draft.
Astros take LHP Bogusevic with their first pick
Tulane junior pitcher Brian Bogusevic was the first-round pick of the Houston Astros on Tuesday, taken 24th overall in the amateur draft.
Gammons: A draft unlike any other
Baseball draft history is filled with what-ifs, and this year is no different, writes Peter Gammons.

Phillips: Drafting franchise players

Here is how the first round would look when given the freedom to draft any of the current major leaguers.
Schwarz: The magic No. 5
Nolan Ryan was selected in the 10th round of the 1965 draft, and since then all drafts that end in 5 have had some sort of significance.
Schwarz: Best, worst draft picks
The selection of Alex Rodriguez was the best early pick in the draft. Alan Schwarz lists the rest ... and the worst.
End text -------------------------
Ask BA
Thomas Diamond is the jewel of a DVD in development for the Rangers. Baseball America's Jim Callis explains.
Drew, Weaver accept deals, end record draft holdouts
Jered Weaver and Stephen Drew ended their holdouts minutes before the deadline to sign last year's draft picks.
Gammons: Sizing up the draft
For many teams, the draft has changed from selecting "high ceiling, tools" guys to more major-league ready players, writes Peter Gammons.
Contest and Special Sections
• ESPN.com Contests.
Play Now! Play Often! Check out ESPN Contests for your chance to win some great prizes from ESPN and our sponsors!