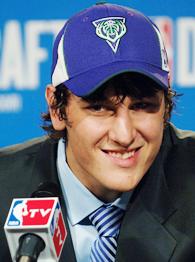 Bogut was a large part of an "A" draft for the Bucks.
Big winners? Celtics and Pacers. Less successful? Try the Raptors. Chad Ford grades all 30 teams' drafts.
Story
In the end, the Bucks thought big and took Andrew Bogut No. 1. Story
Chad Ford's final mock draft: Story

• Blazers, Jazz swap picks
• Katz: Inside the Bucks' decision
• Last 10 drafts: Grades

How about some do-overs?
:
1995 | '96 | '97 | '98 | '99
2000 | '01 | '02 | '03 | '04