| | 1 | 2 | 3 | 4 | T |
| --- | --- | --- | --- | --- | --- |
| CHA | 12 | 12 | 19 | 26 | 69 |
| OKC | 28 | 36 | 24 | 26 | 114 |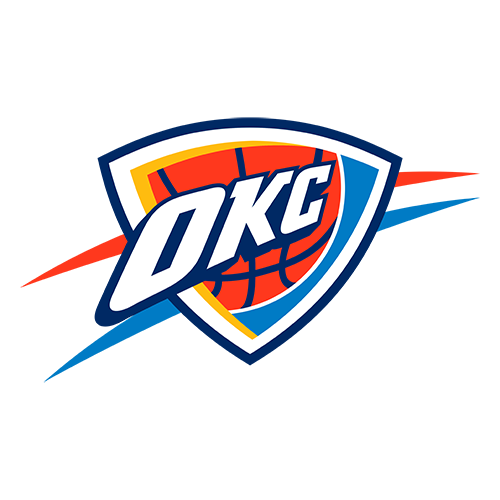 OKC rides 40-point halftime lead past Bobcats
OKLAHOMA CITY -- Russell Westbrook tipped away a pass, got into the open court all by himself and then braced for a big take-off and a signature throwdown dunk. Instead, he meekly flipped the ball into the basket and grinned sheepishly at the Oklahoma City Thunder bench after the miscue.
"I really thought he was going to do something a little better than what he did, but I'll take up for him and say he slipped a little bit," said Kevin Durant, the three-time NBA scoring champion.
"But he made up for it at the end of the half."
Did he ever.
Westbrook powered home a right-handed slam to put an exclamation point on one of the most dominant first halves in NBA history, putting Oklahoma City up by 40 on its way to a 114-69 blowout of the Charlotte Bobcats on Monday night.
The 64-24 advantage was the fifth-biggest halftime lead in NBA's shot clock era and the largest since Golden State set the record with an 88-41 edge on Sacramento on Nov. 2, 1991, according to STATS.
It ended up as the biggest blowout in Bobcats history.
"We struggled to hit shots, we struggled to get good shots, we got beat on the boards. We got beat in all facets of the game," Charlotte center Brendan Haywood said. "In a game like this tonight, you just basically say they beat us in every which way possible and you bounce back and you learn from the film."
Durant scored 18 points and Westbrook had 12 points and 11 assists. The defending Western Conference champions pulled their starters after Durant's 3-pointer from the right wing made it 79-25 less than 5 minutes into the second half.
"We came out and took care of business, regardless of who the opponent is," Westbrook said. "That's a good team. They came in tonight and had won some big games.
"We just took care of business."
Rookie Jeffery Taylor scored 10 points to lead Charlotte, which had shown promise with seven early wins -- the same number it had last season while going 7-59 and setting an NBA record for futility.
The franchise's worst blowout previously had been a 112-68 defeat against Portland on Feb. 1.
"There hasn't been any kind of damage control to be done on this game," first-year coach Mike Dunlap said. "We kind of know that OKC is a test for us, we failed it miserably but there are other, better days ahead."
The Bobcats opened with their worst offensive quarter of the season, scoring just 12 points while committing seven turnovers on their 20 possessions, and it only got worse.
Oklahoma City broke it open with a 22-3 run, scoring the final 10 points of the first quarter and then 12 of the first 15 to start the second. Eric Maynor and Kevin Martin hit 3-pointers on consecutive possessions, and Durant followed that by setting up back-to-back two-handed dunks by Hasheem Thabeet and Nick Collison to make it 40-15 with 8:23 left before halftime.
The Thunder shot 60 percent from the field in the first half while limiting Charlotte to 22 percent and forcing 11 turnovers. The Bobcats made only 3 of 20 shots in the second quarter while getting outscored 36-12.
The biggest concern for Dunlap, though, was a 28-15 disadvantage on the boards that he said comes down to "nothing more than raw bone effort."
"We're obviously better than last year. That shows," said ex-Thunder center Byron Mullens. "But tonight, they just got our number. I don't know what else to say. They got us tonight."
Dunlap said the Bobcats are "too young to throw the tape away" and just act like the game never happened.
"You have to take it serious. You have to look at it definitely seriously and you have to take it as a learning experience," Haywood said.
The last five players on the Thunder bench played the entire fourth quarter but Charlotte still couldn't avoid the most lopsided loss in the franchise's history, despite pulling within 38 twice in the fourth quarter.
It didn't come close to the NBA record for margin of victory -- from Cleveland's 148-80 rout of Miami on Dec. 17, 1991.
"You can overreact in these situations, but we need to react and respond to it, no doubt," Dunlap said.
It still wasn't a Thunder franchise record for a halftime margin. When the team was based in Seattle, the SuperSonics held a 75-31 lead at Boston on Nov. 23, 1967 -- the second-largest margin in the shot clock era, which started in the 1954-55 season.
Westbrook playfully dodged giving an explanation of his open-court flub, simply taking credit for it as "two points."
About a minute and a half later he atoned for it with the last of the Thunder's 13 straight points to finish the first half.
"They was sleeping. Everybody's head turned, so I decided to go and take off," Westbrook said.
Asked whether there was any reason he slammed the ball down so hard, he gave a big grin and said: "It's a tendency. I have a tendency of dunking the ball like that. Just natural, I guess."
Game notes
Oklahoma City's highest-scoring first half this season came at New Orleans on Nov. 15, when the Thunder took a 66-37 lead. ... Charlotte's Bismack Biyombo missed his second straight game with a left leg contusion. Dunlap had called him a game-time decision. Gerald Henderson (sprained left foot) and Tyrus Thomas (left calf strain) also sat out.
Regular Season Series
OKC leads 1-0
Paycom Center
8:00 PM, November 26, 2012
Attendance: 18,203
Capacity: 18,203
Referees:
Tom Washington
Derrick Collins
Matt Boland
2022-23 Northwest Standings