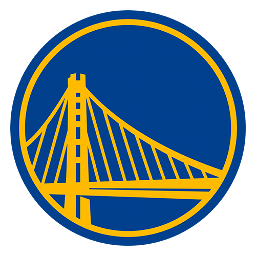 | | 1 | 2 | 3 | 4 | T |
| --- | --- | --- | --- | --- | --- |
| GS | 23 | 21 | 33 | 36 | 113 |
| POR | 24 | 31 | 30 | 27 | 112 |
Stephen Curry scores 37 as Warriors edge Trail Blazers with late FG
PORTLAND, Ore. -- The Golden State Warriors were thrilled to have Klay Thompson.
Thompson, returning after a one-game absence to attend his grandfather's funeral in the Bahamas, scored 23 of his 27 points in the second half and hit the go-ahead 3-pointer with 11.1 seconds remaining to lift the Warriors to a 113-112 victory over the Portland Trail Blazers on Sunday night.
Stephen Curry led all scorers with 37 points for the Warriors, who rallied from an 18-point deficit midway through the third quarter to snap a two-game skid. Golden State also moved 1 1/2 games behind Portland for the Western Conference's No. 5 playoff spot.
"That's as good a win as we've had in three years," Warriors coach Mark Jackson said. "It would have been very easy to fold our tent and hang our heads. Klay and Steph were spectacular."
Damian Lillard finished with 26 points and Nicholas Batum had 23 points and 14 rebounds for the Blazers, who lost for the fifth time in six games. Portland also played without injured All-Star forward LaMarcus Aldridge, who missed his second game with a lower back contusion.
Batum had a chance to tie the score with 5.8 seconds remaining, but missed the second of two free throws. The Blazers got the rebound but failed to get another shot off.
Curry dedicated the victory to Thompson, who had to take three different flights to get from the Bahamas to Portland and didn't arrive until the wee hours Sunday morning.
"We wanted to get this one for Klay," said Curry, who made 11 of 24 shots, including 6 of 12 from 3-point range. "He's been through a lot this week, put on a lot of miles, and obviously been through a lot.
"For him to compartmentalize a little bit for two hours and come out and play was big for us. It says a lot about how much he's committed to what's going on here."
Thompson didn't show any fatigue, especially in the second half when he connected on 8 of 14 shots, including three 3-pointers.
"Yeah, three flights, but I slept on most of them," Thompson said. "I actually felt fresh when I stepped on the court. You might not believe me, but I warmed up before the game and felt good."
Robin Lopez finished with 14 points and 10 rebounds, and Wesley Matthews and Dorell Wright had 13 points each for the Blazers, who led by 18 points twice, the second time at 72-54 with 7:20 remaining in the third quarter.
"We have to put that game away," Matthews said. "With guys like Steph and Klay, they can get hot and that's what they did. We still gave ourselves a chance, but we're at the point now where if we have a team down 18, we have to put that game away."
Golden State pulled to 85-77 going into the fourth quarter and took the lead with 6:01 to play after Thompson blocked Lillard's shot at one end of the court and got fouled on a drive to the basket at the other end while Portland coach Terry Stotts was also assessed a technical foul. Curry made the technical free throw and then Thompson made 1 of 2 foul shots to put the Warriors in front 97-96 -- their first lead since 31-29.
From there, the lead changed four times and there were two ties before Thompson's 3 from in front of the Portland bench put the Warriors in front, 110-107, with 53.8 seconds left.
After a dunk by Lillard pulled Portland to 110-109, Curry turned the ball over. Lillard was then fouled driving to the basket and made both free throws to make it 111-110 with 20.7 seconds remaining.
Thompson's third 3 of the game gave the Warriors the lead for good.
"He's a big-time player," Jackson said of Thompson. "He's as cool as they come. It does not bother him making and missing shots. He's not afraid to take the next one."
David Lee had 16 points and Jermaine O'Neal added eight points and four rebounds off the bench for the Warriors.
"Disappointed to lose another close game," Stotts said. "Curry got hot in the second half. We have to figure out ways to close out games and realize when we have a 16-, 18-point lead, we can't take our foot off the gas."
Portland's Mo Williams, expected to miss two weeks with a strained right hip muscle, returned after missing only two games and had 12 points, four assists and two steals.
Game notes

Batum matched his season high with five 3-pointers and became the first player in franchise history to record consecutive games with 20 or more points, 10 or more rebounds and four or more 3-pointers. He's also the first NBA player with 22 or more points, 14 or more rebounds, and four or more 3-pointers in back-to-back games since Minnesota's Kevin Love on Jan. 1-2, 2012. ... Jackson said before the game that the Blazers are a different team without Aldridge, who was averaging team highs of 23.4 points and 11.1 rebounds when was injured in the third quarter of Wednesday's 103-90 loss at San Antonio. ... The Blazers came in second in league scoring at 107.3 points a game and had scored 90 or more points in 20 consecutive games. The last time Portland was held to fewer than 90 points was in a 98-81 loss at home to Memphis. ... Jackson lobbied for eighth-year center Andrew Bogut as a candidate for the NBA's all-defensive team. "He's the anchor to our defense," Jackson said. "He's a guy who changes, alters, blocks a lot of shots at the rim, protects the paint, and rebounds the basketball. He's been very, very valuable to what we've been able to do this year and deserves a lot of credit."