| | 1 | 2 | 3 | 4 | T |
| --- | --- | --- | --- | --- | --- |
| UTAH | 9 | 31 | 37 | 19 | 96 |
| OKC | 26 | 33 | 33 | 24 | 116 |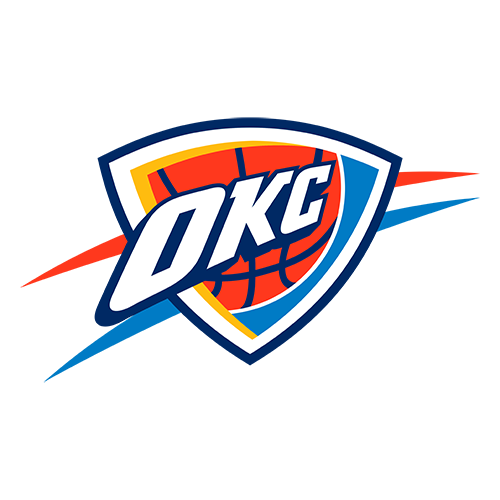 Kevin Durant's points streak hits 38 games as Thunder blast Jazz
OKLAHOMA CITY -- The drama was sapped early from Oklahoma City's blowout win over Utah, except for one detail.
Thunder forward Kevin Durant is nearing Michael Jordan's mark for consecutive games with at least 25 points.
With the crowd buzzing late in the third quarter, Durant reached the mark for the 38th consecutive time, leaving him two games short of Jordan's accomplishment, which is the most in the past 50 years.
He finished with 31 points and nine assists to help Oklahoma City defeat the Jazz 116-96 on Sunday afternoon.
Jordan did it for 40 straight games for the Chicago Bulls during the 1986-87 season. Durant is aware of the mark, but the NBA's leading scorer left worrying about it to the crowd at Chesapeake Energy Arena.
"I'm just going out there, playing my game," he said. "If it happens, cool. If it doesn't, cool. That's how I approach it -- just playing within the offense. If a shot's there, shoot it. If a pass is there, pass it. I try to play as simple as I can. If that (25 points or more) comes with it, then so be it, but if not, I'm not going to lose any sleep."
Durant was fouled on a 3-pointer with 4:02 left in the third quarter and was awarded three free throws. He scored his 24th point on the first one, and the crowd got into it before the second one.
After he made it, the fans let out a loud cheer. He also made the third to give the Thunder an 84-56 lead. Durant extended the streak without playing in the fourth quarter for the second consecutive game.
Russell Westbrook scored 19 points, Serge Ibaka had 17 points and Caron Butler added 15 for the Thunder, who have won six of seven. Oklahoma City shot 55 percent from the field and made 11 of 18 3-pointers and 23 of 26 free throws.
Enes Kanter had 18 points and 12 rebounds, Richard Jefferson scored 17 points and Gordon Hayward added 16 points and nine rebounds for the Jazz, who have lost four in a row.
Utah trailed 11-0 before Jefferson finally scored with 7:34 left in the first quarter. Oklahoma City led 26-9 at the end of the quarter.
It matched the fewest points the Thunder have allowed in any quarter this season and was the lowest for the Jazz in a first quarter this season. Utah missed the NBA low for an opening quarter this season by making a basket with 19.5 seconds left.
"They were aggressive on the defensive end and we settled for a lot of jump shots," Jazz coach Tyrone Corbin said. "We missed jump shots and they were able to run the ball out on us. In that first quarter, I thought we were hungry for it, but that's what good teams do. They come out and try to bury you right from the beginning. They had a lot of success doing it in the first quarter."
Hayward's first basket came with 3:21 left in the first half. Even with his 3-point play, the Jazz still trailed 49-30.
Oklahoma City led 59-40 at halftime, and it might have been a larger lead if Jefferson hadn't dropped in 15 points in the first half, well above his season average of 10.2 points per game. Durant scored 18 points in the first half on 6-for-8 shooting and helped the Thunder shoot 57 percent before the break.
Utah cut Oklahoma City's lead to 89-77 late in the quarter before Durant hit a 3-pointer over Hayward with two seconds remaining to push the lead back up to 15 points.
"That was tough," Utah forward Marvin Williams said. "That was a big three. It almost took the wind out of your sails, to fight so hard to get back to that position, to cut it to 12, thinking you're going to start the fourth at 12 (down), and he makes an amazing shot like that over a defender. It was a big shot. It kind of took the wind out of our sails, almost, a little bit, because we had fought so hard."
Hayward scored 13 points in the period, and the Jazz scored 37 points on 60 percent shooting. Utah scored 21 points in the final 3:44 of the third.
The Thunder held on, and now, Oklahoma City can look ahead to Thursday's showdown with West leader San Antonio. The Spurs have won 17 in a row and are three games ahead of the Thunder for the best record in the West with nine games to go.
"Just continue to play our brand of basketball," Butler said. "Play with a lot of energy and effort and do a good job defensively and stay on the same accord, and we will be fine."
Game notes

Thunder G Reggie Jackson missed his second straight game with a mid-back sprain. ... Jazz G Alec Burks returned to action after missing the previous four games with a left ankle sprain. ... Utah missed its first seven shots. ... Oklahoma City won three of four against the Jazz this season. ... Utah, which has the worst record in the Western Conference, won the previous meeting 112-101.