| | 1 | 2 | 3 | 4 | T |
| --- | --- | --- | --- | --- | --- |
| NO | 35 | 14 | 26 | 20 | 95 |
| GS | 39 | 20 | 35 | 17 | 111 |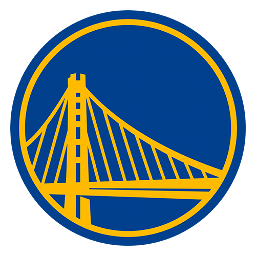 Stephen Curry scores 40 as Warriors win to open title defense
OAKLAND, Calif. -- Stephen Curry threw his arms in the air in delight and body bumped teammates after knocking down shots from all over the floor. It all looked so familiar to what happened here only four months ago.
The reigning NBA MVP showed in a hurry that he hasn't lost a step or his swagger, as he scored 40 points Tuesday to lead the Golden State Warriors to a 111-95 victory over the New Orleans Pelicans to open their title defense.
Curry put on a shooting clinic by hitting seven of his first nine shots, with four 3-pointers, for 24 first-quarter points. He finished 14-for-26 with seven assists and six rebounds in a rematch of the first round of the playoffs, which Golden State swept 4-0. It was Curry's 10th career 40-point game.
Curry and the Warriors raised their championship banner and received their rings in an elaborate pregame ceremony featuring glitz, glow sticks and fire. Coach Steve Kerr attended, then left for the locker room to rest his surgically repaired back. Interim Luke Walton coached the team after receiving some advice from Kerr.
"Even just Game 1 of the Finals, it was just a different feeling," Curry said. "All that really prepared us to be able to stay in the moment, enjoy the celebration and the ceremony, have fun, joke, dance, all that stuff, but then lock in and focus on the game. It would be disappointing to leave out of here 0-1 with a ring as opposed to 1-0. The mood is a lot better, and we want to keep that vibe going."
First-year New Orleans coach Alvin Gentry took part in the festivities and received a rousing ovation, as he was Golden State's associate head coach before departing for the Big Easy.
Kerr said pregame that he isn't sure when he will be back on the bench but that he might go on the team's weekend road trip to Houston and New Orleans.
"It's killing me not to be out there tonight," he said. "I've got to be patient, and that's probably not my greatest virtue right now."
Golden State built a 10-point halftime lead and was never threatened the rest of the way. The Warriors won their 19th straight home game dating to Jan. 31, which matched the franchise record set last season.
Anthony Davis, who averaged 29.5 points and 12.5 rebounds in two games against Golden State last season, shot 4-for-20 and scored 10 of his 18 points on free throws. In his Pelicans debut, Kendrick Perkins battled Andrew Bogut down low and made all five of his field goal tries for 10 points.
Curry walked out to receive his ring to chants of "M-V-P!" from the raucous, sellout crowd in blue 2015 champion T-shirts. He then thanked the fans.
"This is an unbelievable day," Curry said. "I got kind of goosebumps kind of reliving all the moments that we had."
Curry had the second-most points by a reigning MVP in an opener since 1963-64, according to STATS. Milwaukee's Kareem Abdul-Jabbar scored 41 against Phoenix on Oct. 13, 1972.
"Some of those shots that Steph made, it doesn't matter who's out there, that's just who he is," Gentry said.
Curry started his seventh straight season opener and joined Jeff Mullins and Chris Mullin as the only Warriors since 1962 to do so (in the team's West Coast history).
Bogut, already wearing a protective brace for a broken nose, received stitches for a laceration above his right eye. He added 12 points, five rebounds and five assists as the Warriors began a stretch of five straight games against Western Conference playoff teams.
A moment of silence was held for former NBA coach Flip Saunders, who died Sunday.
TIP-INS
Pelicans: The Pelicans played the Warriors in a season opener for the second time. They won 108-103 as the Hornets on Oct. 29, 2008. ... Nate Robinson made his New Orleans debut. ... The Pelicans haven't won at Oracle since April 24, 2012, and have lost 11 of their past 12 regular-season games against Golden State.
Warriors: GM Bob Myers announced at shootaround that talks of a contract extension for Harrison Barnes have been halted. Barnes missed his initial seven shots and wound up 3-of-12 for eight points. ... Golden State opened at home for the 12th time in 14 years. ... The Warriors are 3-1 in season openers after a championship and opened at home as champions for the first time since 1947. ... Anthony Sadler and Spencer Stone, who helped thwart a would-be terrorist attack in August on a French train, received a rousing ovation at the game.
SILVER LINING
Presenting the champions pregame, NBA commissioner Adam Silver said of the team: "It's as innovative as this community. You're true Warriors. To the fans, you've waited 40 years."
SAGER RETURNS
Sideline reporter Craig Sager returned to work following cancer treatment and said with a smile, "Good to be seen" as he walked into the arena alongside Chris Webber. Late in the second quarter, a video tribute and "Welcome Back" showed on the main scoreboard and included Curry and others greeting Sager while wearing colorful sports jackets in his signature style.
UP NEXT
Pelicans: Visit Portland on Wednesday.
Warriors: Visit Houston on Friday.
Regular Season Series
GS leads 1-0
ORACLE Arena
10:30 PM, October 27, 2015
Coverage: TNT
Attendance: 19,596
Capacity: 19,596
Referees:
James Capers
Derrick Collins
Scott Twardoski
2022-23 Southwest Standings
2022-23 Pacific Standings