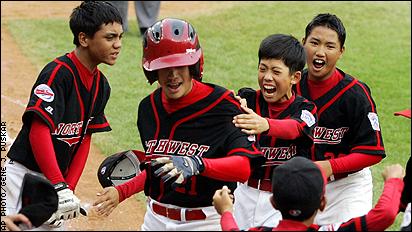 Hawaiian Punch
One swing of the bat made Hawaii's dreams come true. Hawaii capped a furious comeback against Curacao with a game-ending home run in the seventh inning to win the Little League World Series 7-6 on Sunday.
Story
•
Outside the Lines looks at steroid pressure
POOL A
REGION
TEAM/CITY
RECORD
Mid-Atlantic
Council Rock Newtown LL
Newtown, Pa.
1-2
Northwest
West Oahu LL
Ewa Beach, Hawaii
6-0
Midwest
Davenport Northwest LL
Davenport, Iowa
0-3
Southeast
Maitland LL
Maitland, Fla.
2-2
POOL B
REGION
TEAM/CITY
RECORD
New England
Westbrook LL
Westbrook, Maine
1-2
West
Rancho Buena Vista LL
Vista, Calif.
5-1
Great Lakes
Owensboro Southern LL
Owensboro, Ky.
0-3
Southwest
Lafayette LL
Lafayette, La.
2-2
POOL C
REGION
TEAM/CITY
RECORD
Pacific
Central East LL
Agana, Guam
3-1
Mexico
Seguro Social LL
Mexicali, Mexico
1-2
Canada
Whalley LL
Surrey, B.C.
2-2
EMEA
Brateevo LL
Moscow, Russia
0-3
POOL D
REGION
TEAM/CITY
RECORD
Latin America
Los Leones LL
Valencia, Venezuela
1-2
Asia
Chiba City LL
Chiba City, Japan
4-2
Transatlantic
Arabian American LL
Saudi Arabia
0-3
Caribbean
Pabao LL
Willemstad, Curacao
4-2
Bayless: Little scary
The Little League World Series has gotten a little out of control, says Skip Bayless. In fact, some of these kids are probably using steroids.


Drehs: Pride of Curacao
With one swing of the bat, Andruw Jones ignited a tiny Caribbean country's love for baseball.


End text -------------------------
LITTLE LEAGUE WORLD SERIES SCHEDULE
DATE/TIME/TV
TEAMS
STADIUM
Fri., Aug. 19
Hawaii 7, Pennsylvania 1
Lamade
Fri., Aug. 19
Guam 6, Moscow 2
Volunteer
Fri., Aug. 19
Florida 7, Iowa 3
Lamade
Sat., Aug. 20
Louisiana 3, Maine 2
Volunteer
Sat, Aug. 20
Japan 3, Saudi Arabia 0
Lamade
Sat., Aug. 20
California 7, Kentucky 2
Volunteer
Sat, Aug. 20
Curacao 5, Venezuela 4 (8)
Lamade
Sat., Aug. 20
Canada 2, Mexico 0
Volunteer
Sat, Aug. 20

Florida 3, Pennsylvania 1
Lamade
Sun., Aug. 21

Louisiana 9, Kentucky 8
Lamade
Sun, Aug. 21
Hawaii 7, Iowa 3
Volunteer
Sun., Aug. 21
Guam 5, Canada 0
Lamade
Sun, Aug. 21
Japan 9, Curacao 0
Volunteer
Sun., Aug. 21
California 7, Maine 3
Lamade
Mon, Aug. 22
Mexico 7, Russia 0
Lamade
Mon., Aug. 22
Japan 7, Venezuela 4
Volunteer
Mon, Aug. 22
Hawaii 10, Florida 0
Lamade
Mon., Aug. 22
Curacao 3, Saudi Arabia 0
Volunteer
Mon, Aug. 22
Pennsylvania 15, Iowa 0
Lamade
Tue., Aug. 23
Canada 2, Russia 1
Lamade
Tue., Aug. 23
Venezuela 4, Saudi Arabia 0
Volunteer
Tue., Aug. 23
Maine 3, Kentucky 2
Lamade
Tue., Aug. 23
Guam 5, Mexico 3
Volunteer
Tue., Aug. 23

California 9, Louisiana 3
Lamade
Wed., Aug. 24

International Semifinal:
Japan 11, Canada 0
Lamade
Wed., Aug. 24
U.S. Semifinal:
California 6, Florida 2
Lamade
Thu., Aug. 25

International Semifinal:
Curacao 16, Guam 1
Lamade
Thu., Aug. 25

U.S. Semifinal:
Hawaii 2, Louisiana 0
Lamade
Sat., Aug. 27

U.S. Championship:
Hawaii 6, California 1
Lamade
Sat., Aug. 27
International Championship:
Curacao 2, Japan 0
Lamade
Sun., Aug. 28
Consolation Game:
California 5, Japan 4
Lamade
Sun., Aug. 28
Championship Game:
Hawaii 7, Curacao 6 (7)
Lamade