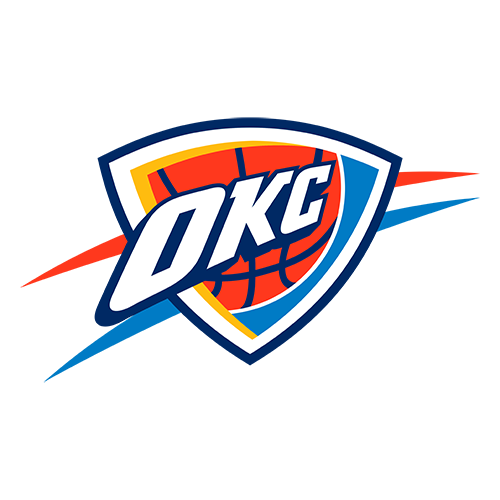 | | 1 | 2 | 3 | 4 | T |
| --- | --- | --- | --- | --- | --- |
| OKC | 26 | 19 | 23 | 22 | 90 |
| UTAH | 19 | 16 | 26 | 19 | 80 |

Thunder continue push for Western Conference top seed
SALT LAKE CITY -- Russell Westbrook scored 25 points, Kevin Durant added 21 and the Oklahoma City Thunder beat the Utah Jazz 90-80 on Tuesday night.
The Thunder (57-21) continued their push to claim the top overall seed in the Western Conference, while the Jazz lost some momentum in their battle with the Los Angeles Lakers for the final playoff spot.
Utah (41-38) entered with a half-game lead and the tiebreaker over the Lakers, who faced New Orleans in a late game Tuesday.
Al Jefferson's three-point play pulled Utah within 84-78 with 55 seconds left and Paul Millsap's dunk made it a four-point game, but Durant hit two free throws and Westbrook stole the inbound pass to seal it for the Thunder.
Serge Ibaka helped Oklahoma City build a big lead with 10 points, four rebounds and three blocks in the third quarter.
Mo Williams scored 19 points for the Jazz, who had won two straight and seven of eight but were done in by poor shooting and sloppy play. Utah committed 17 turnovers and made just 31 of 79 shots (39.2 percent), including 7 of 25 from 3-point range.
The Thunder weren't much better with 11 turnovers and 39.5 percent shooting, but they made 9 of 21 from 3-point range, including four by Thabo Sefolosha.
Oklahoma City led by as many as 14 after Sefolosha hit a 3-pointer with 8:42 left in the third.
The Jazz fought back behind Derrick Favors. He blocked Perkins' shot at the rim then converted a three-point play at the other end to get the Jazz within 60-53 with 4:36 left in the third.
Each time Oklahoma City had an answer.
Westbrook's 3-pointer bumped the Thunder lead back to 10 points, 65-55. Utah closed on a 6-3 run to pull within 68-61 entering the fourth.
Oklahoma City coach Scott Brooks was asked pre-game about a statistic indicating it's been nine years since a player has won a title the same year as logging 3,000 minutes. Durant entered the game having played 2,981 minutes.
"You guys are going to hear it first tonight: We're going to rest Kevin the rest of the season. Breaking news," Brooks quipped. "I don't know how to answer that other than he's going to play and he's going to play a lot of minutes. It hasn't affected us one bit. Obviously when you're 24 and have the energy he has, and the ability to play at the level he has, minutes is really not a factor. We've never gone into a playoff series and said, `Man he's tired. He's beat up. We're not going to be able to get anything out of him."
Durant played 17 1/2 minutes in the first half and had 13 points, five rebounds and five assists.
The Thunder led 26-19 after one as Utah shot just 38.1 percent and committed six turnovers. Wesbrook had an eight-point quarter, including a nasty dunk where he blew by Williams and left Jefferson watching helplessly.
The Jazz climbed within 26-24 in the second quarter on a 3-pointer by DeMarre Carroll and Millsap's fast-break layup.
Utah's second unit, led by 6-10 forward Favors, stepped up the intensity. Favors and Hasheem Thabeet bumped back and forth and Favors had three blocks in 13 minutes, including one on Durant with 4:54 left in the second.
Durant was undeterred. He came right back with a 3-pointer for a 39-28 Thunder lead -- Oklahoma City's largest in the first half.
The Thunder shot just 38.1 percent in the half and led 45-35 as the Jazz made 14 of 40 (35 percent) and just 4 of 15 from 3-point range while committing 10 turnovers.
Game notes
Jazz C Enes Kanter will have surgery to repair damage in his dislocated left shoulder Wednesday and miss the rest of the season. GM Dennis Lindsey said the decision was made for Kanter's long-term health as it will decrease odds of the shoulder dislocating again. ... Utah was without F Marvin Williams (stomach virus) and G Alec Burks (sprained ankle). ... Sefolosha's fourth 3-pointer of the night was his 100th on the season.