WESTERN CONFERENCE 1ST ROUND - GAME 1
GS leads series 1-0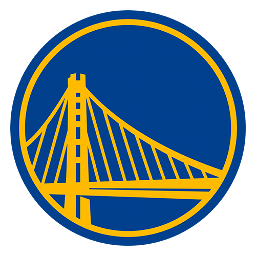 | | 1 | 2 | 3 | 4 | T |
| --- | --- | --- | --- | --- | --- |
| GS | 24 | 28 | 35 | 22 | 109 |
| LAC | 29 | 23 | 27 | 26 | 105 |
Klay Thompson leads way as Warriors top Clippers in Game 1
LOS ANGELES -- The Golden State Warriors stumbled out of the gate, missing their first eight shots while falling behind by 11 points and forcing coach Mark Jackson to call two timeouts to steady his young team.
Stephen Curry glanced at the clock and realized there was still plenty of time left to knock off the Los Angeles Clippers.
Klay Thompson scored 22 points, spiking the ball as time expired, and Golden State beat Los Angeles 109-105 after getting Blake Griffin and Chris Paul in foul trouble in Game 1 of their first-round playoff series on Saturday.
"A big way to start the series," Curry said. "We've been resilient all year. We're not going to quit."
David Lee had 20 points despite his own foul trouble and Curry scored 14 for the Warriors, who rallied in the third when Griffin and Paul were on the bench together.
"I'm proud of my guys," Jackson said. "We just had a tremendous will and competitive spirit."
Game 2 is Monday night at Staples Center.
"The pressure is all on them," Thompson said. "They can't afford to go down 0-2 and go on the road. It's tough to come back down 0-2."
Paul led the Clippers with 28 points, and J.J. Redick added 22 points in 30 minutes. Griffin finished with 16 points, fouling out with 48 seconds left and the game tied at 105. DeAndre Jordan had 11 points and 14 rebounds.
The Warriors built an 11-point lead early in the fourth, helped by back-to-back dunks by Jermaine O'Neal and Thompson's turnaround fadeaway jumper. Then they withstood Paul's desperate but error-filled bid to bring his team all the way back.
"We made mistakes," Griffin said. "Some of us, myself included, maybe wanted it too much and came in with an expectation. We just need to relax."
Foul trouble plagued both teams, but losing Griffin and Paul for stretches cost the Clippers at both ends. Besides Lee, Andre Iguodala fouled out with 3:04 left in the game.
"I kept putting myself in a hole," Griffin said. "I got to do a better job."
Paul returned early in the fourth with the Clippers down by double digits. His fast-break layup trimmed Golden State's lead to 98-92. Griffin came back at that point, hitting a hook shot and then feeding Paul for a 3-pointer that cut their deficit to 100-97 with 3½ minutes left.
Jordan then stepped to the line, having made just 1 of 6 free throws in the game. He hit both and the Clippers got within one. Paul tied it at 102 on a 3-pointer.
Darren Collison made one of two free throws, giving the Clippers their first lead since early in the third at 103-102. After Collison's block and Jordan's rebound on the defensive end, Paul led a 3-on-1. But Harrison Barnes blocked his 5-footer and then hit a 3 for the Warriors.
"I probably should have given the ball to J.J. or DC who were running with me," Paul said.
Griffin made two free throws for the 18th and final tie of the game, 105-all with 1½ minutes left.
The Clippers' defense forced the Warriors into turning the ball over on a shot-clock violation. Griffin fouled out and then Thompson turned the ball over. Paul got it and fed Collison, who lost it near the baseline with 37 seconds left and the referees awarded possession to the Warriors, which was confirmed by a video review.
Down 108-105, Paul got fouled and missed both. His fifth foul put Green on the line and he missed both. Collison got possession, but turned the ball over when he stepped out of bounds, one of 17 turnovers by the Clippers.
"There were a lot of times where we lost our trust in each other," Clippers coach Doc Rivers said. "We made too many mistakes to win."
The first half was bogged down by 29 fouls, including 15 on the Warriors.
The teams split their four games in the regular season, a series that included nine technical fouls, two ejections, one flagrant foul and a postgame confrontation between Griffin and O'Neal. But the pushing, shoving and bodies hitting the floor in Game 1 was the result of hard, physical play and not any bad blood.
"All that hype absolutely had an impact on how the game was called," Rivers said. "A lot of them were touch fouls."
Griffin was limited to four minutes in the first half. He got his first two fouls 36 seconds apart early in the opening quarter and his third at 11:21 of the second.
"I tried to keep him from getting easy buckets in transition, which fuels him," Lee said.
A three-minute stretch of the third produced a torrent of offense, with each team answering the other's baskets. Redick and Thompson dueled from 3-point range and then Redick and Curry exchanged short jumpers with neither team leading by more than three.
The Warriors pulled away on a 14-6 run that ended the third with them leading 87-79.
Game notes

Green bruised his right leg in the first half. ... Clippers F Danny Granger played for the first time since March 27, when he went out with a strained left hamstring. ... Jackson said C Andrew Bogut is in "serious pain" from a broken rib and remains out indefinitely. ... Jackson played for the Clippers from 1992-94, helping them to a playoff appearance in 1993.